Bose Smart Soundbar 600 Banks on Dolby Atmos and Crystal Clear Audio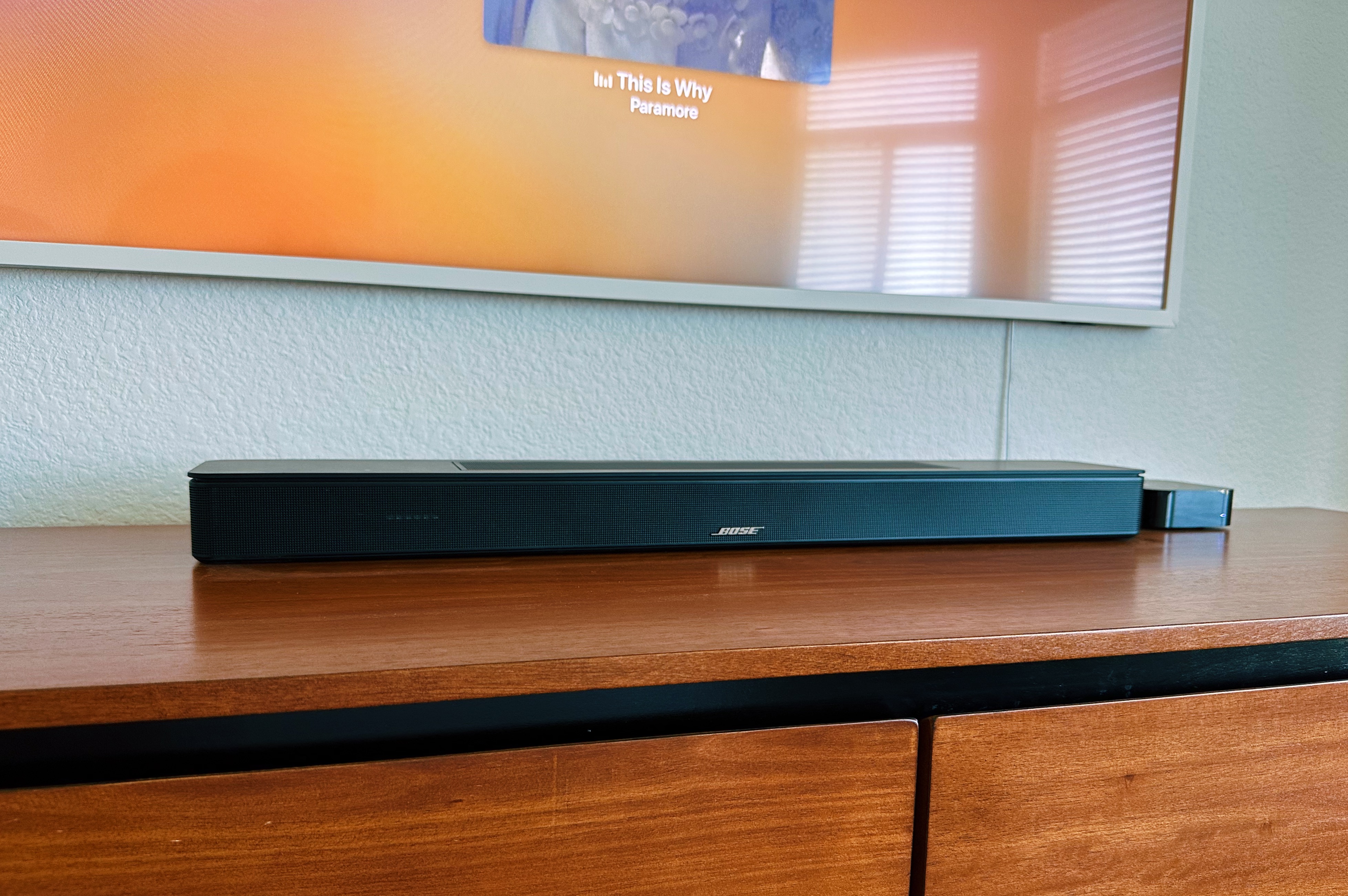 There's a case to be made that the Bose Smart Soundbar 600 is one of the best options for people looking to add Dolby Atmos sound to their TV. The soundbar's upward-firing speakers aren't exactly common at the midrange price point, but they do a great job of expanding the spacial sound. The soundbar also offers a host of wired and wireless connectivity options.
In fact, there's very little to complain about this home theater speaker option. Its premium price of about $500 is probably its biggest disappointment, but it's also very much in line with the cost of Bose's other products. The one other slight downside is that it doesn't have quite the depth that the Sonos Beam (Gen 2) has, even though it's close. But, again, the Smart Soundbar 600 does have greater spacial audio over the Beam (Gen 2).
TL;DR
Pros:
Great Dolby Atmos sound
Simple, polished mobile app for controlling the speaker
Compact size with plenty of volume
Cons:
Bass is a little lacking compared to competing soundbars
Premium price
Buy at Bose.
Home Theater and Smart Soundbar 600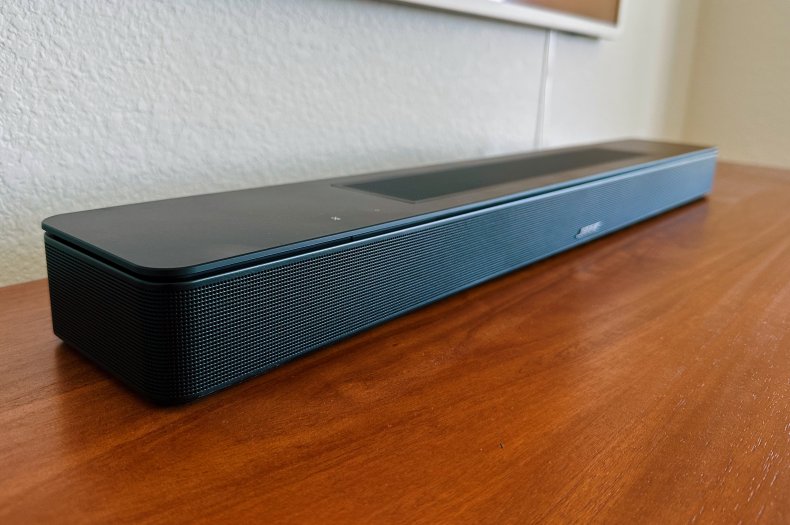 On its own, the Bose Smart Soundbar 600 is a compact powerhouse. In order words, for its size, it provides a complete sound with spacial audio. Dolby Atmos movies were immersive and engulfing while still being detailed. Rogue One, for example, didn't feel hollow or lacking. There are five transducers, including two upward-firing ones, which is how it can get the volume it does. Within the mobile app, you can adjust the height channel depending on your room size.
Of course, as powerful and impactful as the Smart Soundbar 600 can be on its own, it can't fill a living room the way one with rear speakers or a subwoofer can. It's limited by its physical size. Pushing it hard will get a surprising amount of sound from it, but you'll never feel it in the same way as if you had a dedicated subwoofer. If you do want to make this soundbar the centerpiece of a Bose home theater system, you can add wireless rear speakers and a subwoofer for about an extra $800.
The Smart Soundbar 600 offers a lot, but its best asset is that it does so with a compact size. It really should be able to fit in most locations you would have a TV. Using it in a bedroom or smaller living space will allow it to provide the greatest impact. I used the soundbar mostly in a bedroom, and I never needed to push it past the 50-percent volume level to be covered in sweeping movie sounds. Going past that level will likely be enough to bother neighbors in an apartment setting.
Bose Smart Soundbar 600 and Spotify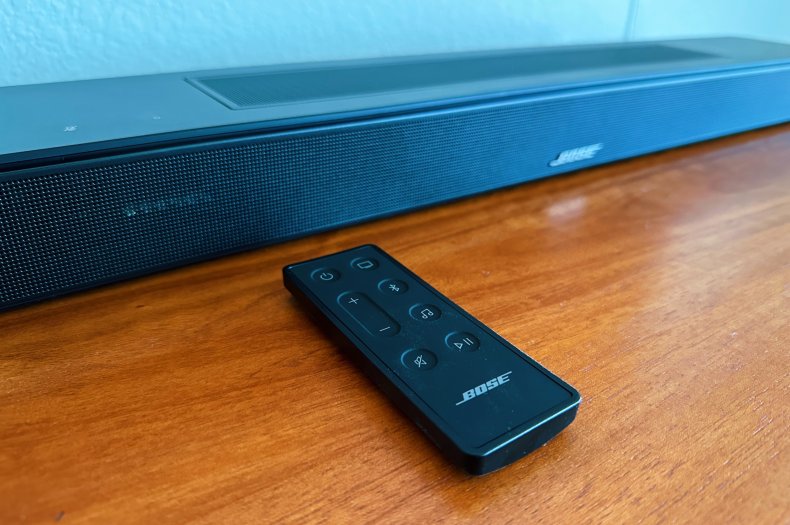 One reason to pick the Bose Smart Soundbar 600 over a less expensive one is its advanced wireless connectivity. It supports Spotify Connect, Google's Chromecast, Apple's AirPlay 2 and Bluetooth to use it to listen to music. So how does it sound for songs, compared to for watching movies?
Put simply, the soundbar sounded great. All kinds of music genres worked well, but bass and treble can be adjusted if needed. With the default tuning, vocals were crisp and sharp while instrumentation like keys and synths were sprawling. Drums and bass are limited by the physics of the size of the speaker, so they don't rumble, but overall music still sounded full and balanced.
The Smart Soundbar 600 supports Spotify Connect, meaning you can use the Spotify mobile app as a remote and the speaker will pull in the audio directly over Wi-Fi. Of course, as of late 2022, Spotify still doesn't support lossless audio or any kind of spatial audio through a hi-fi tier. If you do want to listen to music in Dolby Atmos, you can do so through the Apple Music app on the Apple TV 4K.
Should You Buy the Bose Smart Soundbar 600?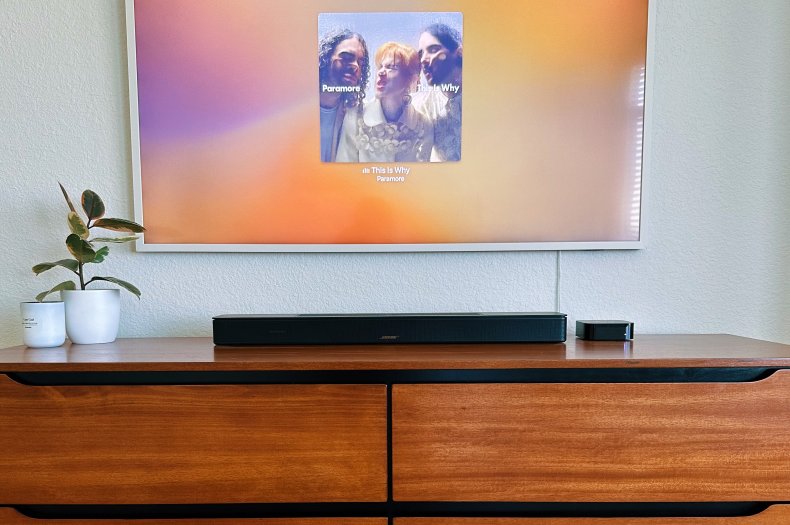 First and foremost, the Bose Smart Soundbar 600 is for people with limited space who are also not encumbered by cost or the desire for the latest technology. The Soundbar 600 can't deliver chest-thumping sound or bass, but it can deliver crystal clear, detailed audio that makes it quite easy to hear movie dialogue.
Because of the Smart Soundbar 600's upward-firing speakers, it does make a great unit to build around over time if you'd rather not commit to more speakers all at once. Wireless surround sound speakers can be added at any point. Minus its premium price, there aren't a lot of reasons to be afraid of taking the plunge on this soundbar.
Buy at Bose for $499.
Newsweek may earn a commission from links on this page, but we only recommend products we back. We participate in various affiliate marketing programs, which means we may get paid commissions on editorially chosen products purchased through our links to retailer sites.