Bose Sport Open Earbuds Review: Active Earbuds Almost Perfected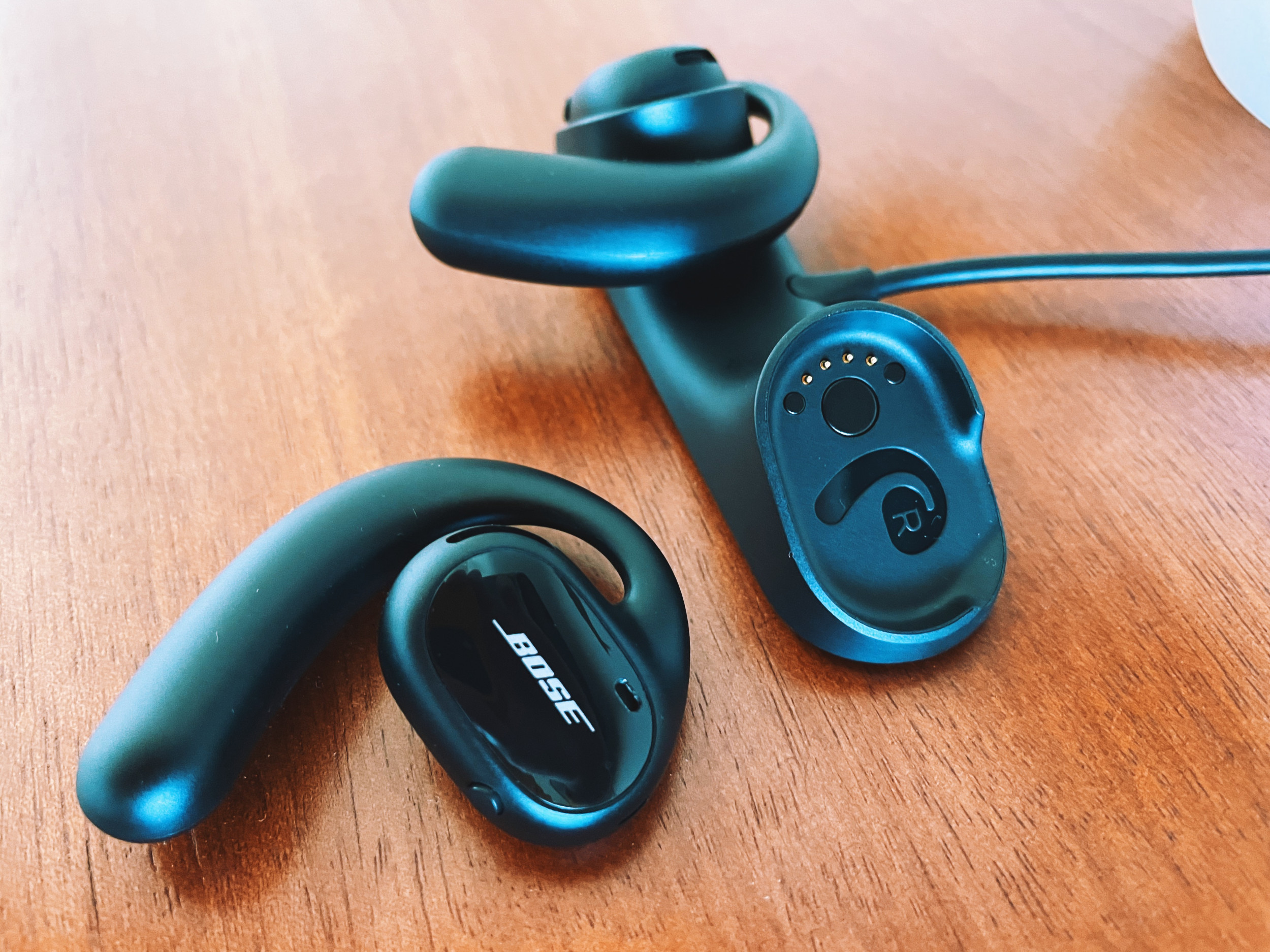 The Bose Sport Open Earbuds are the company's latest effort to perfect wireless sport earbuds. Bose has been making an effort to capture athlete's audio needs for quite some time, but with this recent design, it has landed really close to excellence.
Across the spectrum, Bose Sport Open Earbuds encompass the essentials. The Bose Sport Earbuds are traditional earbuds that use rubber wingtips to stay put. Bose Frames Tempo go to the other extreme and put speakers in the stems of sporty sunglasses to keep your ears free while staying in place. Settling somewhere in the middle are these new Open Earbuds, which hook over your ears but don't go in.
I've tried all kinds of different styles in an attempt to find the perfect wireless running earbuds. These Bose Open Earbuds are some of the most interesting because of how close they get to having it all.
Design and Fit
At first glance, the Open Earbuds look a bit funky. They have a fat swooping hook that's meant to lock onto a person's ears and keep them in place. Luckily, that funky design isn't something that looks bad or even strange while wearing them. On the ear, they're a minimal black spot barely noticeable.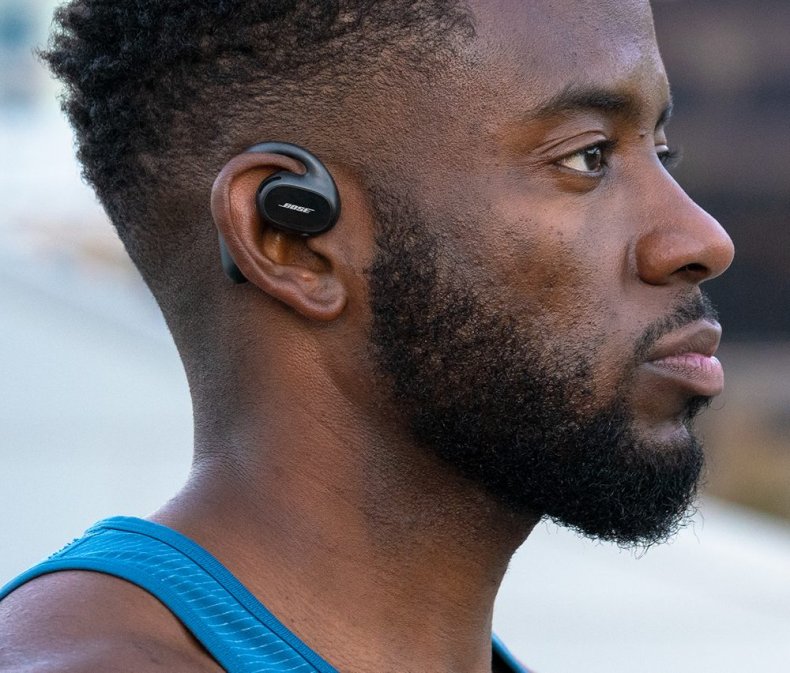 The earbuds come with a charging base and carrying case. Unlike a lot of other wireless earbuds, the case doesn't include a battery that will charge them while packed away. To recharge the earbuds, you'll need to use the proprietary charging base. The advertised eight hours of battery life is sufficient for several runs, but when traveling with them you'll likely need you to pack the charging base. The battery life is definitely not as long as the Tempo Frames.
The case is small with a rubbery texture, but it's just a place to stash the earbuds. It's minimal, with a nice simplicity to it, but it also can feel a bit lacking compared to other cases.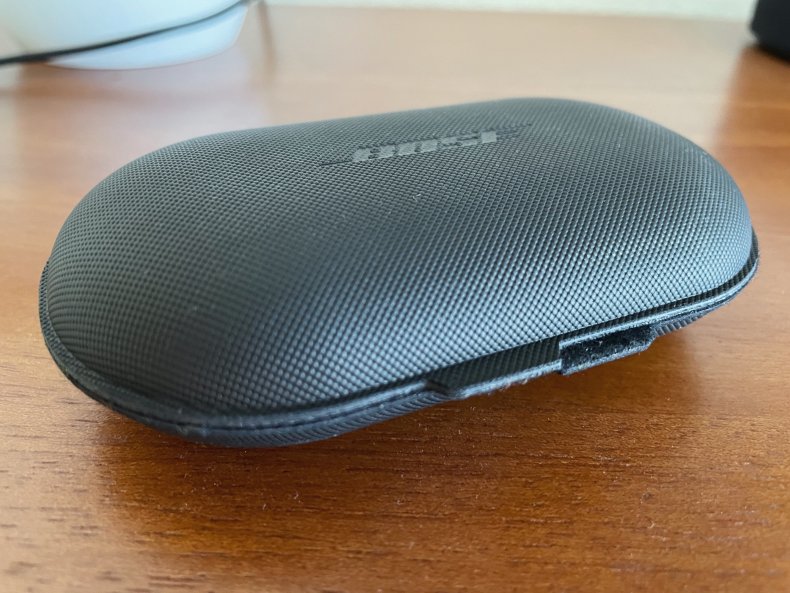 The fit of these earbuds is something that might take a little longer to get used to than the look. They can feel like a little puzzle that needs to be solved the first few times when trying to put them on. The biggest reason the fit is tricky has less to with the actual design and more to do with how lightly they sit on the ears. It's tempting to try to rotate the earbuds as hard and far back as possible to get them to stay in place, but doing so may create some ear discomfort.
Having an open-ear design means relearning what earbuds feel like. These Sport Open Earbuds can seem fragile and like they're just moments from falling off. This is something that can be overcome by wearing them out and trusting they're secure. I felt the need to shake my head back and forth a few times to make sure things were good before I went running. Never once did they slide off while running, even though they felt like they might. It was hard, though, to fight the urge to constantly try to reposition them.
The fit will probably have a wide range of reception and is likely even more personal than some other earbuds. I had mixed feelings about it the first time. But my wife, who hates all in-ear buds, instantly lit up with delight over how they fit and felt on the first try.
Features and Specs
Bose's advertised features and specs:
Earbuds: 2.2 inches H x 1.9 inches W x 0.75 inches D (0.49 ounces each earbud); carrying case: 1.6 inches H x 4.4 inches W x 2.8 inches D (2.4 ounces)
Battery life: Up to 8 hours
Two total microphones, both on the right side, to enable coordinated accurate noise rejection
Bluetooth version: 5.1 (A2DP, HFP, AVRCP, BLE); Codec: SBC and AAC
Bose Music app: settings, customization, music controls and power
Performance
The first thing I consider when reviewing any earbuds or headphones is comfort. If they're not comfortable, you'll never want to use them, so it doesn't matter how good they sound. The Bose Sport Open Earbuds are decently comfortable, but not as much as I was expecting. I experienced a slight pinching pressure where the top of my ear meets my head after wearing them for 20 to 30 minutes.
The initial discomfort the first several days was minimal but constant. But nearly all pressure or discomfort was gone after a few days, and likely had to do with how I learned to position them on my ears.
Again, there's an instinctual desire to rotate the earbuds as far back as possible to make sure they're secure. As I played around with the fit and let them just balance on top of my ear with the back hook, the pressure eased. Annoyingly, the trade-off was spending nearly a minute positioning them each time.
Figuring out if they work for your ears will be personal and require trying them out. If they don't cause any discomfort, there are almost no downsides to these open earbuds. You'll likely think they're completely perfect. If they do cause some discomfort, the results will be less celebrated, but they may still work for you.
How much do you want both street awareness and good sound? The sound is remarkable considering these earbuds are not directly in your ears. Through a combination of angles and design, sound is directed into your ear, to the point that it feels magical. Surprisingly, there's very little sound leakage. People around you can't hear what you're listening to at medium volumes.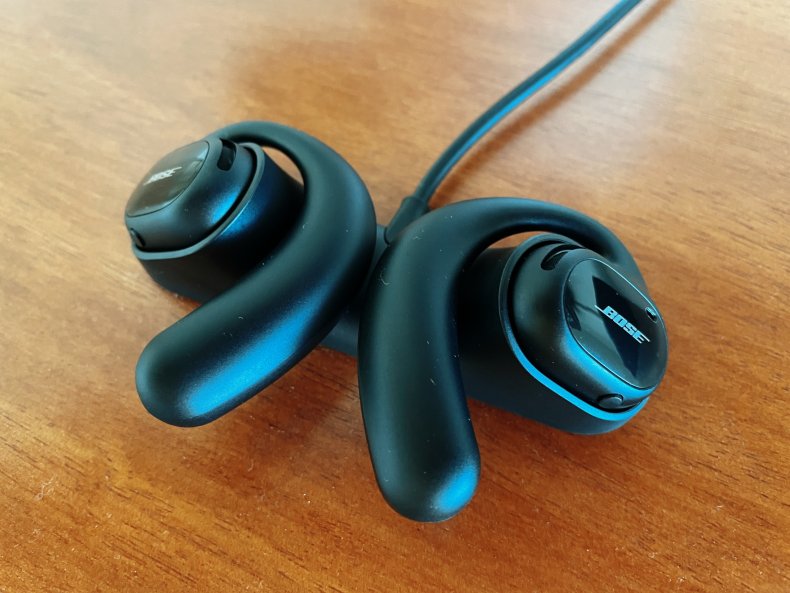 Sound leakage is a problem the Bose Tempo Frames have. They're loud, which is nice, but on all but the lowest volumes, music and audio is easy to hear by people passing by. Unlike the Tempo sunglasses, the Open Earbuds can be worn indoors, at night and any other place traditional earbuds would be worn.
The sound quality of voice calls was great, and the sensation of talking on the phone without an earbud plugging your ear is a welcome change.
These Sport Open Earbuds performed like a champ across the board. Even with sweat dripping down, they didn't slide around or become distorted. There were almost no situations in testing where the earbuds fell short.
Should You Buy Bose Sport Open Earbuds?
Coming in at $200, the Bose Sport Open Earbuds are not an impulse buy, but they should still be seriously considered by all active listeners. Of course, this open ear design will work great for people who aren't active, too. But anyone running on the street, riding a bike or focused on some other physical activity will especially appreciate having their ears uncovered to listen to their surroundings.
I wish the fit didn't include subtle discomfort on my ears in certain situations, because otherwise, these might have been the perfect pair of wireless earbuds. It's hard to tell, but I don't think the fit discomfort is a universal problem, so that shouldn't dissuade anyone from giving these a chance. While they weren't my perfect pair, they were close, and they easily might be someone else's.
Newsweek may earn a commission from links on this page, but we only recommend products we back. We participate in various affiliate marketing programs, which means we may get paid commissions on editorially chosen products purchased through our links to retailer sites.