Boseman 'Made a Difference' and 'Inspired a Generation,' Harris and Biden Say
Democratic election contender Joe Biden and his running mate, Kamala Harris, were among those who paid tribute to Chadwick Boseman, the Hollywood star who died aged 43 from colon cancer.
The film industry has been left stunned by the passing of Boseman, who rose to fame playing real-life figures such as the baseball legend Jackie Robinson and the soul singer, James Brown, before starring in the 2018 blockbuster, Black Panther.
Biden tweeted his appreciation of the actor's life, saying: "The true power of @chadwickboseman was bigger than anything we saw on screen.
"From the Black Panther to Jackie Robinson, he inspired generations and showed them they can be anything they want—even super heroes. Jill and I are praying for his loved ones at this difficult time."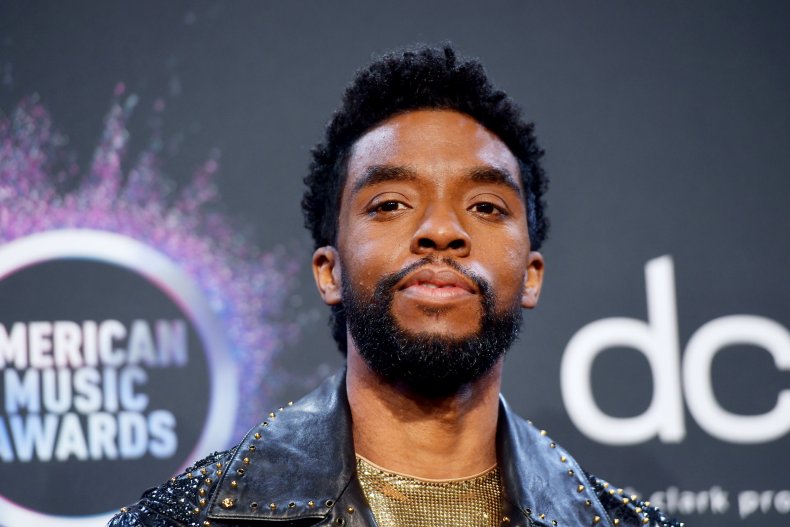 Meanwhile, Harris described how she was "heartbroken" at his death. "My friend and fellow Bison Chadwick Boseman was brilliant, kind, learned, and humble. He left too early but his life made a difference. Sending my sincere condolences to his family," she tweeted.
Boseman's final tweet was of him pictured with Harris, after she had been announced as being on the Democratic presidential ticket. The photo of Boseman and Harris, who both attended Howard University in Washington, D.C., was from an event in 2018 for Families Belong Together, a coalition against separating children who have immigrated to the U.S. from their families.
The Hollywood star was politically engaged and had appeared in a public service announcement calling on people to vote. Boseman died at his home in Los Angeles with his wife at his side, according to a family statement on Twitter.
"A true fighter, Chadwick persevered through it all, and brought you many of the films you have come to love so much," the statement said.
"From Marshall to Da 5 Bloods, August Wilson's Ma Rainey's Black Bottom and several more, all were filmed during and between countless surgeries and chemotherapy. It was the honor of his career to bring King T'Challa to life in Black Panther," it added.
He had not made public his cancer diagnosis, which he got four years ago, adding to the shock felt by the film world.
Director of Get Out Jordan Peele, said the news was "a crushing blow". Actor Mark Ruffalo tweeted: "The tragedies amassing this year have only been made more profound by the loss of #ChadwickBoseman. What a man, and what an immense talent."
The hashtag #WakandaForever was trending on Saturday, referring to the fictional nation that Boseman's character ruled in Black Panther, which became the first superhero film to be nominated for best picture at the Oscars.