Bosnia and Herzegovina Is Fertile Ground for the Far Right | Opinion
Recently American neo-Nazi Robert Rundo, founder of right-wing extremist group Rise Above Movement, crossed over the Serbian-Bosnian border into eastern Bosnia. After spending over a year in Belgrade, Rundo was escorted out of the country by Serbian police.
For several years the Western Balkans has become an attractive place for far-right extremists. While in the last two decades much security and political focus has been on radical Muslim extremism—especially returning foreign fighters from Syria—far-right groups and individuals have expended and strengthened their presence in the region. With a complex and weak central government struggling in a post-war and transitional period, surrounded by not-so-friendly neighbors, Bosnia and Herzegovina became an unexpected attractive hot spot for the far-right.
In recent years, numerous far-right and nativist political figures visited Bosnia and Herzegovina and met with Bosnian Serb leaders, from Steve Bannon, former President Donald Trump's strategist, to the Austrian Freedom Party.
The Bosnian Muslim population was also eyed by far-right leaders throughout Europe. In 2017, Czech President Miloš Zeman said "ISIS (Islamic State) black flags are already flying in several towns." In February 2018, Italian far-right leader Giorgia Meloni met with Hungarian Prime Minister Viktor Orbán. During their meeting a demographic map of Bosnia and Herzegovina was present on the wall. There was no official explanation, but it seems obvious that a discussion occurred about Bosnia's demographics.
Since the first democratic elections in 1990, extreme nationalist and far-right ideologies were present on the Bosnian political spectrum. After half a century of Communist rule, ethnonationalist parties gained power by using ethno-religious rhetoric that reignited grievances linked to atrocities committed in World War II. Still, few saw the war in Bosnia and Herzegovina coming, and almost no one predicted the scope and depravity of the genocidal campaign waged against Bosnian Muslims, which was done with a far-right blueprint that resulted in the systematic erasure of multi-ethnic communities across the country. In its wake, the war left Bosnia and Herzegovina highly polarized and deeply scarred.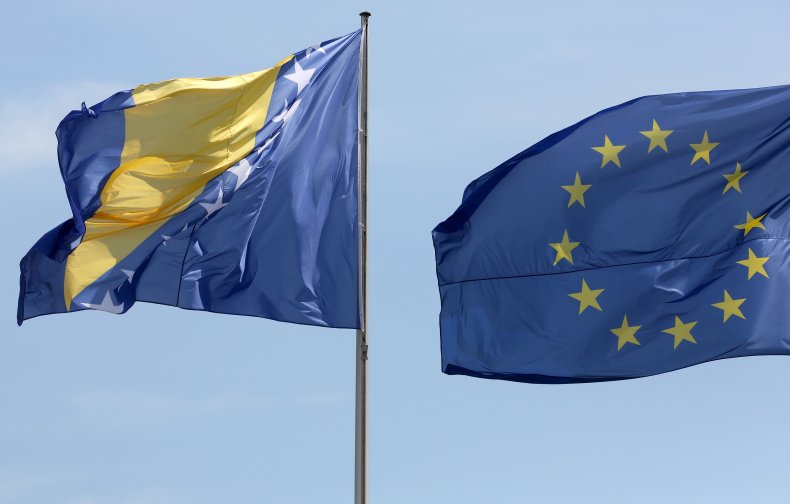 The Bosnian War was the first time since the end of World War II that fascist and Nazi symbols were used openly on European soil and within official military units without consequence. It created a generation of experienced far-right veterans scattered all over Europe. Historical revisionism, ethnonationalism and genocidal policies were viewed by nationalist actors in Bosnia and Herzegovina and the region as legitimate to achieving political goals. This ethnonationalism remains at the heart of present day far-right threats in the region.
In the current political and economic climate, the migrant crisis, growing Islamophobia and various malign foreign influencers in the region heightened far-right ideologies. Bosnia and Herzegovina is on the crossroad of the homegrown far-right scene deeply rooted in historical revisionism, genocide denial and extremist nationalist ideology.
Regional and international far-right groups see the region and Bosnia and Herzegovina as a possible breeding ground for white supremacist ideologies. These groups are both local and chapters of international neo-Nazi groups such as Blood and Honor and Combat 18 exist. One group of "skinheads" in Bosnia is connected to the Azov Battalion in Ukraine. Some of these groups also have significant connections with veteran associations from the 1990s war, political elites and clergy. Almost all either have very good connections or are sister organizations with groups from neighboring Croatia and Serbia.
The 2014 war in the Donbass region in Ukraine exposed deep networks existing in the region. Foreign fighters from Bosnia and Herzegovina and the region are taking part on both sides of the conflict. Croats are siding with Ukrainian forces while the Serbs support pro-Russian separatists. In addition, the recent "Ukrainian icon" scandal uncovered secret links between para-military units and political elites in the region. The Bosnian Serb member of the Bosnia and Herzegovina presidency Milorad Dodik gifted Russian Foreign Minister Sergey Lavrov with an Orthodox Christian icon which turned out to be plundered during the ongoing war in Ukraine.
In recent years, the Russian Night Wolves and Cossacks have become frequent visitors to Bosnia and Herzegovina, Serbia and Montenegro, supporting pro-Russian politicians and groups. These Orthodox brethren connections are not new. During the Bosnian War, several thousand foreign fighters from Eastern Europe, notably from Russia and Greece, fought alongside Serbian forces.
Some of them committed mass atrocities. Greek citizens took part in the Srebrenica genocide in July 1995. Most of them were neo-Nazis, members of the Golden Dawn movement. En route to Srebrenica, Bosnia and Herzegovina they posed for a photograph waving a Serbian and Greek flag along with the sieg heil salute.
A few weeks ago, Greek media reported that a convicted member of Golden Dawn escaped the country. He's apparently hiding in a monastery in Serbia to dodge serving a 13-year jail term. If things go south, he might even cross the border into Bosnia.
Hikmet Karcic is a genocide scholar based in Sarajevo. He tweets @hikmet_karcic.
The views expressed in this article are the writer's own.