Bosnia Must Join NATO 'Soon as Possible' Minister Says as Russia Looms Over Serb Crisis
Bisera Turkovic called for more U.S. support for Bosnia and Herzegovina
Failure to join EU would encourage "new genocides...war criminals and terrorists"
Milorad Dodik is threatening to pull Serbs from Bosnia's institutions
Bosnia and Herzegovina must join the NATO defense alliance without delay, its foreign minister suggested, as Russia hangs in the background of a political crisis between the country's ethnic groups that threatens to reignite the war.
One of Europe's youngest nations, Bosnia and Herzegovina is also one of the continent's most unstable. Tensions among Bosniaks, Serbs and Croats—the three largest ethnic groups—may collapse the power-sharing system adopted in 1995 to end the Bosnian War, which was one of the Yugoslav Wars.
With Russia—traditionally a backer of the region's Serb population—looming over Bosnia's difficulties, Foreign Minister Bisera Turkovic told Newsweek that the country's long-time bid for NATO and European Union membership is more urgent than ever.
"The crisis we are currently in perhaps is the best indication of why Bosnia and Herzegovina needs to enter the security alliance as soon as possible, which will permanently guarantee peace in this part of the world," Turkovic said.
Bosnia and Herzegovina is made up of two parts; the Republika Srpska dominated by ethnic Serbs, and the Croat-Bosniak-dominated Federation of Bosnia and Herzegovina. The country is headed by a three-member presidency with one from each of the major ethnic groups.
The system—set out in the 1995 Dayton Agreement—has prevented a return to the brutal civil war of the 1990s, but according to critics has also entrenched the ethnic divisions that spurred past conflicts.
Milorad Dodik is the Serb presidential representative. In recent months, the 62-year-old has dismissed Bosnia as an "impossible" and "failed" country.
Dodik is also threatening to withdraw the Republika Srpska from national Bosnian institutions, including the armed forces. The threat of a revived ethnic Serb army is enough to set alarm bells ringing across the Balkans.
He appears to be banking on further backing from Moscow. When threatening to force all Bosnian armed forces out of the Republika Srpska last month, Dodik said he had "friends" who would support such an operation—an apparent reference to Serbia and Russia.
Moscow has also been engaging in more direct meddling. The mandate of the 700-strong EU peacekeeping force in Bosnia was up for renewal at the UN security council this week, a proposal Moscow threatened to oppose before eventually acquiescing at Wednesday's vote.
For NATO and the EU, instability in Bosnia is an open door for Russia. For Putin, chaos and conflict is both a Russian opportunity and a drain on the European and American adversaries who will be forced to handle the fallout.
The Kremlin is fiercely opposed to Bosnia's long-running efforts to join NATO and the EU, threatening action to stop such steps if required. In March, Russia's embassy in Serbia said that in the event of Bosnian rapprochement with NATO Moscow "will have to react to this hostile act."
The Croat member of Bosnia's three-member presidency, Zeljko Komsic, described the statement as a "twisted threat."
Turkovic told Newsweek: "Bosnia and Herzegovina strive for good relations with all countries, including Russia." But she added that is no reason to reverse Bosnia's decision to look West rather than East.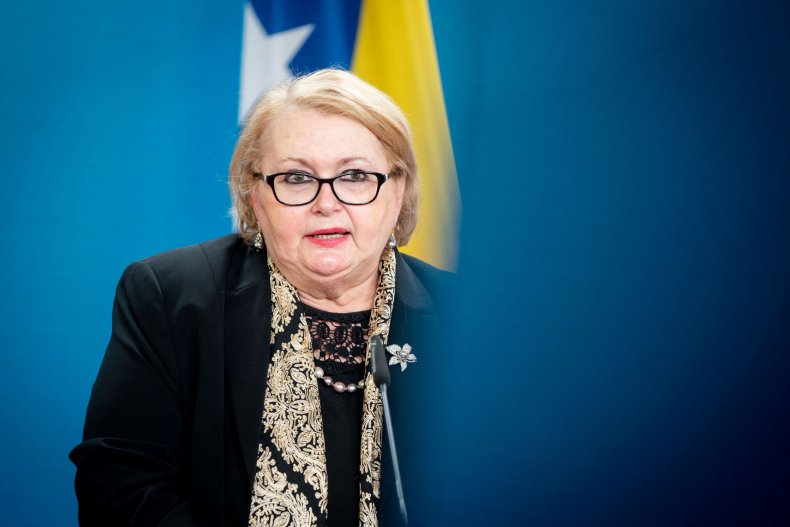 "Russia made it clear that it does not support NATO membership for Bosnia and Herzegovina, and we noticed that," Turkovic said.
"However, we are a sovereign and independent state, and we have democratic institutions that decide about our future based on the will of the people. Our laws and strategic documents envisage future NATO membership.
"I want to believe that the Russian Federation also has such intentions and that it is ready to respect the Dayton Peace Agreement, institutions, democracy, and the will of Bosnia and Herzegovina's citizens.
"This year marks the 25th anniversary of diplomatic relations with Moscow, and I believe it will be a good opportunity to reaffirm our shared commitment to relations of mutual respect."
The international High Representative in Bosnia, Christian Schmidt, has told the United Nations that Dodik's warning is an "existential threat" to the unity of the country.
"The prospects for further division and conflict are very real," he said in a report delivered to Secretary General Antonio Guterres last week. "This is tantamount to secession without proclaiming it."
Dodik's actions, he said, "endanger not only the peace and stability of the country and the region, but—if unanswered by the international community—could lead to the undoing of the [Dayton peace] agreement itself."
Turkovic told Newsweek that U.S. engagement will be vital in averting crisis. "We welcome the stronger and more intense U.S. role in the Balkans," she said.
"President Biden has very good knowledge about the roots of all the crises in the Balkans and Bosnia and Herzegovina and that is the most important. And we see U.S. and EU diplomats working on some solution.
"The problem is that sometimes diplomats on the ground search for easy and quick compromises that do not bring comprehensive and lasting solutions. It only encourages those who dream about dividing Bosnia and Herzegovina—and working on that scenario—just to make genocide a successful mission.
"We would like to see more support from the U.S. to those who want Bosnia and Herzegovina to continue its path to the European Union, for those who respect the Dayton Peace Accord and who want to build a democratic society for all its citizens."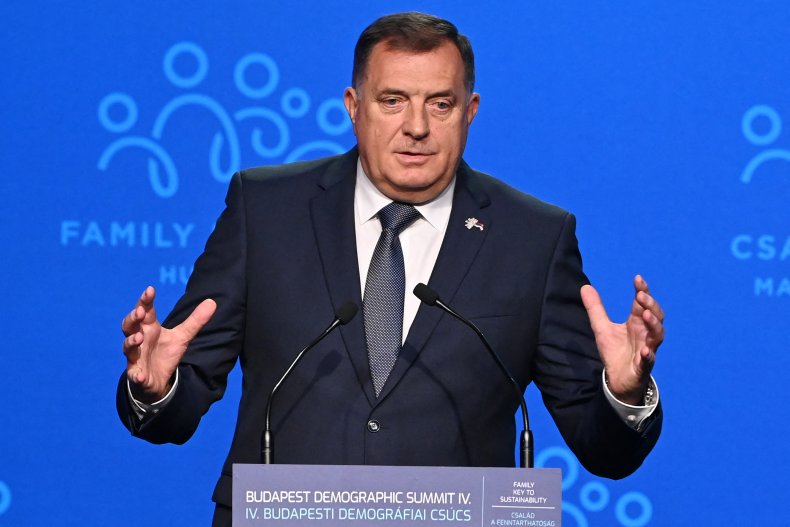 The stakes are high for Bosnia, but instability could reverberate far beyond its borders, Turkovic warned.
"What would be the signal to the world if [Radovan] Karadzic, [Ratko] Mladic, and [Slobodan] Milosevic would win in Bosnia and Herzegovina in the end?" Turkovic asked, referring to three of the most infamous Serb war criminals of the Yugoslav conflicts.
"How many new genocides, but also war criminals and terrorists in the world, would be encouraged to continue with their plans? And this will happen if Bosnia and Herzegovina were left to fail on its European path.
"There is a lot of talk about who wants what in Bosnia and Herzegovina, but I will tell you—Bosnians and Herzegovinians just want European standards to be applied in Bosnia and Herzegovina."
She added: "We are a European country; our culture and history are European and why do we want to be denied that?"
Bosnia is being denied EU membership, having applied to join in 2016. The country is lagging behind Western Balkan neighbors in the application process.
Ahead of last month's EU-Western Balkans summit, Slovenia—the current chair of the rotating EU presidency—called on its fellow member states to accept Bosnia, Serbia, Kosovo, Montenegro, North Macedonia, and Albania into the bloc by 2030. But the union refused, citing concerns over migration from the Balkans.
EU Commission President Ursula von der Leyen said she backed the eventual ascension of the Western Balkan states: "The Western Balkans are part of the same Europe as the European Union. The EU is not complete without them."
But EU leaders resisted a concrete timeline. "In all frankness, there is discussion among the 27 about our capacity to take in new members," European Council President Charles Michel said.
Turkovic told Newsweek that the current tensions inside her country, while serious, should not undermine 25 years of peace and development.
"Bosnia and Herzegovina has come a long way since the war ended in the 1990s," Turkovic said.
"We have seen more than 25 years of progress which has entailed hard compromises, reforms and billions of dollars invested, including from the international community for reconstruction and peace implementation.
"Those 25 years have shown that real progress is possible.
"Some see internal divisions in our country, but in Bosnia and Herzegovina for centuries we see and live a variety of cultures, languages, religions. We see our differences as an advantage, not as a division, and we all believe that European standards that we strive to are models for the future.
"Of course, there may be disagreements on issues in society, but the past 25 years have shown that, as in every democratic country, those disagreements can be overcome through democratic systems."
She blamed opportunistic anti-Western politics for the instability.
"Differences in Bosnia and Herzegovina are not a problem, the problem is very specific, clear, and identified politics that do not want Bosnia and Herzegovina to reach an irreversible phase on the path to EU and NATO membership," Turkovic said.
"Because that would, once for all, bury the war-time genocidal goals of some to destroy Bosnia and Herzegovina as a state and divide it between the neighboring states.
"It is a politics based on opportunism that assumes that the U.S. and the West now are not strong and committed to peace in the Balkans and wider Europe as they were in the late nineties.
"We are on the verge of becoming an EU candidate state, and the challenge now for both political leaders in Bosnia and Herzegovina and the international community is to put an end once and for all to that destructive opportunism and support the reforms and progress which has been made."