Boss's Reaction to Worker Calling in Sick Surprises Internet: 'In Tears' 
A video highlighting a sympathetic boss's response to an employee taking a sick day has gone viral on TikTok, where it has received 1.5 million views.
The video, shared by TikToker @chloebartuska, was posted with a caption that said: "How to handle employees calling in sick 101 #corporate #corporatelife #corporateamerica #pto #sicktime #manager."
The video showed a woman sitting at a desk, who said: "This is what my director said when I asked to take yesterday off because I was in the ER [emergency room] the night before." She then read aloud an email exchange with her director.
Feeling anxious about calling in sick at work? You're not alone. According to a survey of 2,000 workers in the U.S., conducted by OnePoll for telehealth provider MDLIVE, 42 percent were more stressed or anxious in 2020 about taking a sick day for themselves or to care for another person than in prior years.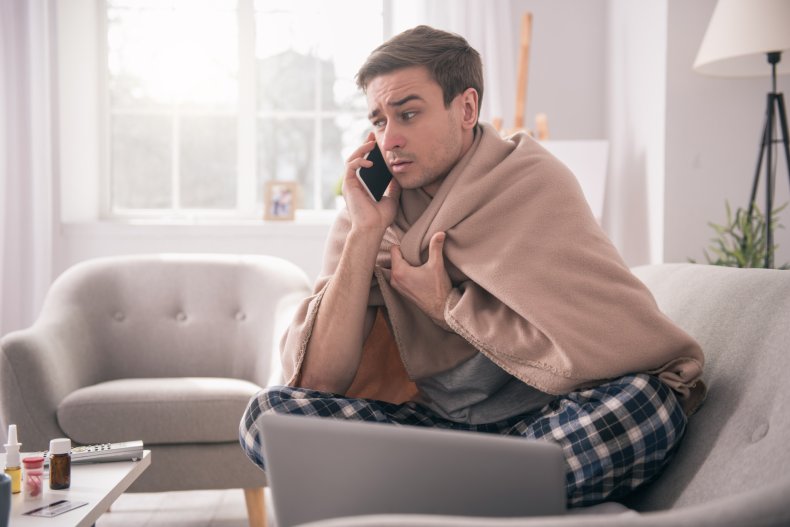 "Sick day stress" was "substantially higher" among those working remotely, compared with those working in person, according to the survey.
The study also reported that stress and anxiety were the key reasons for requiring time off. More than half of workers (55 percent) were more likely to take a sick day in 2020 for mental health reasons than in previous years.
Dr. Cynthia Zelis, chief medical officer at MDLIVE, said in January 2021: "The sick day experience, meant to enable workers to set aside their worries to focus on rest and recovery from illness, has for many people morphed into full-blown stress and anxiety due to the changing dynamics and blurred lines between work, home and family."
In a February 2021 survey of nearly 1,500 people from 46 countries, conducted by Harvard Business Review, half of those surveyed said a decline in mental health, including greater stress, anxiety and burnout, was the biggest contributor to the change in their general well-being. Eight percent said "lack of leader support" played the biggest role in the decline of their general well-being.
According to the TikTok poster, she emailed her director to say: "Hey, I was in the ER for a long time last night for chest pain that I've been having all weekend. Everything is okay, I just need to take care of myself. So I'm going to take the day off to rest and most likely will check in here and there. See you tomorrow."
The poster said her director replied: "Good grief Chloe!! PLEASE take time to take care of yourself."
With the text highlighted in yellow, the director continued: "Take as much time as you need and try not to worry about work. I know it's hard but your health is paramount. The circus will always be here, even when we're not. Do take care!!"
The poster wrote: "Now that is a great director. You would be so surprised [by] how much your employees will do for you if you show that you care about them. Granted I am a really hard worker, I'm great at my job and we've created really good trust between each other.
"So if you're a manager director, what do you do if your employee calls in sick? Do you support them?" the poster asked.
Several commenters on TikTok were surprised by the director's response and praised the boss, such as 7661370063545, who said: "I really thought that was going a different way...."
Staci Ramey said: "I was expecting the opposite. That's the sad part."
User katriel329 wrote: "I'm in tears, my team member (I'm a manager) sent this to me and said I immediately thought of you. So glad there is great leadership out there!!"
Ptaszek1983 wrote: "That is a great Director, and a great boss," while Chelsey Marie said: "Now THAT is an amazing manager! "
Michelle Fitzgerald said: "That Director gets it! I try to do the same for my team," while Brandie Hollyfield Musick wrote: "Awesome bosses keep great employees [red heart emoji]!!"
Newsweek has contacted the original poster for comment. The video has not been independently verified.
Do you have a similar story or video to share? Let us know at life@newsweek.com with some details and your story could be featured in Newsweek.