Boston Bombing Suspect's Brother Described as 'Very Strict'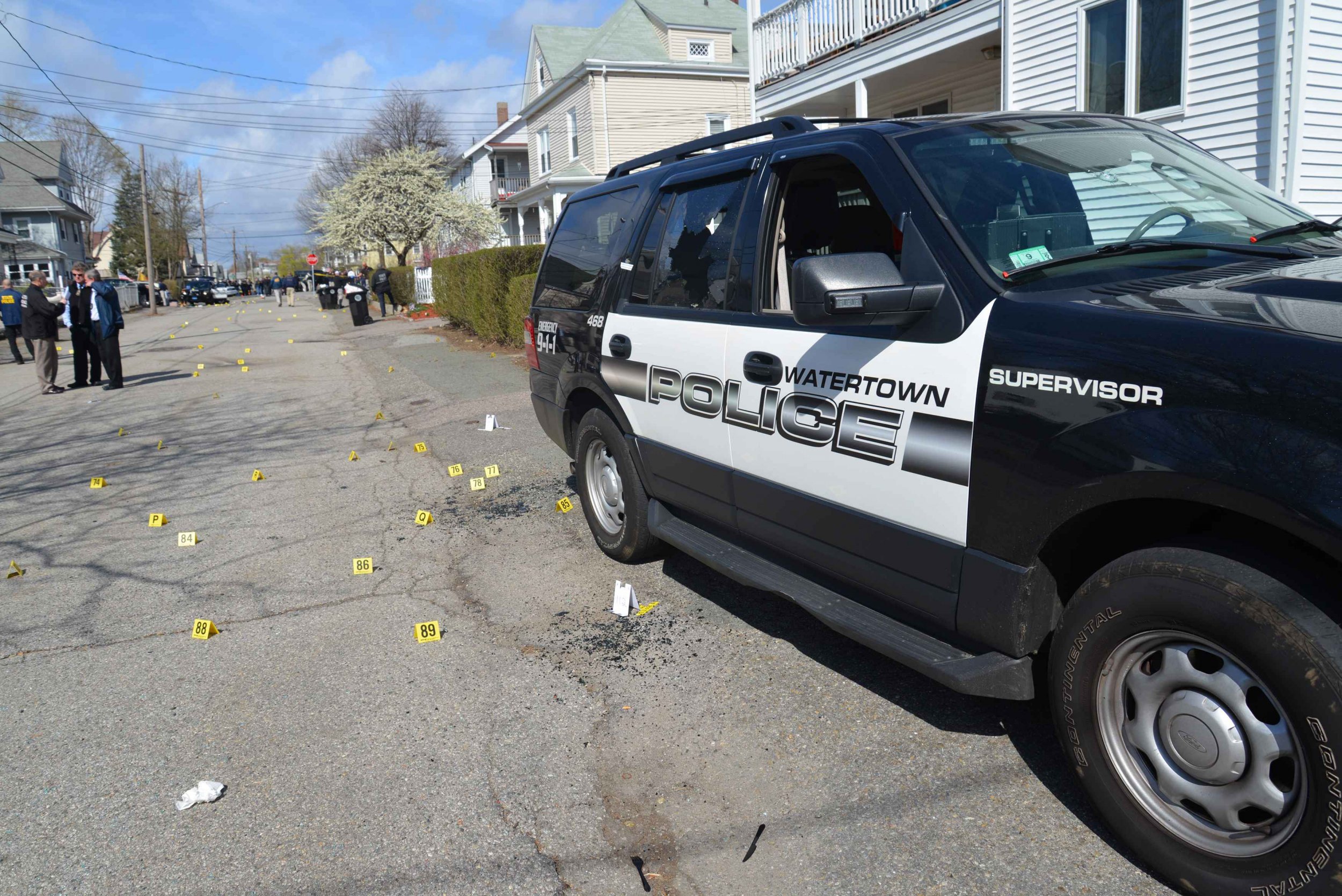 BOSTON (Reuters) - The owner of the boat where the accused Boston Marathon bomber hid after a gunfight with police recalled on Tuesday stepping into his backyard after a day-long lockdown was lifted and finding a person in his watercraft.
David Henneberry described waking up the morning after defendant Dzhokhar Tsarnaev and his brother are accused of battling with police and noticing something wrong about the winter covering of his boat, but presuming it had been blown around by the wind.
He put off checking it out till after 6 p.m., when authorities lifted a shelter-in-place order that had applied to hundreds of thousands of Boston-area residents including Henneberry and his neighbors in Watertown, where the gunfight occurred four days after the April 15, 2013 bombing.
"I went to check on the boat and basically see why the strap was loose and I noticed a lot of blood," Henneberry testified at U.S. District Court in Boston. "I just kept fixating on this blood and then, I just, my eyes looked at the other side of the boat and that's when I saw a body in the boat ... I got off the ladder pretty quick and went in the house."
Tsarnaev, 21, could be sentenced to death if he is convicted of charges that also include the fatal shooting of a police officer three days after prosecutors contend he and his older brother carried out the bombing.
Defense lawyers opened the trial with the blunt admission that their client had carried out the crimes he is charged with, focusing their hopes on the jury sentencing him to life in prison rather than death.
They contend that 26-year-old Tamerlan Tsarnaev was the driving force behind the attacks, and that his younger sibling followed along out of a sense of subservience.
Stephen Silva, a 21-year-old friend of Dzhokhar Tsarnaev's who prosecutors contend lent him the rusty Ruger P95 handgun used to shoot dead the police officer, also testified on Tuesday.
Under cross-examination by defense attorney Miriam Conrad, Silva acknowledged having posted on Facebook and having told the Federal Bureau of Investigation that he believed the bombing must have been Tamerlan Tsarnaev's idea.
"At the time that's what I felt, yes," said Silva, who also recounted smoking marijuana with Dzhokhar Tsarnaev. Silva acknowledged having told prosecutors in August that he had used "peer pressure" to persuade Dzhokhar to try the drug.
"That's what I said but I stated it wrong," Silva said on Tuesday.
'VERY STRICT' BROTHER
Silva said that he had never met Tamerlan Tsarnaev, and that Dzhokhar had once told him the two would not get on well.
"He said his brother was very strict, very opinionated, and that since I wasn't a Muslim he might give me a little shit for that," Silva said. Silva testified that Dzhokhar Tsarnaev had once called him a "kafir," an Arabic word meaning nonbeliever or infidel, in response to Silva calling the defendant a "Russian refugee."
Tsarnaev is an ethnic Chechen whose family moved to the United States a decade before the attack.
Silva has pleaded guilty to federal gun and drug charges, but was offered leniency in sentencing in exchange for his testimony.
The trial has moved quickly, with prosecutors working through 60 witnesses in eight days of testimony, largely reflecting defense attorneys' decision not to cross-examine any of the victims or most of the first responders who took the witness stand. Proceedings took on a different tone on Tuesday with Conrad's persistent questioning of Silva.
When prosecutors wrap up their case it will be the defense's turn to call witnesses, who could include Tsarnaev. After that, the jury will consider Tsarnaev's guilt. If he is found guilty, a second phase of the trial will play out that will focus on sentencing.
The bombing killed restaurant manager Krystle Campbell, 29, graduate student Lingzi Lu, 23, and 8-year-old Martin Richard. Massachusetts Institute of Technology police officer Sean Collier, 27, was shot dead three days later.
Henneberry said after he returned to his house he called 911. That call brought dozens of heavily armed police to his house, who fired scores of rounds into the boat where Tsarnaev was discovered.
The jury also saw a photo of a pair of wooden slats removed from the boat, into which a message had been carved. It read, "stop killing our innocent people and we will stop."