Is Boston Celtics Great Kevin McHale a Trump Supporter?
Eagle-eyed Twitter users believe they spotted a basketball hall of famer at President Donald Trump's rally in Duluth, Minnesota—the Boston Celtics great Kevin McHale. But is it him?
McHale, 60, had a 13 year playing career with the Celtics from 1980 to 1993 as a power forward, winning three NBA championships and being picked for seven All Star games along the way.
He later coached the Minnesota Timberwolves and the Houston Rockets after his playing career ended—and he was inducted into the College Basketball Hall of Fame in 2006.
"I'd love to get definitive confirmation. But if Kevin McHale actually showed up to Trump's rally in Duluth today with everything that is happening now and what Trump's done and stands for, yeah he's cancelled," tweeted Henry Lake, a presenter on 610 Sports Radio.
Speculation that the man in the images is McHale was fuelled by his wife Lynn McHale, who regularly posts pro-Trump updates on Twitter. And when Twitter users thought they had seen her husband at the Duluth rally, they descended on her account—which she then deleted.
Many voiced their disapproval of McHale's alleged support of Trump, citing the recent controversy over the treatment by his administration of undocumented child migrants crossing America's southern border.
Not everyone thought it mattered even if McHale was there, however. "Do you genuinely believe he should not be associated with the NBA because he supports Trump?" asked one Twitter user.
Another wrote: "Why is it that politics MUST infest every part of our lives? Why can't he just be a good coach? Why do his political beliefs affect how good of a coach he is? We need to go back to how life was for our parents: Keep your religion & your politics to yourself."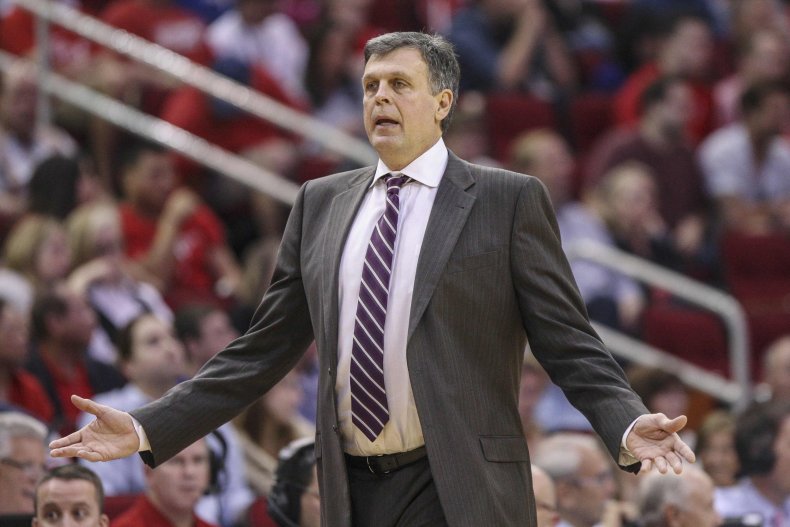 One Twitter user questioned whether it could be McHale because he did not appear to tower over everyone else around him, despite his abnormal height: "Is everyone standing next to him also 6'10" tall, since the person in the photo doesn't seem to be towering over anyone. Most likely someone who looks a lot like him."
President Trump is coming under severe criticism over the treatment of undocumented children picked up at the border by American officials.
Children, including toddlers and babies, were being separated from the adults they arrived with and held alone in detention centers.
Around 2,000 children were split from their families or guardians since the Trump administration embarked on a "zero tolerance" approach to illegal immigration.
Under that policy, undocumented adults picked up after unlawfully crossing the border are to be taken immediately for prosecution. Any accompanying children had to be separated from them.
Reports, images and audio from the detention centers holding these children exposed their traumatizing experience. Children are seen and heard wailing for their parents, held in cages and sleeping under mylar blankets unsure if and when they would see their families again.
After public outcry, including from Congressional Republicans, President Trump was forced to sign an executive order ending the separation of children from their families.