Boston Deadly Gas Explosion Latest: Everything to Know About 'Armageddon' Blast
One person was killed, and at least 20 others were injured after gas explosions rocked three towns outside Boston, destroying dozens of homes late Thursday afternoon.
Firefighters raced to quell the blazes at nearly 40 properties after a series of explosions hit communities in Lawrence, Andover and North Andover, which are about 30 miles north of Boston.
Dozens of fires broke out, along with a number of explosions, across houses and businesses as a result. The explosions are believed to have begun at around 4:30p.m.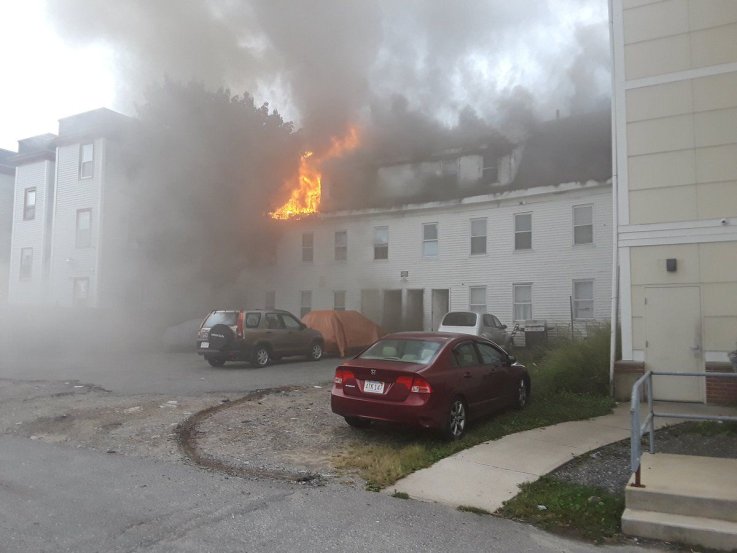 An 18-year-old man, who has been identified by the Essex County District Attorney's office as Leonel Rondon, died after a chimney fell on his car as he sat in his driveway.
He was rushed to a hospital, but was pronounced dead Thursday evening.
At least 10 others were injured in the explosions and resulting fires, though it was not yet clear how serious their conditions were.
Residents of all three towns were urged by Massachusetts State Police to evacuate their homes "immediately" in the wake of the explosions, and to stay away hours later as power lines were shut down to prevent further fires.
'Armageddon'
Andover Fire Chief Michael Mansfield said the scene "looked like Armageddon."
"It really did," he said, according to ABC News. "There were billows of smoke coming from Lawrence behind me. I could see pillars of smoke in front of me from the town of Andover."
"I have been in the fire service for almost 39 years, and I have never seen anything like this in my entire career," he said.
Firefighters were able to douse all of the blazes by late Thursday, and officials said they were confident there would be no more explosions or fires in the areas affected.
What Caused the Explosions?
An investigation is underway as to the cause of the devastating explosions.
Mansfield said investigators suspected they were caused by "over-pressurization of a gas main" belonging to Columbia Gas.
Columbia had announced earlier on Thursday that it would be upgrading gas lines in neighborhoods across the state, including the area where the explosions occurred.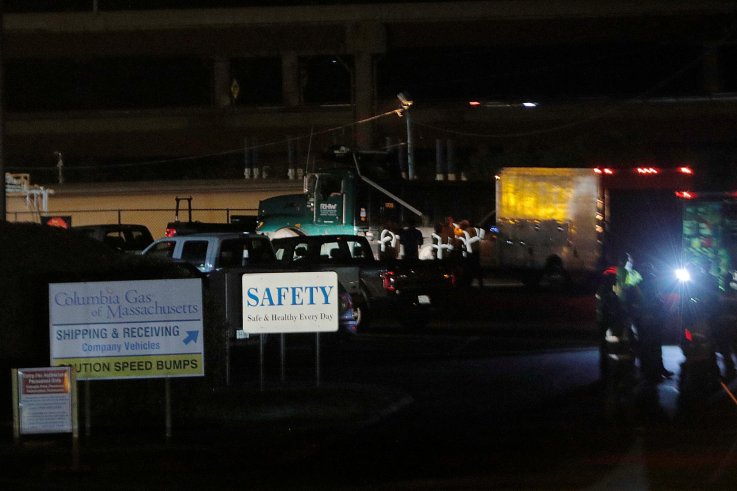 It was still unclear whether any work by the company was going on at the time of the eruptions.
Ken Stammen, a spokesperson for NiSource, which owns Columbia Gas, said the company's thoughts were with those affected by the disaster.
In a statement shared with Newsweek early Friday morning, Stammen said: "Our thoughts are with the community and everyone impacted by yesterday's tragic incident. We are focused on providing as much support as possible to our customers, residents and communities."
Stammen said that as "part of response efforts, Columbia Gas crews need to visit each of the 8,600 affected customers to shut off each gas meter and conduct a safety inspection.
"Additional support is being provided by crews from several affiliated Columbia Gas companies and other utilities who are currently mobilizing to provide assistance," Stammen said.
He said that NiSource expected the restoration effort to be an "extended one," adding that the company would be working "tirelessly to restore service to the affected customers."
'An Active Scene'
Massachusetts Governor Charlie Baker declared the disaster a "public safety event" in the early hours of Friday morning.
He confirmed that state and local authorities were investigating but said it could take days, or even weeks, before they could provide concrete answers.
"This is still very much an active scene," he said. "There will be plenty of time later tonight, tomorrow morning and into the next day to do some of the work around determining exactly what happened and why."
What to Do If You Are Affected
The Red Cross has established shelters at a number of locations, which will accommodate pets.
Shelters are located at:
Arlington School, 150 Arlington Street, Lawrence
Parthum School, 255 Haverhill Street, Lawrence
North Andover High School, 430 Osgood Street, North Andover
Cormier Youth Center, 40 Whittier Court, Andover
NiSource has warned that if customers have shut off their gas meters on their own, they should not attempt to turn their services back on and should wait for additional instructions.
If any customers smell natural gas, the company suggests the following:
Don't turn off gas to your house or to any appliances.
Don't try to find the leak yourself or operate pipeline valves.
Don't light a match or candle, or operate anything that could cause a spark, including home phones or cell phones, lights, appliances, flashlights, power tools, etc.
Don't open the windows and doors in an attempt to ventilate."
The company said it would be providing another update at around 9 a.m. Friday morning.
Boston Deadly Gas Explosion Latest: Everything to Know About 'Armageddon' Blast | U.S.