Boston Latest City to Replace Columbus Day With Indigenous Peoples' Day
Boston is the latest U.S. city to replace Columbus Day with Indigenous Peoples' Day in a surprise move by acting Mayor Kim Janey.
The executive order signed by Janey recognizes the second Monday in October as Indigenous Peoples' Day instead of Columbus Day starting next week on October 11.
"This is a small step in a long journey around justice in our city," Janey told reporters outside of Boston City Hall on Wednesday. The event was held in collaboration with the United American Indians of New England (UAINE), the North American Indian Center of Boston (NAICOB) and members of the Massachusett Tribe that all helped increase the city's engagement with indigenous communities.
Though Columbus Day is considered a federal holiday, 14 states and more than 130 local governments have chosen to replace it or just not observe it. In Massachusetts, more than two dozen communities honor Indigenous Peoples' Day, with Boston becoming the latest city.
Janey spoke of the city's significant role in U.S. history from the American Revolution and abolitionist movement to its place as "a training ground for modern-day civil rights leaders."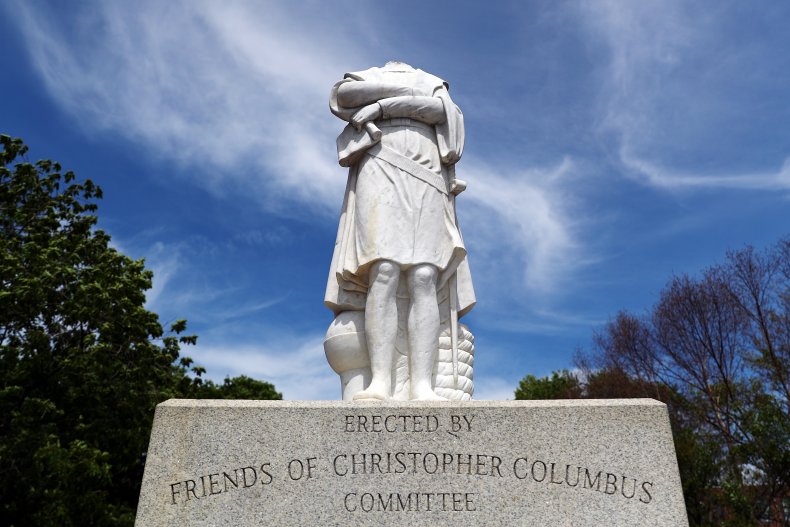 But despite that, she said Boston resides on land once inhabited by Native American tribes including the Massachusett, Wampanoag, and Nipmuc people. She acknowledged the city's "complicated history" includes "displacement and oppression of indigenous peoples, who lived here for thousands of years."
"Our shared history in the city is tainted by colonial violence and systemic exclusion," Janey said. "As the current residents of this land, the city of Boston has an opportunity and an obligation to honor the cultures, experiences, and achievements of indigenous people."
Columbus Day was first observed under President Franklin D. Roosevelt in 1937, though its celebrations date back to 1792 in New York City. The day became a legal holiday in 1971 and is observed as the "discovery" of North America, however, in recent years some have questioned whether Columbus should be celebrated at all.
"The people of the Massachusett Tribe have been a part of what is now called Boston for over 10,000 years," said Elizabeth Solomon of the Massachusett Tribe at Ponkapoag in a statement. "For far too long, the indigenous history of this place has been obscured, and frequently erased, by the histories, myths, and priorities of the dominant culture. We are happy to see the City of Boston take the important step of recognizing and celebrating Indigenous peoples in Boston, the Americas, and around the world."
Indigenous Peoples' Day was first proposed during a United Nations conference in 1977 when members of the community reported facing discrimination. It was instituted in Berkeley, California in 1992 and has continued to grow in popularity over the years.
Former Boston mayor Marty Walsh didn't support replacing the holiday and Janey's executive order was not announced as part of the public schedule until Tuesday night.
And not everyone was happy about the switch. While some view Columbus Day as a day dedicated to Christopher Columbus, some Italian-Americans regard it as a day to celebrate their heritage.
City Councilor Lydia Edwards, who represents the North End and the "largest Italian American community" criticized the acting mayor on Facebook following the order.
"Today's unilateral action by the acting mayor was a surprise to me and I don't believe it encourages the honest, transparent, healing conversation we need," she wrote.
Others criticized Janey for not seeking input before replacing Columbus Day with Indigenous Peoples' Day. Some Italian Americans have suggested recognizing another day of the month or around Thanksgiving as Indigenous Peoples' Day.
"To take away from a culture and giving it to another culture is totally wrong. It's very hurtful for an acting city mayor to do this without the proper procedures. She didn't even consult with any of the Italian organizations," said Louis Strazzullo, the North End Columbus Day Parade chairman.
The acting mayor responded by saying she doesn't need to hold a public hearing for the executive order and that a number of conversations took place internally, with the indigenous community and with members of the North End community.
"We can lift up Indigenous Peoples and we can respect Italian Americans," Janey said.
Supporters of the change also called on the state legislature to pass a bill that would designate the second Monday of October as Indigenous Peoples Day across the Commonwealth.