Man Arrested After Allegedly Sneaking Into Plane's Cargo at Boston Airport
A Boston man allegedly managed to sneak onto the tarmac at one of America's busiest airports and climb into the cargo hold of a plane.
State troopers were alerted to the security breach at Boston's Logan Airport at 12.30 p.m. on Monday. They said that suspect Sergiu Parfeni, 31, from Malden, Massachusetts, went out an emergency exit door at Terminal C. He then went onto the tarmac and made his way to the hold of a JetBlue plane, before being spotted and removed by the airline's ground operations staff, Boston network CBS Local reported.
Police checked the cargo hold and a Massachusetts State Police bomb dog swept the area but no hazardous materials or anything suspicious was found.
Parfeni has been charged with trespassing, disorderly conduct and interfering with aircraft operation. Police do not believe that there was any terrorist intent.
Newsweek has contacted Massachusetts State Police and JetBlue for comment.
WCVB reported that Parfeni is a prominent member of the Malden community and the co-owner of a coffee shop called Bikeeny Caffe.
Paul Solano, the general manager at Pearl Street Station Restaurant, opposite the coffee shop, said that Parfeni was "very involved in the community" and was "a great business man."
Parfeni is also on the board of directors for Malden's local access television station, MATV, whose executive director Ron Cox said: "First of all, I just can't believe it. It's totally not his character. This just totally blows me away. I can't believe it. He helps with cameras or he'll be there just to show support, so it just seems out of character for him."
Security Expert Dan Linskey told Boston 25 News that the way the incident was dealt with showed that security measures at the city's airport worked well.
"The system and the security program as designed was in effect at Logan and worked. Obviously we want to see if there's anything we can learn from this.​​​​​"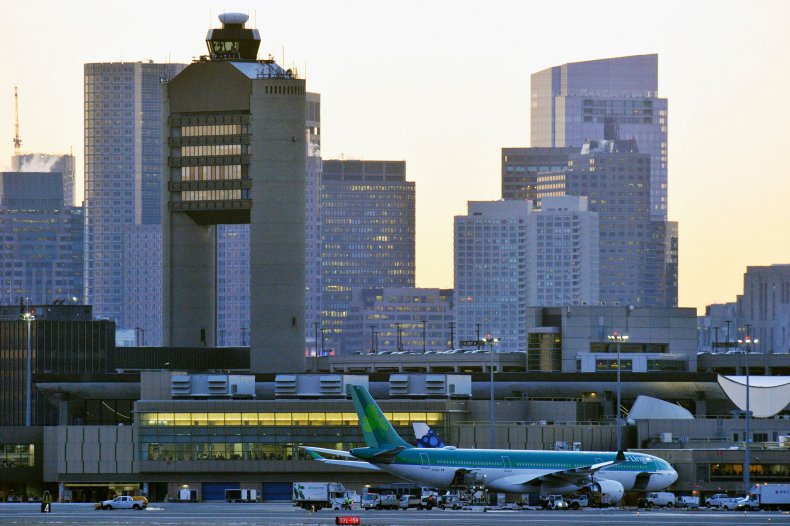 In another unusual aviation story, a woman feigned health issues on board a plane to get a bigger seat, only for the pilot to believe it was an emergency and divert the flight.
The unnamed passenger was flying from Florida to Miami on an American Airlines flight last Friday when she complained of breathing difficulties. But the pilot turned the plane back to land at Pensacola and passengers disembarked. She later admitted she had faked the medical condition, according to NBC News.