Judge Formally Sentences Boston Marathon Bomber Tsarnaev to Death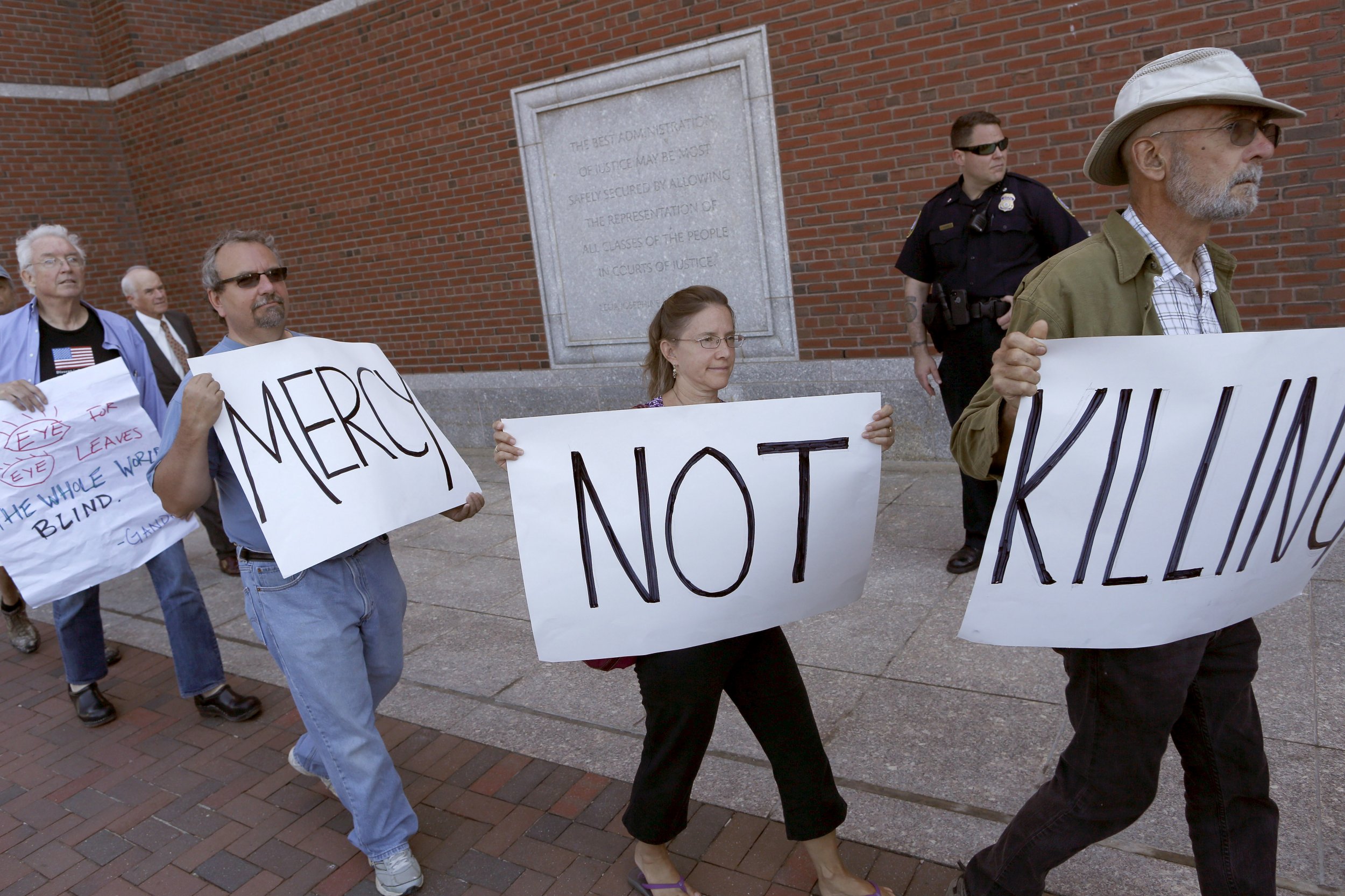 Updated | More than two years after the Boston Marathon bombing, U.S. District Judge George O'Toole officially sentenced convicted attacker Dzhokhar Tsarnaev to death on Wednesday afternoon inside a Massachusetts federal court.
"The jury has condemned you to death," O'Toole said as he directly addressed Tsarnaev at his formal sentencing in South Boston. Tsarnaev remained motionless and emotionless as the judge spoke to him at the John Joseph Moakley Courthouse.
The U.S. government has identified Terre Haute, Indiana, as the location for Tsarnaev's execution.
Before the proceeding ended, O'Toole told Tsarnaev he is allowed to appeal both the conviction and the formal sentence.
Earlier in the day, 24 survivors and victims' family members directly addressed Tsarnaev for three hours. Then, after an hourlong lunch break, the attacker unexpectedly addressed the courtroom briefly. He apologized to the victims, admitted to the bombing, thanked his attorneys and the jury, acknowledged his religion and asked Allah for mercy. His statement marked the first time he had spoken in court since he first appeared there more than two years ago.
Earlier this year, Tsarnaev was found guilty for his role in the April 2013 attack that killed Martin Richard, Lingzi Lu and Krystle Campbell and injured 264 near the finish line of the Boston Marathon. A month later, the same Massachusetts jury sentenced him to death by lethal injection. The 12 jurors weren't required to attend the formal sentencing on Wednesday.
Tsarnaev entered the federal courtroom smiling as he chatted with his defense attorney. He wore a black suit and dark blue shirt, Garrett Quinn, digital news editor for Boston magazine, reported from the courtroom. Tsarnaev's hair was unruly, and his eyes were downcast.
The 24 participants who addressed Tsarnaev spoke about how the bombing changed their lives, from physical pain to financial burdens.
"I know life is hard.... What you did to my daughter was disgusting.... I don't know what to say to you.... I think the jury did the right thing," Patricia Campbell, mother of Krystle Campbell, told Tsarnaev in court, according to Hilary Sargent of Boston.com.
"He chose hate. He chose destruction. He chose death. This is all on him. We choose love. We choose kindness. We choose peace," said Bill Richard, the father of 8-year-old Martin Richard. The Richard parents previously had come out in opposition to the death penalty for Tsarnaev, favoring life in prison without parole.
"We preferred he had a lifetime to reconcile what he did that day, but he will have less than that," Richard said in court Wednesday.
The sister of Massachusetts Institute of Technology police officer Sean Collier, who was killed three days after the two marathon explosions, said her family is "ripped apart by pure hate that had nothing to do with us." She called Tsarnaev a leech, coward and liar.
The Lu family chose not to participate in court, reported Jonathan Hall, a reporter for a local NBC News affiliate.
"I would like to begin in the name of Allah," Tsarnaev told the courtroom. "I would like to apologize to the victims."
He didn't testify during his trial and had not previously reached out to those affected by the attack.
Tsarnaev reportedly looked at the jury and leaned back in his chair as transit police officer Richard Donohue spoke on Wednesday. Donohue almost died from his injuries suffered in a shootout before the bomber was captured in Watertown, Massachusetts, four days after the attack.
"His actions are no less than treason against the United States of America and should be treated as such," Donohue told the courtroom.
Recalling the bombing, victim Michael Chase said he remembered feeling as if he was in a Third World country, as "Boylston Street had turned into Baghdad."
Stephanie Benz, also a victim, told the courtroom, "People don't know how to be friends with a bombing victim. And who can blame them?"
Another victim, Henry Borgard, said he still wakes up during the night screaming from nightmares. He said he is grateful that he found a way to forgive Tsarnaev.
Carol Downing said she continues to feel guilty because her participation in the marathon that year placed her two daughters at the finish line. Both girls were severely injured. Dr. Scott Weisberg, a family physician who crossed the finish line three seconds before the first bomb detonated, said he never imaged he would be wearing hearing aids at the age of 43, Hall reported. Weisberg said he is still physically unable to use a stethoscope.
Annette Emerson said fireworks, which she used to love to watch, now haunt her. Jeanne-Marie Parker asked Tsarnaev what his impact statement would be for all the pain and suffering he caused.
Jennifer Kauffman said she forgives the Tsarnaev brothers and hopes the surviving one will take full responsibility and forgo the appeals process so survivors can live in peace.
Later, prosecutor William Weinreb spoke after the 24 individuals, saying Tsarnaev's actions were politically motivated.
During an hourlong lunch break, police detained a man with a large knife outside of the courthouse.
Tsarnaev carried out the attack with his elder brother, Tamerlan, who died four days after the April 15 attack. The siblings planted two homemade pressure-cooker bombs near the marathon's finish line, killing Richard, Lu and Campbell. They also were responsible for the murder of Collier.
Seeking the death penalty, prosecutors earlier this year argued that Tsarnaev followed a militant Islamist ideology to punish America for U.S. military campaigns in Muslim lands. Meanwhile, the defense tried to show he was a willing but secondary player in a plot led by his elder brother.
Some of the survivors and victims' families publicly opposed the death penalty. But the 12-member jury found that Tsarnaev's actions justified lethal injection.
The death penalty is not permitted under state law in Massachusetts, but Tsarnaev faced it because he was convicted of federal crimes.