The Boston Marathon: How Kathrine Switzer's 261 Became a Symbol for Women in Sports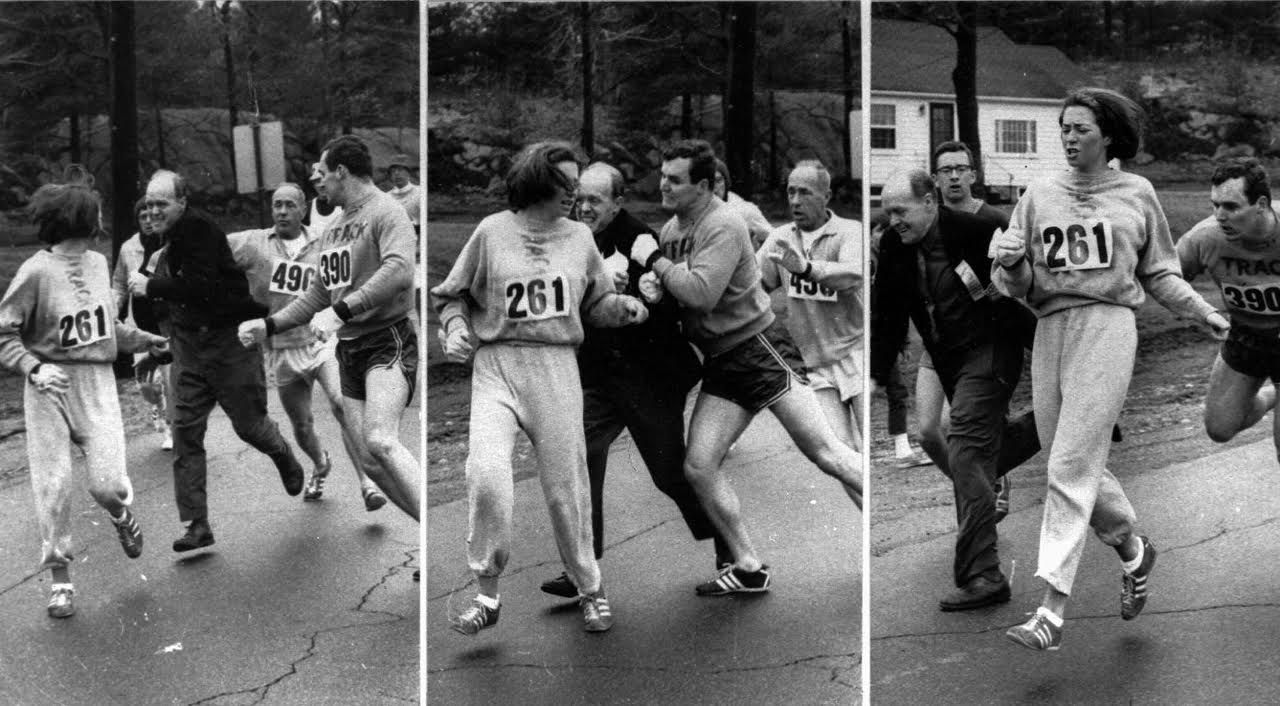 For decades, running legend Kathrine Switzer has received letters and photos from women around the world, all of them praising the number 261. Some women even show her their "261" tattoos. The reason: It's the number Switzer wore during the Boston Marathon 50 years ago, when she became the first woman to officially run the 26.2-mile race.
"What they were really telling me was, 'That number makes me feel fearless,'" Switzer says. "Because 'I, too, relate to a story about me being told that I'm not welcome or I'm not good enough or I can't do it.'"
For many years, that was the message that the Amateur Athletic Union (AAU), the sport's governing body, told women: They weren't welcome. The group didn't formally accept women in long-distance running until the fall of 1971, a year before Congress passed Title IX—prohibiting gender discrimination in any federally funded education program or activity—and Sports Illustrated named professional tennis player Billie Jean King as Sportsperson of the Year.
Related: Harlem women are in with Planned Parenthood for the long run
Switzer's feat occurred years earlier when she was a 20-year-old journalism student at Syracuse University who trained with members of the men's cross-country team but couldn't officially join it and registered for the 71st Boston Marathon. At the time, it was a male-only event, but she signed her name as "K. V. Switzer" on the application and paid the $2 entry fee. She was accepted into the race and received a bib with the number 261. "I wasn't trying to defraud anybody," she says. "That's the way I signed my name."
That was 50 years ago. Today, the Boston Marathon remains the pinnacle event in long-distance racing. And though many recall the event as the site of the 2013 bombings that killed three and injured 264, Monday will be a celebration, not a memorial. Indeed, Switzer—now 70—will pin on bib number 261 and return 50 years later to the starting line of the women's running revolution. This will be her ninth Boston Marathon. Only this time, she'll be leading a team of runners from her nonprofit, 261 Fearless, Inc., which she hopes will connect and empower women through running. And rather than being the only official woman in the race, she'll be joined by an estimated 13,700 women—almost half of the total runners.
As Switzer puts it: "The Boston Marathon itself is a microcosm of this social revolution, this history of women's running."
4 Hours and 20 Minutes
On a rainy Friday in April, I met Switzer at her home in the Hudson Valley of New York, where she lives with her husband, Roger Robinson, a British-born world-class runner. Switzer, looking as lean and fit, with shoulder-length blond hair, donned a burgundy "Team 261 Fearless" zip-up track jacket and matching shirt, black leggings and orange Adidas sneakers. She leads me into a back room of her house, where she shows me most of her awards, trophies and medals, and then we sit and chat in her living room.
Switzer was born in Germany as the daughter of a U.S. Army major. Two years later, her family moved to the United States and she grew up in Fairfax County, Virginia. Her running career started when she was 12. Her father encouraged her to cover a mile a day to help her land a spot on her high school field hockey team. Soon running became her passion. Once at Syracuse, she tackled longer distances with the men's team. But her coach didn't believe any woman anywhere could run 26.2 miles, and he made her prove her ability to cover the distance first in practice. At the time, running was generally reserved for white men. "I had a dream, a coach, a goal, and I was determined to show him that I could run 26 miles," she says. Weeks before the 1967 Boston Marathon, she completed a 31-mile practice run, which prompted her coach to encourage her to apply for the race. She chose to register for Boston, the world's oldest annual marathon—it's been around since 1897—because her coach had participated in it more than a dozen times.
It was barely above freezing on the morning of the race when Switzer, along with her coach, her boyfriend and a member of the Syracuse cross-country team—all three of whom were registered to run into Boston—arrived to the start in Hopkinton, Massachusetts. Like her fellow runners, Switzer was bundled up in a bulky gray sweatshirt. "I wasn't trying to hide anything," she says. "In fact, I had on really good-looking shorts and a top that I wanted to show off in, but it was freezing cold." From a distance, she looked like all the other runners, but up close, her differences were on display: She sported a chin-length haircut and wore lipstick and eyeliner to the starting line. "All around me, the men were wonderful, welcoming me and saying motivating things like, 'I wish my wife would run.' 'I wish my girlfriend would run.' 'I hope you give me some tips to help her start running.' 'Go for it, we're with you all the way,'" she recalls.
Switzer and the three men ran together after the gun went off at the starting line. About two miles later, she was mid-stride when reporters noticed there was a woman in the race. Soon, Jock Semple, a race official, learned the same. Infuriated, he jumped off the press truck and caught up with Switzer, screamed at her and ripped the corner of her bib as he physically tried to stop her from racing. Switzer's boyfriend, a former All-American football player, fought off Semple, allowing Switzer to continue. Photojournalists snapped pictures of the incident. "In hindsight, everybody laughs at the story, but I must say, at the time it was terrifying. I was really scared. I was embarrassed and humiliated," she says. "At that moment…I knew that if I didn't finish the race, nobody would believe that women could do it or should be there."
As she writes in her 2007 memoir Marathon Woman (which the publisher has relaunched this year in a celebratory edition), the truck carrying journalists followed her as she ran, allowing them to aggressively ask questions, such as, "What are you trying to prove?" and "When are you going to quit?" Then Semple went by on a vehicle, yelling that she was in big trouble. Around her, men gave Semple the finger and shouted obscenities. When Switzer stopped talking to the reporters, the vehicle sped up to catch the frontrunners.
For the next 24 miles, she thought race officials might have told the police to pull her off the course. "Indeed that turned out to be the fact," she tells Newsweek about the authorities, "but they didn't do it."
Running often provides emotional relief, and Switzer says it wasn't possible for her to stay angry as she passed through the remaining eight cities and towns on the course. By Heartbreak Hill, the infamous incline that torturously begins in the final six miles of the marathon, she had worked out all of her frustrations from her incident with Semple. "It gave me a sense of resolution where I knew that it wasn't the official's fault—he was a product of his time—but that it was going to be up to me to create opportunities so that other women wouldn't have things like this happening to them."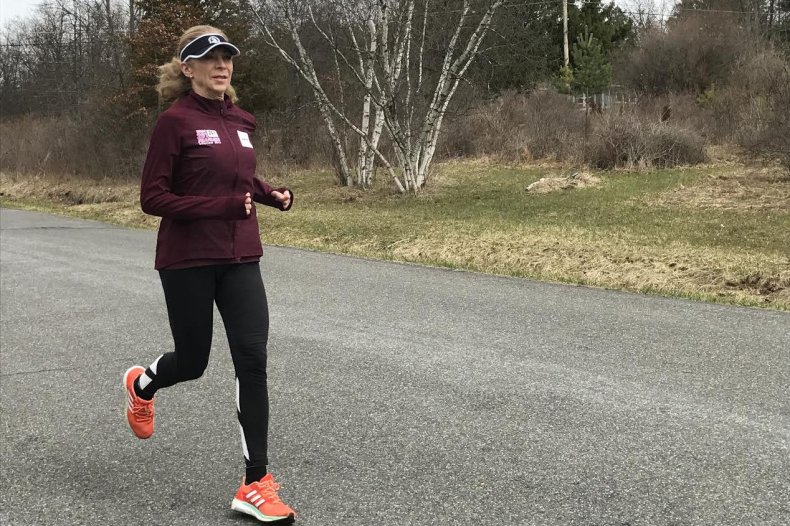 Switzer completed the marathon in 4 hours and 20 minutes. (A year earlier, Roberta "Bobbi" Gibb entered the race unofficially, dressing in her brother's clothes to disguise her femininity and jumping out of her hiding spot in the bushes to join the pack of men after the race began. But she was not registered and did not get an official bib number. Gibb also finished in 1967, in 3:27, but she again was unofficial.)
There were about 12 spectators standing at the finish line on Boylston Street in the heart of the city. Some threw army blankets over Switzer, while a group of what she calls irascible journalists peppered her with questions and comments. They said, "'Are you a suffragette?' Another one said, 'You're never going to run another marathon again. This is just a one off thing.' 'You're not really a real runner, are you?'" she says. "It was like they couldn't believe a woman could be taken seriously in running."
Semple disqualified Switzer from the race and expelled her from the AAU. She received hate mail, as well as negative press reports. But being able to finish solidified her ambition to help other women experience how running a marathon made her feel. "It's interesting that the finish line actually symbolically is a starting line in many ways because when I crossed it, I actually felt better emotionally than I did at any other point in the race, and I also had a life plan," she says.
A Fast 21 Miles
Since that remarkable day in 1967, Switzer became an iconic athlete, author, public speaker and Emmy Award-winning TV commentator, traveling the world to advocate for women runners. She has run 39 marathons, including the New York City Marathon, which she won in 1974—an accomplishment she calls her biggest victory. In 2011, she was inducted into the National Women's Hall of Fame. Just about a decade after her Boston incident, Switzer created the Avon International Running Circuit, a global series of 400 women's races for more than 1 million women, some of whom had never had a chance to run. She used data from these races to offer proof of women's capabilities in convincing the International Olympics Committee to adopt the women's marathon, first approved for the 1984 Summer Olympics.
And she still trains, though not as much as she once did. In 1975, when she reached her personal marathon record with a time of 2:51 in Boston (an 89-minute improvement from her first marathon), she was doing two workouts a day, a fast 21 or 22 miles every Sunday, speed sessions twice a week and a long tempo run mid-week. She even reached a weekly total of more than 100 miles.
At 70, she runs every other day for at least an hour. Every eight to 10 days, she completes a long run and speed workout. On her days off from running, she focuses on core work and recovery. She hasn't run the full 26 miles leading up to this year's 121st Boston Marathon. Instead, she has kept her longer runs below the complete distance, in fear of risking an injury.
But her objective remains the same as it was in her first marathon: To arrive at the starting line healthy and well rested, and to cross the blue and yellow finish line without holding herself to a time goal. "I love the training because it busts the stress and gets me into a different space in my head," she says. "I have been running faster than I thought."
Related: 92-year-old marathoner shares experience for National Running Day
Marathon training is a large—and for many, a daunting—commitment. For months, runners sacrifice parts of their personal, professional and social lives to rack up practice miles. Even so, Switzer says her dominant feeling heading into Boston is gratitude. "Often when you take responsibility for something, you let other things in your life go, like spending more time with my husband, having a tidier house, organizing my life, paying my bills on time," Switzer says. "But I'm consoled by the fact that I think what I'm doing is more important. And maybe I'll get around to those other things later."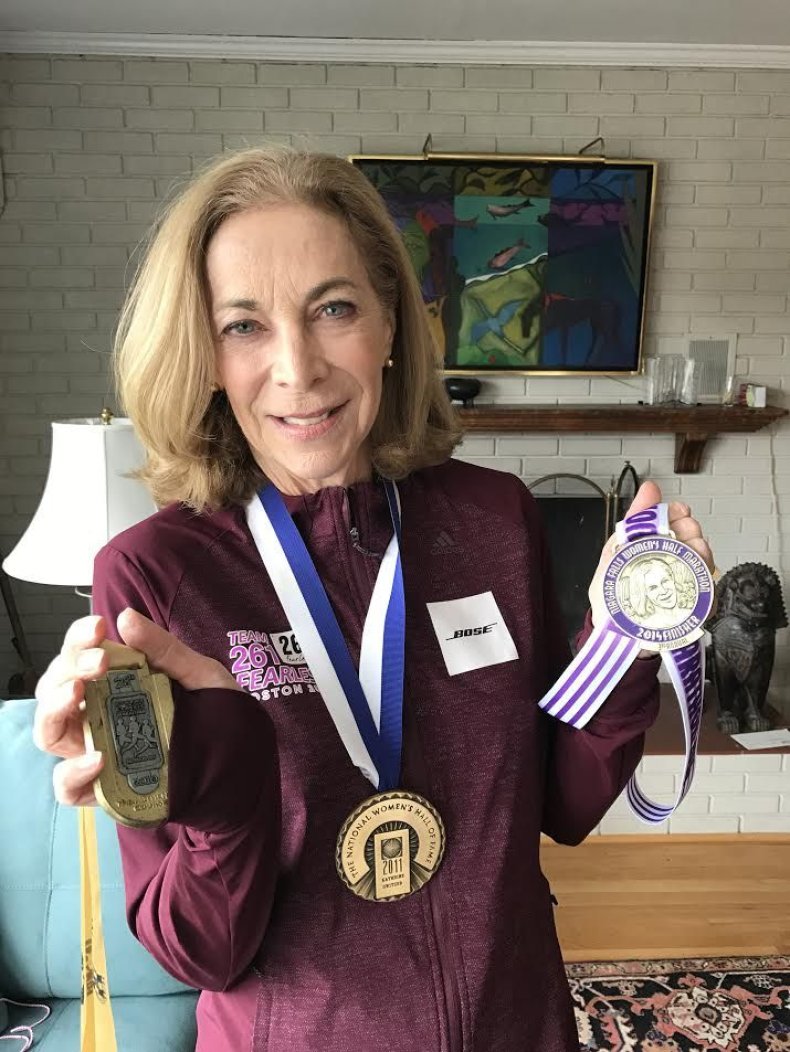 9.7 Million Women
After her 1967 finish, as journalists hounded her with questions, Switzer says she snapped at one of them: "There's going to come a day," she said, "when women's running is as popular...as men's." That day hasn't come yet in the 26.2-mile distance; there are still more men than women who compete in marathons, and women continue to face gender discrimination in sports, especially as it relates to pay and publicity. But women's running has exploded across the country. Women outnumber men in every other traditional race distance other than marathons. The half marathon, for example, in 2016 had the greatest composition of women participants: 60 percent of the U.S. finishers were women, according to Running USA. There now are more women participating in overall running events, having first surpassed men in 2010. Last year, 9.7 million women made up 57 percent of finishers in U.S. races, while men comprised 7.3 million.
Among them in 2017: Switzer's 261 Fearless marathon team, which includes 118 women and seven men. As part of the team commitment, each runner must raise a minimum of $7,261. Collectively, the teammates hope to raise $1 million to create non-competitive running clubs, train coaches and provide a communication platform and events for women in the U.S. and across the globe.
Switzer's team is running for charity, but they are also running for themselves. For Katie Eddington, a 27-year-old running coach in Lafayette, Louisiana, running provides a mindset that reassures her that she can move forward in life. "Running became a way for me to kind of deal with loss, and I found it as a way to empower me through a time when I felt like I didn't have opportunities to do anything," she tells Newsweek.
Another teammate, Meagan McCarthy, 25, of Boston, says running during the past few years has made her more confident in her career and more understanding of other people. "Seeing how running changed my life," she says, "has really encouraged me to help other women change their lives as well."
Switzer compares the marathon to life: You go forward with a plan, goal or expectation. But anything can happen and you are forced to adapt on the spot. As both a woman and a runner, she took a journey into the unknown 50 years ago, embraced fear and moved forward. "Sometimes the worst things in your life can become the best things," she says.
And may be even life-changing. Semple never officially apologized to Switzer, but he did give her a kiss six years later on the starting line of the 1973 Boston Marathon, and they later became friends. She visited the former race official just a few hours before his death in March 1988. "I often say a day doesn't pass when I don't think of him," she adds, "and thank him for creating for the world one of the most galvanizing photos in women's rights history."