Boston Police Officer Accused of Calling Black High School Students 'Monkeys' and Using the N-Word Placed on Leave
A police officer in Boston is on administrative leave after being accused of using racial slurs against teenage students at a McDonald's restaurant.
Veteran officer Joseph Lynch has been removed from duty pending an investigation over the alleged incident last Friday at the fast-food chain, where he was responding to a noise complaint.
Lynch, who has been with the force for 16 years, arrived at the restaurant after its manager called police and said a group of students were making too much noise and refused to leave, Boston 25 news reported. The teenagers attend the nearby Roxbury Prep High School.
Rafaela Martinez, whose son was one of the students, told the Boston Globe that Lynch forcefully removed the students from the restaurant and used racial slurs.
"The police officer was asking them to leave, but then he changed his attitude and started pushing the kids and using bad language toward them," she said.
The students alleged that Lynch then followed them back to the school, used the N-word and called them "monkeys."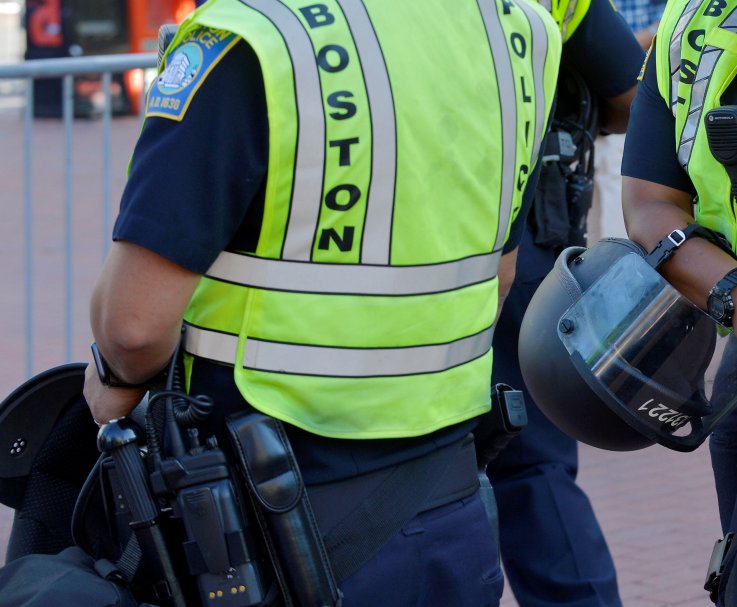 Police Commissioner William Gross and Suffolk District Attorney Rachael Rollins later visited Roxbury Prep on Hyde Park Avenue to meet with students.
"They're walking away from this encounter on Friday feeling attacked and racialized and dehumanized," Rollins said. "We have to wait and see what the investigation shows, but the allegations are hate-filled and fuel distrust of law enforcement."
Boston Mayor Marty Walsh called the allegations "incredibly disturbing."
"No one should experience racism or discrimination, not in a place of learning and not anywhere," he said in a statement. "We have to be better. I commend Boston police for taking action as soon as they were made aware of the allegations, and I am confident they will investigate this case to its full extent."
A spokeswoman for Roxbury Prep, Barbara Martinez, said numerous students and staff have expressed concerns about the officer's alleged behavior.
"The entire Roxbury Prep community—students, families, administrators, faculty, and staff—are shocked and deeply upset by what occurred," Martinez said, according to the Globe.
The Boston Police Department has said it will not comment further on the incident due to the ongoing investigation.
Earlier this month, a New York police officer who was visiting Nashville, Tennessee, was accused of breaking into a house and threatening the family living there while shouting the N-word.
Michael Reynolds, 25, entered a no-contest plea on charges of one count of aggravated criminal trespassing and three counts of assault.
Boston Police Officer Accused of Calling Black High School Students 'Monkeys' and Using the N-Word Placed on Leave | U.S.