Boston Public School District Accused of Allowing ICE to Access Students' Data, Creating 'Dangerous School-to-Deportation Pipeline'
Immigration advocates in Boston are demanding that the city's public school board stop allowing student information to be shared with the U.S. Immigration and Customs Enforcement (ICE) agency, after it came to light that dozens of student incident reports had been shared with the agency since 2014.
In a press release published on Monday, members of Lawyers for Civil Rights (LCR), the Center for Law and Education (CLE) and the Multicultural Education, Training and Advocacy group (META) accused Boston Public Schools (BPS) of allowing more than 100 student incident reports containing students' personal information to be shared with U.S. immigration authorities since 2014.
BPS' "entanglement with ICE," LCR attorney Janelle Dempsey said, has effectively been enabling a "dangerous school-to-deportation pipeline" that puts students at risk.
The issue first came to public attention in 2017 after an East Boston High School student was deported to El Salvador after being named in a student incident report after being involved in a lunchtime altercation.
According to a report from WBUR, which covered the incident's aftermath, the student, who had no criminal record, had been labeled in the report as being an associate of the notorious gang MS-13.
The incident report had reportedly made clear that the Boston Regional Intelligence Center (BRIC), which is a unit of the Boston Police Department, would also be receiving documentation on the incident. That information, WBUR said, is shared with federal law enforcement, including ICE.
Lawyers said that if the incident report had not been shared with police and, later, with ICE, the student might still be in the U.S. Instead, he was held in ICE detention for more than a year before being deported to El Salvador.
Dempsey warned that the extent of Boston Public Schools' "collusion with federal immigration enforcement" was "much more extensive" than city officials had previously let on.
According to the legal organization, more than 100 student incident reports containing students' personal information have been made available to U.S. immigration authorities since 2014 under BPS' filing system.
The revelation, the LCR said, was made after it joined with other groups to sue BPS and the city of Boston for access to student incident reports that had been shared with ICE.
In a statement sent to Newsweek, a spokesperson for BPS said the school district was "unwavering in its support for our immigrant students and families."
"BPS does not share student information with ICE," the spokesperson maintained. However, they admitted: "BPS does share school police incident reports with our local law enforcement in connection with their criminal investigations or if the incident reports contain information that, if shared with the BPD, is useful to ensure the safety of the school, public, and the City's neighborhoods."
The school district has maintained that incident reports are not considered student records under the Family Educational Rights and Privacy Act. As a result, those documents, it has argued, are permitted to be shared with local law enforcement bodies, including the BRIC.
A BPD spokesperson said that the department has never knowingly participated in intentionally sharing student information with ICE through the BRIC, however.
The BRIC, they said, is meant to be a centralized hub for law enforcement, public safety and homeland security information. ICE, they maintained is not part of the BRIC.
Therefore, it is unclear how ICE would be able to access information held by the BRIC. Newsweek has contacted ICE for comment.
BPS said that in March 2018, its school safety report policies were updated with more strict guidelines on how Boston School Police officers share the reports with law enforcement agencies.
Part of that new policy, the school board said, was ensuring that Boston School Police does not share any school safety reports with outside agencies, including the BRIC, unless the report could be connected to potential criminal offenses or conduct.
Still, in a statement, Roger Rice, the Executive Director of META, accused the school board and the city of Boston of putting students "at risk of deportation through entanglement with ICE."
"The City needs to be transparent about its practices," Rice said.
Instead, the LCR, META and the CLE warned, BPS continues to "withhold from the public, critical, non-personally identifiable information that would shed further light on its practices."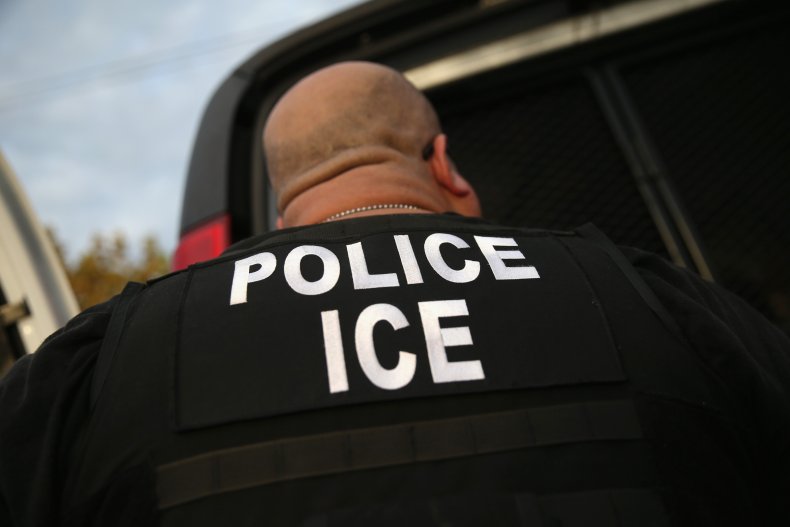 "BPS has heavily redacted most of the released reports, making it impossible to ascertain the details of the incidents reported," the groups said in their press release. Meanwhile, they said: "BPS has withheld other documents in their entirety."
"What we know already raises troubling questions about whether BPS is engaged in racial profiling and disproportionately targeting Latinx student information for ICE," said Iván Espinoza-Madrigal, Executive Director of LCR. "We will be asking the Court to compel disclosure of this information to the public, because there is no legal reason why BPS should be allowed to keep this information secret."
Newsweek has contacted the city of Boston, the Boston Police Department and ICE for comment for this article.
This article has been updated with information from the Boston Police Department.