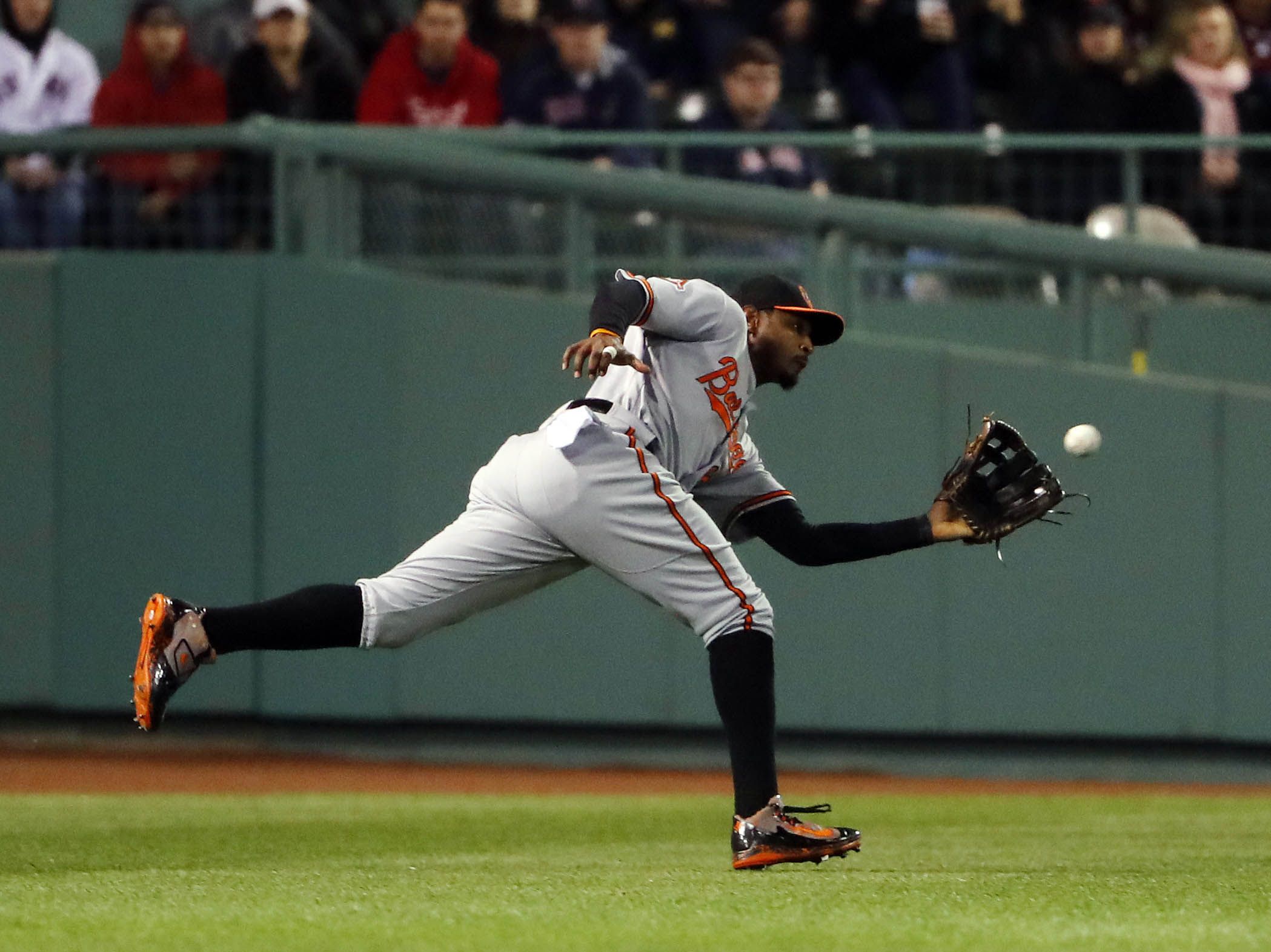 After the Baltimore Orioles beat the Boston Red Sox in Fenway Park on Monday night, Orioles All-Star Adam Jones said he endured a barrage of racist slurs and actions as he was manning his position in center field.
"A disrespectful fan threw a bag of peanuts at me,'' he told USA Today, "I was called the N-word a handful of times tonight. Thanks. Pretty awesome.''
The "fan'' who thew the bag of peanuts was ejected from the game, but Jones feels more should be done to dissuade people from hurling racist insults—or objects—at players. "It's called a coward," he said. "What they need to do is that instead of kicking them out of the stadium, they need to fine them 10 grand, 20 grand, 30 grand. Something that really hurts somebody. Make them pay in full. And if they don't, take it out of their check."
Related: Here are some of the greatest individual games in sports history
The acts were condemned publicly by Red Sox President Sam Kennedy. "It's disgusting, and there's no place for it," he said in a statement.
Massachusetts Governor Charlie Baker chimed in as well. "Fenway fans behavior at the #RedSox game last night was unacceptable & shameful," he tweeted." This is not what Massachusetts & Boston are about."
So did Boston Mayor Matt Walsh. "This is unacceptable and not who we are as a city," he said. "These words and actions have no place in Fenway, Boston, or anywhere. We are better than this."
"We are better than this" is a familiar refrain in the world of damage control, but racial discrimination has long been an issue in Boston. In March, Michael Che of Saturday Night Live, during an event at Boston University, called the city the "most racist" he has ever visited, When someone in the audience asked him to elaborate, he replied: "Talk to your closest black friend and ask them to explain it to you."
Regardless of whether the city of Boston is more or less racist than the rest of America, the Red Sox have long had problems related to discrimination. They didn't put a black player on their roster until 1959, which was later than any other team. Oddly enough, they gave Jackie Robinson—the legendary player who broke baseball's color barrier—a tryout before he signed with the Dodgers in 1947, but it was nothing more than a stunt to appease a socially conscious city councilor who put pressure on the team. Despite his abundant talent, Robinson had no chance of actually making the Red Sox.
The team's problems with race persisted long after they signed their first black player, Pumpsie Green. Tommy Harper, who played for the Red Sox from 1972 to 1974 and was a coach from 1980 to 1984 and from 2000 to 2002, might have had a longer first coaching stint if he hadn't complained about how the team segregated its players during spring training meals while he was playing in the early '70s. The comments led to Harper's firing, after which he successfully sued for racial discrimination. Harper was inducted into the Red Sox Hall of Fame in 2010, but he was never silenced about what he was forced to endure, discussing how he routinely heard racial slurs from both fans and team personnel. "They called it Red Sox Nation,'' Harper once said, "but it was never my nation.''
It's possible that the city's poor reputation among players of color has prevented the Red Sox from landing some in free agency. Barry Bonds, who was at the peak of his powers in 2004, a season in which he would win his fourth consecutive National League MVP award, was pretty explicit in explaining to a Boston Globe reporter why he wouldn't consider finishing his career in Boston: "Boston is too racist for me. I couldn't play there. That's been going on ever since my dad was playing baseball. I can't play like that. That's not for me, brother."
Gary Matthews Jr.—who, like Bonds, is the son of a Major Leaguer—echoed Bonds's comments in 2007, when he called Boston "one of the few places you'll hear racial comments."
Carl Crawford signed a lucrative long-term deal with the Sox in 2010, but never found success with the club. In 2012, a Massachusetts police officer was fired for calling Crawford a "Monday" before a minor league game in New Hampshire. ("Monday" is sometimes used as a derogatory term for black people, having to do with it being the least favorable day of the week.) The officer said that his comment was not racially motivated and that he was referring strictly to Crawford's poor play, but Leominster Mayor Dean Mazzarella didn't buy it.
"Your actions are so egregious that severe discipline is warranted," Mazzarella wrote in his termination notice to the officer. "There is no place for someone who exhibits such objectionable behavior in the Leominster Police Department."
In other words, "We're better than this."
About the writer
Ryan Bort is a staff writer covering culture for Newsweek. Previously, he was a freelance writer and editor, and his work has appeared at Esquire, Quartz, Paste, Grantland, VICE Sports, and elsewhere. He is originally from Dallas, Texas.