Boston Red Sox Parade Details: Route, Time and Live Stream for World Series Celebration
Boston will be hosting yet another duck boat parade after the Boston Red Sox clinched their fourth World Series in 14 years on Sunday night. The Red Sox became the 2018 World Series champions after defeating the Los Angeles Dodgers 5-1 in Game 5.
As is tradition in Boston, the city will celebrate the new champions with a parade starting off at Fenway Park. The parade, which will be held on Wednesday, will begin at 11 a.m. near the 106-year-old baseball park, rain or shine.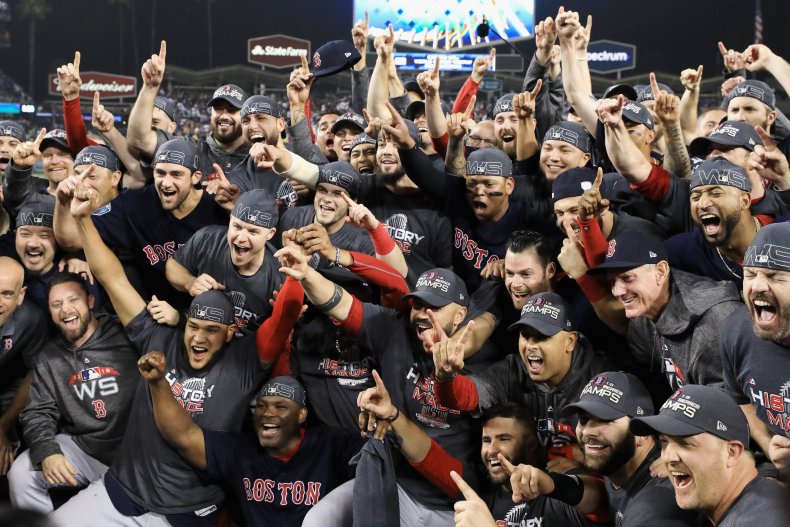 Boston Mayor Marty Walsh confirmed the victory parade would be held Wednesday during a news conference on Monday.
Walsh congratulated the team for this victory in a message tweeted on Sunday night. "Fire up the Duck Boats for the #WorldSeries Champions—congratulations @RedSox, we can't wait to welcome you home! #DoDamage #DamageDone," Walsh tweeted.
"I want to congratulate Alex Cora and the Boston Red Sox for an outstanding run," Walsh said Monday, according to WCVB. "This is an all-time great team that we had and everyone contributed."
In past parades, the route has gone up Boylston Street, taken a left on Tremont Street before ending near Government Center. This year the parade will turn down Landsdowne Street, turn right onto Ipswich Street, then left onto Boylston Street. The parade will continue onto Tremont Street, then Cambridge Street and New Sudbury Street, the city announced.
There will be no rally at City Hall Plaza, WCVB reported. Boston Police Commissioner William Gross said that parking restrictions will be in place starting Wednesday morning and the city will tow cars parked in restricted areas at midnight.
Gross also urged fans to be act responsibly during the parade. "If you are in costume, we ask you to act respectfully. No costumes with replica firearms will be tolerated," the police commissioner said, according to WVCB. "Act like you have some sense."
Massachusetts Governor Charlie Baker also delivered a congratulatory message on Twitter. "What a team. What a run. Thanks for the ride, all year long. Who's ready for a duck boat parade? #DamageDone," Baker tweeted.
The MLB Network will nationally simulcast NESN's live coverage of the parade beginning at 11 a.m., the network told Newsweek. MLB.com will also live stream the event online.
The parade will be the 11th victory parade honoring a championship sports team in Boston since 2002. The Red Sox last won the World Series in 2013, when they defeated the St. Louis Cardinals 4 games to 2.