Boston Red Sox Petition to Change Yawkey Way Back to Jersey Street Due to Racist Past
The Boston Red Sox are trying to change the street name of Yawkey Way back to its original name, Jersey Street, and leave its racist past behind.
The franchise has asked the city of Boston to change the name in an effort to be more inclusive. The street was named after late Sox owner Tom Yawkey in 1977. Yawkey had owned the franchise from 1933 to 1976, and the team was the last in the league to integrate in 1959. The former owner rejected a tryout from Jackie Robinson and other black baseball stars.
Yawkey was also said to have screamed racial remarks at Robinson and two other black players in 1945 during team tryouts.
"Restoring the Jersey Street name is intended to reinforce that Fenway Park is inclusive and welcoming to all," the team said in a statement.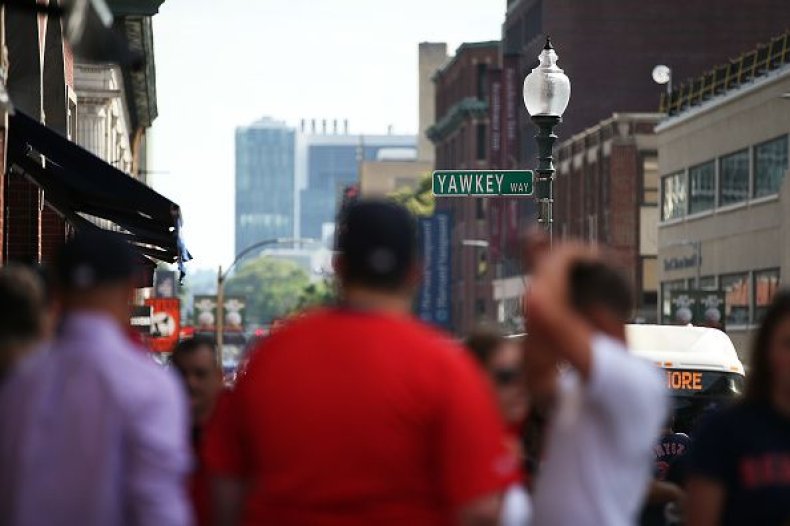 The Red Sox commended the Yawkey Foundation for its "incredible charitable work" in the past 16 years and the "positive impact" they have on the community.
"The positive impact they have had, and continue to have, in hospitals, on education programs, and with underserved communities throughout Boston and New England, is admirable and enduring. We have the utmost respect for their mission, leadership, and the institutions they support," the team said in the statement.
Red Sox owner John Henry had been working to change the street's name since last year, according to the Boston Globe. The Yawkey Foundation said in a statement that they were "deeply disappointed" that Henry is asking to change the street name.
"We are deeply disappointed that Red Sox and Boston Globe owner John Henry has petitioned the city's Public Improvement Commission to rename Yawkey Way, an action based on a false narrative about Tom Yawkey and his record as the team's owner," the foundation said in a statement.
The foundation claimed Henry had previously "praised" the work the charity work the organization had done, and that the street name reflects this.
"To tarnish Tom Yawkey's name by removing it from outside Fenway Park is to tarnish it everywhere," the foundation said.