Boston's St. Patrick's Parade Will Now Allow Gay Veterans
A group of gay veterans of the U.S. military can march in this year's Boston's St. Patrick's Day Parade, parade organizers said on Friday after an earlier move to exclude them sparked outrage and boycott threats in the liberal city.
The parade, one of the United States' largest honoring Irish-American heritage, had long excluded openly gay participants, saying that admitting them would conflict with organizers' Roman Catholic beliefs. In 2015 organizers agreed to allow the gay veterans' group, OUTVETS, to march in the face of pressure from city officials and sponsors who pulled their financing.
The decades-long fight over inclusion in the celebration of the patron saint of Ireland was rekindled this week when OUTVETS said that organizers of the 116-year-old parade told them they would not be invited back to the March 19 event.
Parade organizers said the group's participation had conflicted with the event's Roman Catholic heritage and caused some church groups to pull out of the march. But following what local media said was an emergency meeting of the Allied War Council, which runs the parade, the group said OUTVETS would be allowed to march this year.
"An acceptance letter has been signed by the parade organizer to allow OUTVETS to march," parade organizers said on Facebook on Friday.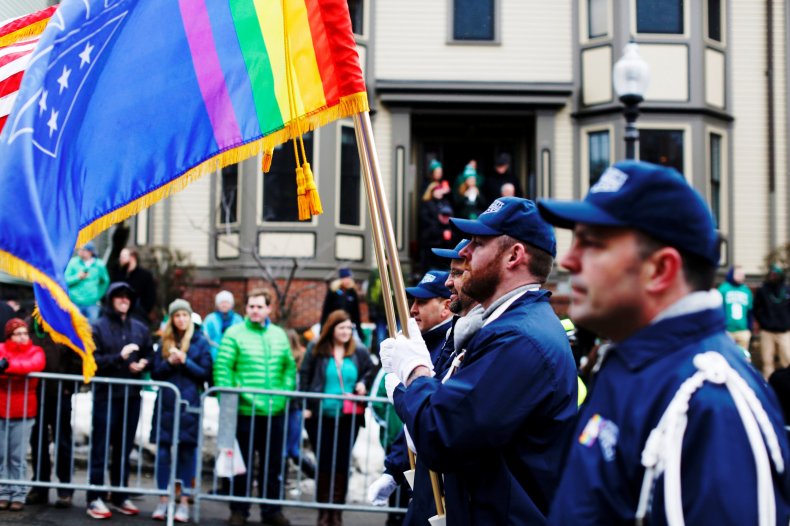 A day earlier, parade organizers said they had objected to the group's late application and its plans to march under the rainbow flag of the lesbian, gay, bisexual and transgender rights movement.
OUTVETS on Friday said it had received the invitation to return and was "actively reviewing it."
The U.S. Supreme Court in 1995 ruled that parade organizers had the right to exclude gay marchers. But Americans' attitudes on gay rights evolved over the following decades, particularly in Massachusetts, which became the first U.S. state to legalize gay marriage, and local politicians and sponsors of the event called for gay groups to be included.
The Boston St. Patrick's Day Parade and city have had thorny relations in recent years. A federal judge in 2016 blocked an effort by Mayor Marty Walsh to cut the three-mile (5 km) parade's length by half, a move to lower the cost of policing an event that draws tens of thousands of sometimes rowdy revelers.