"I Could Not Be More Proud": Boston Police Commissioner Defends Officers After Clashes at Straight Pride Rally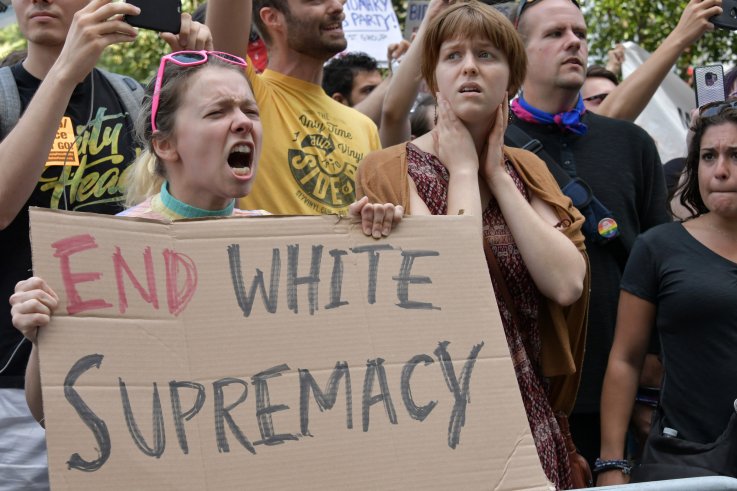 Boston's commissioner of police released a statement Monday defending the conduct of his officers during a highly publicized Straight Pride parade in late August, which saw violent confrontations between police and counter-protesters and the arrests of dozens of individuals.
"I could not be more proud or impressed with the high levels of restraint and professionalism displayed by my officers tasked with safeguarding and protecting all who either attended, participated or protested at the parade," Boston Police Department Commissioner William Gross said in a press release. "While most expressed those objections peacefully, not everybody did. And nobody can attest to that fact more so than my officers who found themselves on the receiving end of an unending stream of verbal taunts, jeers, profanities, obscenities and physical assaults directed towards them throughout the course of the day."
Reports documented scuffles between police and counter-protesters who were demonstrating against the loosely aligned groups, some of which were anti-LGBTQ, that were marching in the parade. Police were reported to have pepper sprayed counter-protesters and allegations of brutality abounded from activists who encountered law enforcement. Videos also circulated on social media showing police tackling demonstrators and taking several into custody.
The Straight Pride rally was organized by a group called Super Happy Fun America, who embrace a fringe version of identity politics deems straight people an "oppressed majority."
"We don't hate anyone, we just want to have our own celebration just like everybody else has a right to," John Hugo, the group's president, said at a press conference. "All people from all communities are welcome as long as they show respect."
At a subsequent demonstration on Saturday decrying the department's response to the counter-protest, one man noted the "unprovoked police violence against the protesters," the Boston Globe reported.
Another young woman expressed frustration with the way police handled the dueling rallies.
"I am angry, and justifiably so," she said. "I'm 16 and should not be seeing this happen. This goes against everything that my parents have taught me about how the state should work."
Another controversy ensued after the city's progressive district attorney, Rachel Rollins, attempted to drop the case against one of the counter-protesters who was arrested on non-violent charges. The municipal court judge handling the arraignment of the counter-protester refused to allow her to do so. Rollins then took the matter to the state's Supreme Judicial Court, which overruled the lower-court judge, admonishing him for ignoring the centuries-old principle of separation of powers.
Rollins is now looking at taking a similar approach towards other non-violent defendants, while the prosecutions of those arrested on more serious charges remain ongoing.
In his statement, Commissioner Gross vindicated the conduct of his officers and denounced the behavior they encountered at the rally:
"Clearly, not everybody who attended the parade was there to peacefully and lawfully exercise their First Amendment Rights," he said. "As a result, 36 individuals were arrested and charged with various crimes including: Assault & Battery by Means of Dangerous Weapon, Unlawful Possession of Dangerous Weapon, Assault and Battery on a Police Officer, Affray, Disorderly Conduct and Resisting Arrest. As it relates to any and all actions taken by my officers, including the use of non-lethal force, per standard operating procedures, there will be a full review and internal investigation conducted to determine appropriate guidelines were followed."
He encouraged those who believe they were victims of unwarranted police violence to "file a formal complaint" with the department's Internal Affairs Unit.
"I Could Not Be More Proud": Boston Police Commissioner Defends Officers After Clashes at Straight Pride Rally | U.S.