Boston Tightens Security Ahead of 'Straight Pride' Parade
A "straight pride" parade is taking place in Boston on Saturday afternoon, starting at Copley Square and concluding in front of Boston City Hall. Police in Boston have geared up for potential clashes between straight demonstrators and counter-protesters who accuse them of being homophobic and alt-right wing.
Organizers, under the title Super Happy Fun America, have invited prominent members of America's far-right movement including former Breitbart News editor Milo Yiannopoulos (who is, interestingly, openly gay), libertarian political activist Adam Kokesh and Hal Shurtleff from Camp Constitution. Enrique Tarrio, a member of the all-male "Proud Boys" organization—which has been designated as a hate group—is also due to attend.
Police cordoned off the area Saturday morning, and deployed uniformed and undercover officers along the route.
"All are welcome at the parade as long as they meet the criteria for participation. Antifa, short for Anti-Fun, and other hate groups are not welcome because they are not happy and fun," states the Super Happy Fun America website.
It continued, saying that Saturday's march is to "spread awareness of issues impacting straights," describing heterosexuals as "an oppressed majority" in Massachusetts, the first state to legalize same-sex marriage.
The parade has been organized in response to LGBTQ Pride Month, which is celebrated each year in June to honor the 1969 Stonewall Uprising in New York City.
"There are no racists in our group. You have to come to one of our meetings: it's like the United Nations," the group's president John Hugo told the AFP, defending the parade.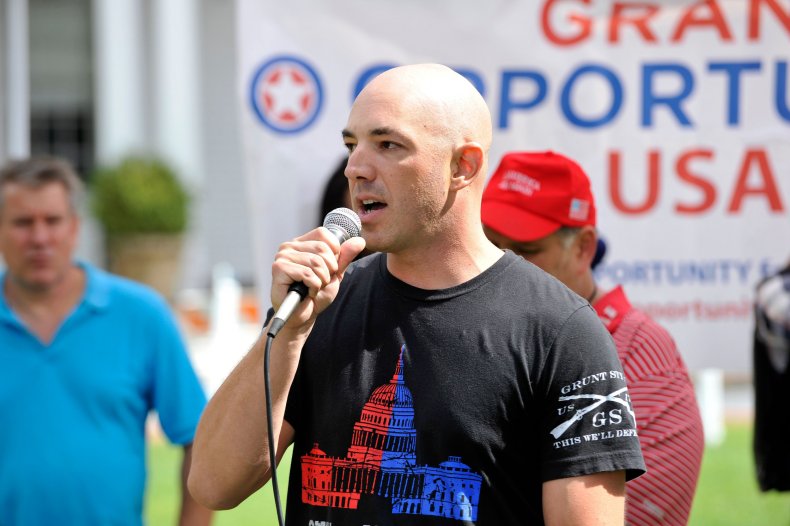 Critics say organizers are white-supremacists whose intent is to bait members of the LGBTQ community in Boston, and have arranged demonstrations to oppose it.
Boston Pride issued a statement Monday saying "the Straight Pride Parade is organized by a group of white supremacists and is an attempt to bait the Boston LGBTQ community." It advises people not to respond to the "trolling."
Emerson College President Lee Pelton also condemned the Straight Pride Parade on Wednesday, calling it a "perversion" led by "angry and misguided people" in an email to students and faculty.
The parade will have a definite political slant, as participants are due to walk alongside pro-Trump floats. The group's website displays a doctored photo of the president holding a sign saying #GreatToBeStraight.
Parade organizers have embraced this motto: on Facebook and on their website, they're calling on supporters to join the "fight against heterophobia in our modern society" and to "add an S to LGBTQ for Straight!"
Some 1,200 people are forecast to join the parade, which started at noon local time and will follow a route around a mile and a half long, according to a Facebook group.
A similar "Straight Pride" event held last Saturday in Modesto, California attracted only a few dozen people and about 250 counter-protesters, according to local newspaper The Modesto Bee.