Patriots Boston Super Bowl Parade 2019: Traffic Advisories, Parking Bans and Street Closures
Just days after their Super Bowl win in Atlanta the New England Patriots were home in Massachusetts ready to celebrate that win. Their fans were lining the streets as early as 6 a.m. Tuesday morning to get front row spots to see their favorite players in the traditional Duck Boat Parade.
The parade was announced shortly after the win, Boston Mayor Marty Walsh tweeted, "LET'S GO!!!! Congratulations on another Super Bowl championship @Patriots !! Fire up the duck boats," and announced that the parade would be Tuesday morning at 11 a.m. EST.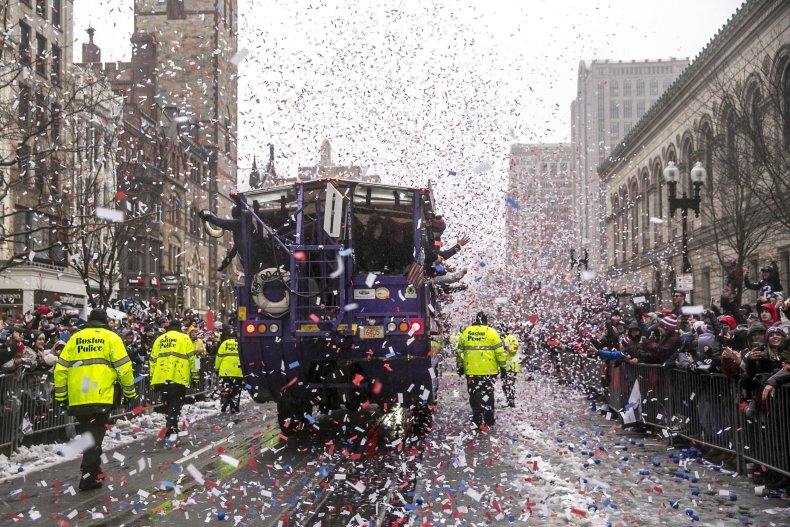 But crowds of people in the streets of Boston on a regular workday for most people in the area can cause travel headaches for everyone, whether they're headed to work or the parade. Unseasonably warm weather was expected Tuesday that would likely increase the number of people who showed up for the parade.
The streets that the parade is scheduled to travel on were set to be closed at 9 a.m. Tuesday. Anyone traveling on Boylston Street between Massachusetts Avenue and Tremont Street, Tremont Street from Boylston to Court Streets, or Cambridge Street from Court Street to New Chardon Street had to be off the road by 9 so that the roads could be cleared for the parade.
"What time we re-open traffic will depend on the size of the crowd. We'll re-open each street after people leave and we get a chance to clean up. We expect to re-open Boylston Street first, followed by Tremont Street and then Cambridge Street," according to the City of Boston.
In addition to some streets being closed to traffic on the day of the parade there were parking bans as well for Monday and Tuesday. The full list of streets where parking was banned was available on the city's website but included parks of Charles Street, Boylston Street, Tremont Street, Clarendon Street, Park Street, Union Street and more.
Anyone who had to drive to get to the parade should park in the Government Center Garage that can be entered from New Chardon Street but the city was urging people to take public transportation if at all possible.
Those who were taking public transportation into the city Tuesday morning were having a rough time. Some trains were crowded but others were completely filled to capacity and skipping stations without letting more passengers on at all.
People were tweeting about the issues they were having commuting to work and class Tuesday morning. The MTA was tweeting updates about the train service Tuesday and anyone heading to the train should check there for updates about delayed and full trains.
​