Reports: Boston Suspects Planned to Kill a Police Officer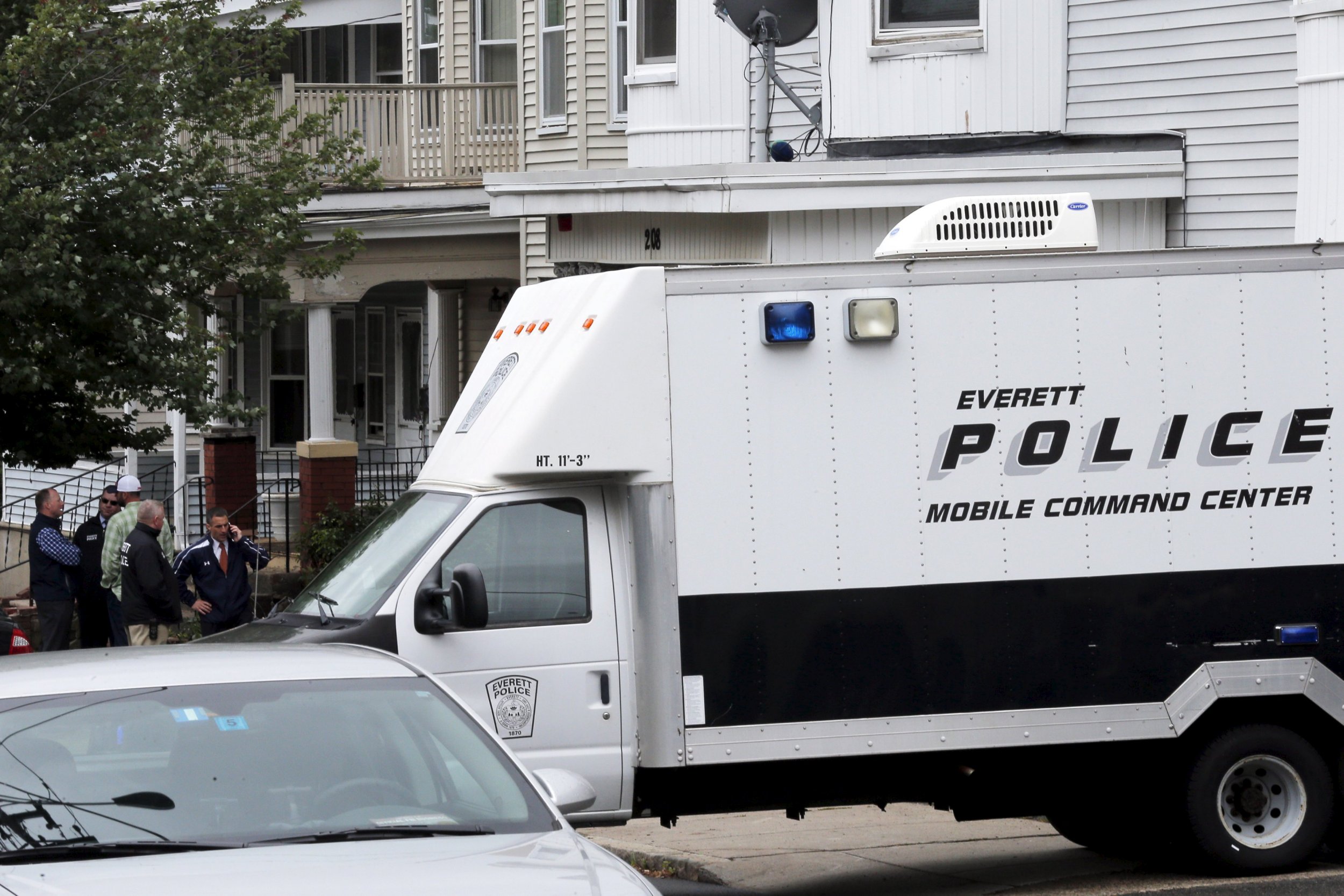 Updated | A man fatally shot by anti-terrorism police in Boston on Tuesday allegedly first planned to kill someone outside of Massachusetts, but then changed his idea early that morning to focus on killing an officer in the Bay State, according to local news reports.
Usaamah Rahim, 26, allegedly told David Wright, his accused co-conspirator, that he would go after "those boys in blue," according to an affidavit filed Wednesday by an FBI agent in Boston federal court. The day before, two local officers fatally shot Rahim after they approached him in a CVS parking lot in the city's Roslindale neighborhood around 7 a.m. Wright, later arrested that day in the nearby suburb of Everett, Massachusetts, is accused of conspiring with Rahim to behead an officer, The Boston Globe reported earlier on Wednesday.
Rahim had what authorities called a "large military knife." The officers, who didn't have a warrant for his arrest but wanted to question him, fired their guns when he refused to drop the weapon.
Officials told reporters that Rahim had been under 24-hour surveillance for several weeks by the U.S. Joint Terrorism Task Force.
"He was someone we were watching for quite some time," Boston Police Commissioner William Evans said Tuesday afternoon at a press conference.
The chairman of the House Homeland Security Committee said Rahim had been spreading Islamic State group propaganda online, the Associated Press reported. ISIS-related videos often show members beheading victims with knives.
Later that day, police in Everett assisted the FBI with an investigation in that suburb related to the Roslindale investigation. They later arrested Wright, who appeared in Boston federal court Wednesday afternoon.
Wright currently is in U.S. custody and is charged with conspiring to destroy evidence in a federal terrorism investigation. The suspect allegedly told Rahim to destroy his smartphone, according to the Globe. A judge set his detention hearing for June 19.
Authorities expanded the search from Roslindale by searching a property in Warwick, Rhode Island, according to the Globe.
The fatal shooting of Rahim was captured on surveillance video, but authorities have not yet released the footage. They reportedly showed the video to a few clergy and civil rights leaders on Wednesday. Some of those community leaders said police were backing off Rahim when he brandished the knife, which he allegedly purchased through Amazon, Jonathan Hall of WHDH reported.
The Council on American-Islamic Relations (CAIR), the country's largest Muslim civil rights and advocacy organization, is calling for an "independent and thorough" investigation into the fatal shooting of Rahim.
"It is our duty to question every police-involved shooting to determine if the use of deadly force was necessary, particularly given the recent high profile shootings of African-American men," Jenifer Wicks, CAIR national civil rights litigation director, wrote in a statement. "We are asking for an independent and thorough investigation, public release of the video and transparency, not only about the killing of Usaama Rahim, but also about the basis of monitoring and surveillance, which had not resulted in probable cause for any arrest or search warrant."
His brother, Ibrahim Rahim, a well-known imam, wrote in a Facebook post that his sibling was waiting at a bus stop to go to work on Tuesday when three officers from the Boston Police Department approached him and shot him three times in the back. Rahim continued, saying his brother was talking on the phone with their father at the time of the shooting.
"His last words to my father who heard the shots were: I can't breathe!" Rahim wrote.
Some media accounts differ from the elder sibling's story. The president of the Urban League of Eastern Massachusetts on Wednesday said video footage reveals that Rahim wasn't shot in the back, according to the AP. The community-based organization provides service and advocacy programs for African-Americans and other residents of color.
Abdullah Faaruq, a leader in the Boston Muslim community, said Rahim was not at a bus stop like his brother claimed, Hall reported. Faaruq allegedly has known Rahim since he was 5.