Boston Terrier Demanding a 'Smooch' From Owner After Work Delights Internet
An adorable video of a woman and her Boston terrier and their "routine" has gone viral on TikTok with over 4.1 million views.
In the video, Norman the black-and-white Boston terrier can be seen on security footage going for a walk with his owner Amia Meowski. At one point, he jumps up at his owner. She kisses him on the head, then says, "OK, go potty," before Norman runs off toward the grass.
The video text reads: "Same routine every day after work and he won't go until I give him a smooch. I couldn't love him more."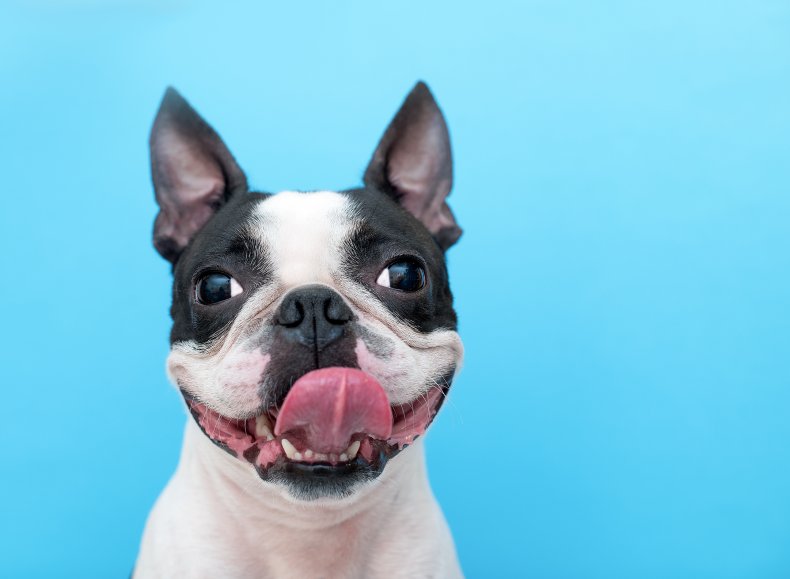 All true Boston terriers can trace their linage back to a dog named Judge, owned by an American named William O'Brien. He then sold the pet to fellow Bostonian Robert C. Hooper, and the dog became known in breed histories as 'Hooper's Judge.'
The terrier has been the official mascot of Boston University for nearly 100 years. In 1979, the state legislature named the breed, called the 'American Gentleman,' as the official dog of Massachusetts.
The American Kennel Club (AKC) describes the Boston terrier as "a lively little companion recognized by his tight tuxedo jacket, sporty but compact body, and the friendly glow in his big round eyes."
When owning a Boston terrier, looking after those big eyes is a priority. "Their eyes should be checked daily for redness or irritation," says the AKC. "Some owners carry saline drops to flush out dust or debris. Responsible breeders screen their stock for eye problems such as cataracts, corneal ulcers and glaucoma, as well as deafness and patellar luxation (comparable to 'trick knee' in humans)."
Boston terriers are smaller dogs weighing between 15 and 25 pounds, according to Hill's Pet Nutrition, but still require between 20 to 40 minutes of exercise a day minimum. Hill's warns that, because Bostons are very fast movers, it's advisable not to let them outside unless they are on a leash, or in a secure fenced yard.
Users on TikTok were delighted by the heartwarming video. One user commented, "There will never be a breed better than a Boston Terrier," with over 4,300 likes, while another user agreed, "Bostons are awesome!"
SilverLining wrote: "I'm going to need to see an entire video montage of these daily kisses."
Mason Evans commented: "We just got a little baby Boston and he is so cute !!!"
One user shared their unusual experience with the breed. Noe Martinez posted: "I've been bitten by 2 different Boston terriers lol. This is the only breed that wants to fight me on sight sometimes, not sure why."
Newsweek has reached out to @bigmist13 via TikTok for comment.
Do you have funny and adorable videos or pictures of your pet you want to share? Send them to life@newsweek.com with some details about your best friend, and they could appear in our Pet of the Week lineup.