Boston Train Conductor Assaulted by Commuter Who Refused to Put on Mask
A man was arrested in the Boston area this week after allegedly refusing to wear a mask and forcing his way past a conductor to board a train, authorities said Friday.
The incident occurred on Wednesday at about 5:20 p.m. local time, according to a news release from the Massachusetts Bay Transportation Authority (MBTA) Transit Police. The man was identified as 40-year-old Daniel Libby, whom police said was from Middleborough, Massachusetts.
Transit police said they were called to the MBTA's Commuter Rail Station in Braintree, where a conductor said he told Libby, whom the conductor said was unmasked, to put a mask on before boarding the train.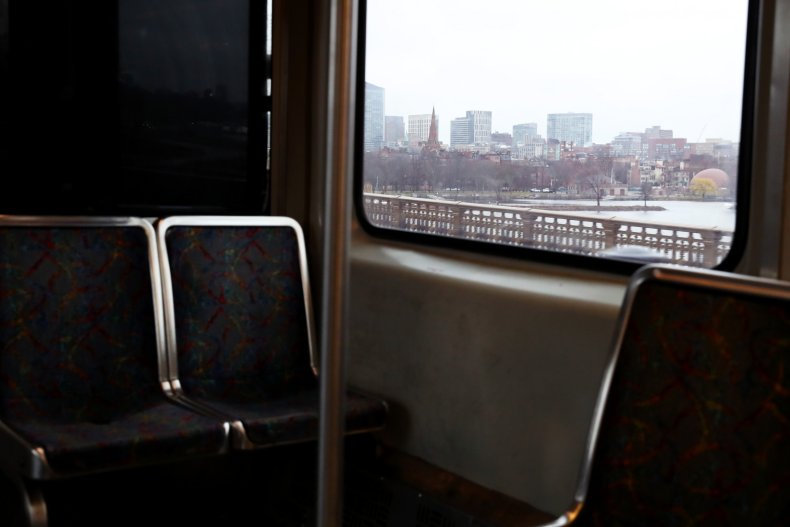 "Libby responded with several expletives and refused to place a mask on," transit police said. "It was then alleged Libby shoved the victim and used his shoulder to force his way into the train."
After officers arrived at the Braintree station, they told Libby he had to leave the train and share his identity so the conductor would be able to file charges against Libby if he decided to do so. When Libby resisted, transit police arrested him on allegations of assault and battery of a public official, according to the MBTA Transit Police news release.
Details regarding bail amounts were not immediately available, and it was unknown if Libby was still in custody Friday morning.
Newsweek reached out to the MBTA for comment and will update this article with any response.
The U.S. Centers for Disease Control and Prevention (CDC) earlier this year announced face masks would be required on all modes of public transportation, including commuter trains. The requirement, which went into effect in February, applied to all individuals using public transportation regardless of their vaccination status. It was implemented as a strategy to prevent the further spread of the coronavirus, which remains a threat to the American public and around the world.
The MBTA issued a reminder to passengers about its mask requirement in a May news release. The MBTA said it requires all passengers regardless of their COVID-19 vaccination status to wear face masks "while onboard vehicles, in stations and facilities, on platforms and bus stops, and anywhere within the MBTA system," with some exceptions in place for individuals who have medical conditions that make wearing masks difficult.
"Those who refuse to comply with the MBTA's face covering requirement may be denied boarding of or be removed from MBTA vehicles and the system," the MBTA said in its May reminder.