Boston's Museum of Fine Arts Bans Members for Making Racist Comments to Middle School Students on Field Trip
Boston's Museum of Fine Arts announced Friday that it has banned patrons who were accused of making racist comments toward young students from a local charter school. However, the institution said it could not corroborate claims that MFA staff had also made hateful statements to the group during their recent field trip to the museum.
Students from the Helen Y. Davis Leadership Academy in Dorchester, Mass., visited the museum with school staff on May 16, reported the Boston Globe. The school's principal said afterward that other patrons of the museum and one MFA staffer had made rude, racially charged statements to the students — all minorities — including that one young female in the group should pay attention so that she didn't end up a stripper.
Earlier this week, the MFA apologized in an open letter published on its website, saying the institution had reached out to the school to express its regret for how the students were treated and that it had begun an investigation into the matter.
On Friday, the museum released a follow-up statement detailing the outcome of that investigation.
The MFA confirmed that other museum visitors had indeed made racist comments to the students "on two separate occasions," and that it had identified these patrons, revoked their MFA memberships and banned them from the grounds. "We will serve them with a no-trespass cease-and-desist notification," noted the statement.
Regarding the alleged incident involving a staff member, the museum said it could not corroborate the claim that an MFA employee had told the students when they arrived, "no food, no drink, no watermelon." The employee involved in this allegation claimed they had merely stated, that "no food, no drink and no water bottles" were allowed in the MFA galleries.
"There is no way to definitively confirm or deny what was said or heard in the galleries," explained the museum Friday. "Regardless, the MFA is committed to providing additional training for all frontline staff on how to engage with incoming school groups about policies and guidelines."
There were also claims from the students that they felt they were being followed by MFA security as they moved from one gallery in the museum to the next. The insititute said Friday that it did not believe this was the case. Rather, it explained that the rotation of museum guards during the day may have made it appear to the students they were being given additional scrutiny.
"The students visited a number of galleries and special exhibitions during their trip. These spaces were patrolled by 13 separate security guards who were all stationed in designated areas. During this time, guards went on and off break and occasionally overlapped as they moved from one area or another," explained the statement. "Based on surveillance footage, it is understandable that, because of this movement, the students felt followed. That was not our intention. It is unacceptable that they felt racially profiled, targeted and harassed."
The museum said it will adapt its security procedures "to make sure that all people feel welcome, safe and respected."
"These young people left the Museum feeling disrespected, harassed and targeted because of the color of their skin, and that is unacceptable," said the MFA's Matthew Teitelbaum in the statement. "This is a fundamental problem that we will address as an institution, both with immediate steps and long-term commitments. I am deeply saddened that we've taken something away from these students that they will never get back."
Speaking earlier this week to the Globe, the school's principal, Arturo J. Forrest described the experience as "eye-opening" for the young students.
"It's an unfortunate lesson to learn but inevitably it's something we all go through as people of color," said Forrest.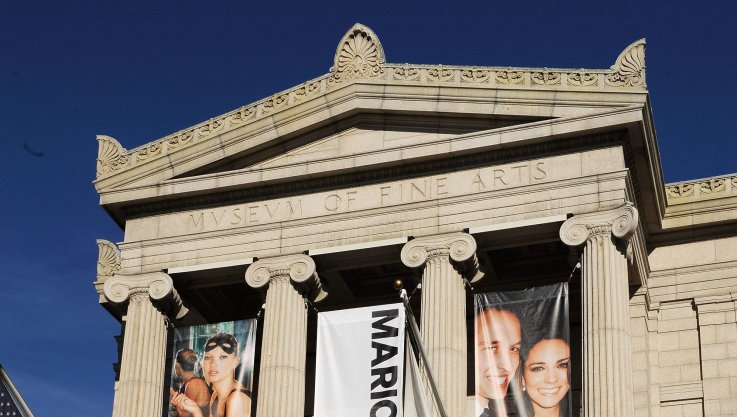 Boston's Museum of Fine Arts Bans Members for Making Racist Comments to Middle School Students on Field Trip | U.S.