'Botched' Episode 12 Recap & Spoilers: A Toxic Relationship Leads to Multiple Botched Plastic Surgeries
Botched returned Wednesday on E! with three all-new plastic surgery mishaps, including consequences of a toxic relationship. Doctors Paul Nassif and Terry Dubrow handle thousands of surgery faux pas; however, in this week's episode, they delve into the "red flag" of going under the knife to please another person.
Erica, "Leaky Boob"
Erica from Boise, Idaho, was needed assistance with her "lop-sided, leaking ladies." Erica's case looked like another classic case of a botched breast augmentation, commonly featured on the hit E! Entertainment reality show, but as she continued to share her story, the reason for her procedure was far from healthy.
Erica first decided to visit a doctor about a lump was discovered in her left breast at the age of 19. Planning on simply removing the lump, her now ex-boyfriend wondered if implants could be put on the table. Unfortunately, talks of procedures didn't stop there for Erica, in fact, her boyfriend at the time also recommended liposuction and a labiaplasty.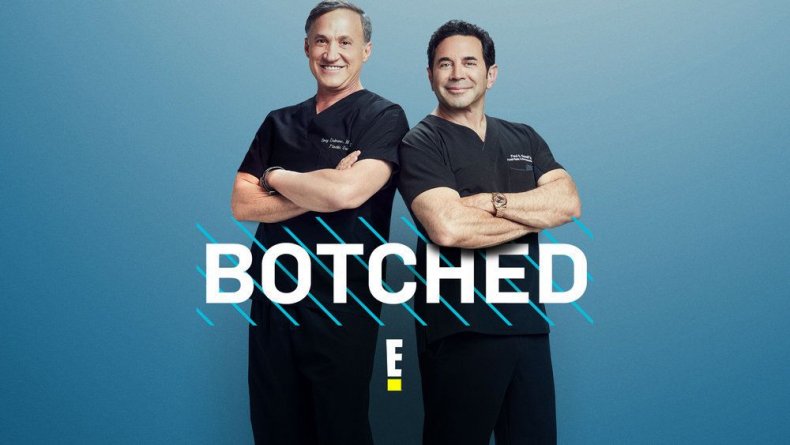 "I was in shock [at the time]," Erika said to the camera. "Once it became 'I want you to do this because I love you and it'll be great for us,' that's when I jumped on board with it."
"I wanted to be what he wanted me to be," she added.
Erica was 19 at the time of the procedures and her then-boyfriend was over 30 years her senior. She remembers herself as very "naive," while her mother also revealed that she moved away right after high school and the whole event was "devastating."
"Occasionally, in plastic surgery, a patient is doing a procedure to make a relative or a boyfriend happy," Dr. Dubrow said to the camera. "That's an enormous red flag and a plastic surgeon should never operate on a patient in those circumstances."
Erica's surgery had both a medical and cosmetic element to it. While her breasts were encapsulated and lop-sided, Erica was still dealing with her lump and alarming orange fluid leaking from her nipple. Luckily, Dr. Dubrow was able to safely remain the masses from Erica's breast pocket and the implants that were causing the negative reaction in her body.
In the end, Erica had symmetrical breasts and was finally able to let go of her past toxic relationship once and for all.
La Demi
Beauty and lifestyle blogger, known as La Demi, is visiting doctors Terry Dubrow and Paul Nassif to get her chin "fixed." After facial feminization surgery, La Demi woke up to a square and crooked chin.
Despite the problems with her chin, La Demi has learned her angles and looked to "set the level and break the Internet" during a photo shoot. Most likely inspired by Britney Spears's 2001 VMA performance where a giant yellow python was wrapped around her shoulders,
"This is definitely so different. I haven't seen any beauty bloggers, beauty guru people do this," La Demi said in the clip to her friend Elle.
"And your fans are going to be obsessed with this," Elle added.
Both doctors were moved by La Demi's story of being so open through her YouTube channel during her transition journey from male to female; however, it was decided that a procedure on her chin was not the right move for the social media influencer.
Due to the various nerves around the chin and mouth, if La Demi had decided to go through with the "aggressive" procedure, she could risk losing feeling in her mouth and not be able to talk during the healing process.
"Do I want to have feeling in my mouth? Yes," La Demi said to the camera.
"I'm at the peak of my career right now," La Demi added. "If I don't post for one week, they're like 'where is she?'"
Both La Demi and the doctors decided that the procedure wasn't right for her at the moment.
"Right now, you look amazing," Dr. Nassif complimented.
"You are so feminine already," Dr. Dubrow added. "Even though you've had to make changes and transition in your own way, you help people be the person they were supposed to be. I'm inspired and it's great to meet you."
Laura, "Hole Nose"
Another case the doctors had to face Wednesday was one Dr. Dubrow had "never seen before." Due to a freak accident with her beloved dog, Laura was left with a broken nose and no septum.
"I went to give my dog Brutus a kiss on the top of his head, and he came up at the same time," Laura said to the camera. "[He] broke my nose and his tooth went through the middle of my nose."
Laura had previously undergone a surgery to try and repair her nose; however, her right nostril had sunken in and everything had "fallen apart."
With the help of Dr. Nassif and Dr. Robert Barron, a prosthetics specialist, Laura was not only able to have two symmetrical nostrils but was able to have a septum that looked completely real.
"I'm thrilled," Laura said to the camera. "I don't have to worry about a hole in my face anymore."