'Botched' Season 5, Episode 14 Spoilers: One Woman's 'Terrifying' Nose Job Without Anesthesia
Botched will return Wednesday on E! with a nightmare surgery. One of the episode's patients is Jennifer from Fort Lauderdale, Florida with a "dinosaur head" nose.
In the sneak peek clip, the 40-year-old explains that a doctor suggested a rhinoplasty to solve her snoring problems; however, a few months after the procedure, Jennifer started to notice a hard, "pea-sized" bump at the top of her nose.
"The doctor informed me that he would fix it, no charge if I were not to go under anesthesia," the 40-year-old said to the camera.
"I was literally shaking and crying," she continued to describe. "[The doctor] was getting very annoyed that I couldn't sit still and handle the pain."
As the surgeon began filing at Jennifer's bone, that is when the "terrifying" sound and pain became way too much. She requested to be put under anesthesia, no matter the cost.
Despite the hellish conditions Jennifer underwent in the operating room, the nightmare continued when she received a diagnosis for her young son, Jack.
"He had Phelan-McDermid Syndrome," she said to the camera. "Jack was the 227th person in the world ever diagnosed with this syndrome. It causes severe developmental delay and autism-like symptoms."
"[Doctors] basically told us that 'your son is never going to go to college, never going to get married and is going to live at home with you for the rest of his life,'" she added.
Following the life-changing diagnosis, Jennifer put her surgery on hold to decipher the correct plan and routine for her son.
"My focus was on my family," Jennifer said to the camera.
Once Jack received the treatment he needed, Jennifer revisited the idea of getting her nose fixed. She went under another procedure–it's unclear whether it was by the previous doctor–but six months later, the bump "was still there."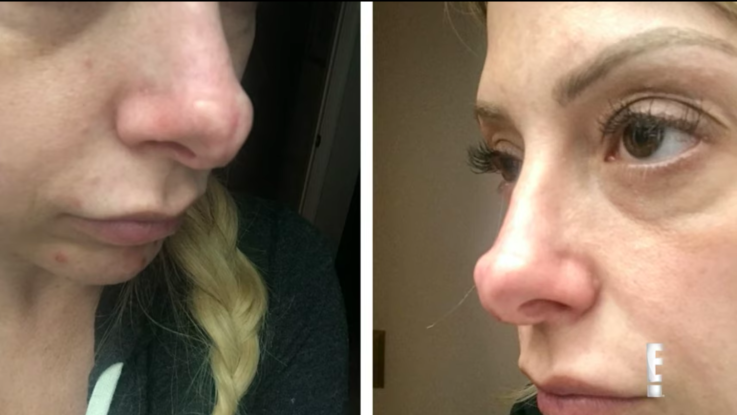 "I started to notice that the shape of the tip of my nose was changing," Jennifer said to the camera. "It seems like there is a battle between the skin and the cartilage."
"I don't want to fear that my cartilage is going to poke through my skin, and then I'm going to have to have emergency surgery," she concluded.
Find out whether Dr. Paul Nassif will be able to repair a nose that resembles a "the head of a Brachiosaurus" when Botched airs on Wednesday at 9 p.m. ET on E!.
'Botched' Season 5, Episode 14 Spoilers: One Woman's 'Terrifying' Nose Job Without Anesthesia | Culture