Both Joe Biden and Bernie Sanders Would Beat Donald Trump in a General Election, New Poll Shows
According to a new poll, Democratic presidential candidates Joe Biden and Bernie Sanders would beat President Donald Trump in the general election.
The poll, which was conducted The Economist and YouGov, surveyed 1,500 U.S. adults from March 15 to March 17, and has a margin of error of 3.2 percentage points.
For the poll, the surveyed adults were asked who they would vote for if the Democratic nominee was Biden and the Republican nominee was Trump. About 48 percent of U.S. adults said they would vote for Biden, while 41 percent said they would vote for Trump. Meanwhile, 4 percent answered with "other," 5 percent said "not sure," and 2 percent said they would not vote.
In a nearly identical question, the poll asked the 1,500 adults who they would vote for if Sanders was the Democratic nominee against Trump. The results were similar as well, with 48 percent saying they would vote for Sanders and 41 percent saying they would vote for Trump. Additionally, 3 percent answered with "other," 6 percent said, "not sure" and the remaining 2 percent said they wouldn't vote.
The results of the poll comes just days after Tuesday's Democratic primaries in Florida, Illinois and Arizona in which Biden went on to win all three of those states. As of Friday, he has 1,184 pledged delegates while Sanders has 885. The Democratic primary in Ohio was originally scheduled for this past Tuesday, but it was postponed after Governor Mike DeWine ordered polling stations to be closed in an effort to stop the spread of the novel coronavirus.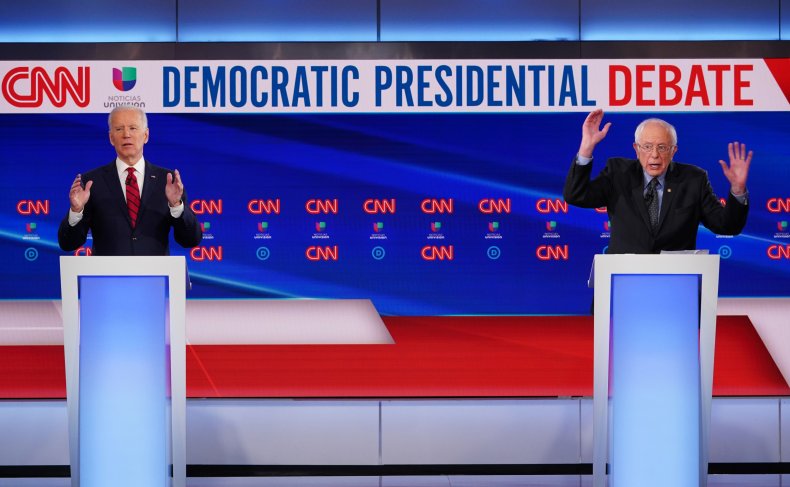 Biden also had a dominant outing during the Democratic primaries on March 10, winning five out of the six states, compared to Sanders one state.
There are still a number of other Democratic primaries for these two to compete in. But as the coronavirus continues to spread, several states were forced to reschedule their primary elections. Louisiana's primary was set to take place on April 4 but was moved to June 20; Georgia changed its primary date from March 24 to May 19; Kentucky has now scheduled its primary from May 19 to June 23; and Maryland moved its primary from April 28 to June 2.
While the two Democratic presidential nominees scored well in the The Economist/YouGov poll when U.S. adults were asked who they would vote for in the presidential election, the results became slightly different when they were asked "who do you think will win the 2020 presidential election." According to the poll, when the 1,500 U.S. adults were asked this question, 49 percent said they think "the Democratic nominee," will win. On the other hand, 51 percent said they think Donald Trump will be re-elected president.
CORRECTION 12:56 p.m. ET: This story has been updated to correct Biden's current delegate count to 1,184, from what was previously stated as 1,811.