One of the few things most Republicans and Democrats agree on is the need to take on Big Tech monopolies like Google, Facebook and Amazon. Despite this bipartisan consensus, however, these companies have manipulated Washington to avoid accountability.
Fortunately, Jonathan Kanter, who has been nominated to run the Justice Department's Antitrust Division, has the experience and courage to work with both Democrats and Republicans to finally take on these behemoths.
Republicans should applaud his nomination, because even though he is a liberal Democrat, Kanter believes that enforcement should be based on the original meaning of antitrust legislation—an approach, known as textualism, that is central to conservative ideals. He is one of those unusual nominees whose philosophy on antitrust appeals to both the Left and the Right.
As a conservative Republican and the attorney general of Louisiana, I have been very critical of the Biden administration. I have filed lawsuits against the president over his restrictions on drilling, release of criminal aliens and COVID-19 restrictions, and have opposed the vast majority of his appointments. I will continue to fight the Biden administration when it encroaches on our rights and liberties. However, it's just as important for Republicans to acknowledge when it does the right thing and work together on the pressing issues that we face.
Federal antitrust enforcers in the Federal Trade Commission and the Justice Department have generally given Silicon Valley giants like Google, Facebook and Amazon free rein. They approved almost every major merger in Silicon Valley, and accepted almost every twisted argument that predatory and monopolistic behaviors—such as Google giving priority to its own search results or Amazon boosting its own products—somehow benefit consumers and therefore are not anticompetitive. The millions of dollars that Big Tech spent influencing academics, think tanks and politicians to mimic its talking points certainly made this outcome more likely.
President Trump took important steps to make our antitrust agencies start enforcing the law, initiating a groundbreaking lawsuit against Google for the company's use of monopoly power to discriminate against rivals in search and advertising. I was proud to join this lawsuit along with over a dozen other state attorneys general. The lawsuit is ongoing, and Jonathan Kanter is undoubtedly one of the best lawyers to continue this fight.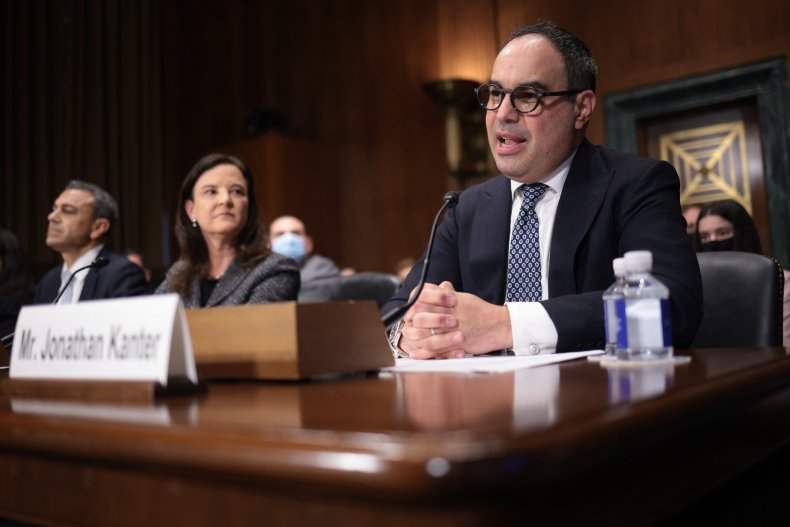 Kanter served as an attorney at the FTC and then worked in the private sector as a partner at Paul, Weiss and his own firm. Kanter's work in the private sector and government gave him important knowledge about how tech companies manipulate the political process, which will allow him to counter their influence.
While many lawyers who go between government and Big Law end up corrupted by the swamp, Jonathan Kanter has been known for representing people and companies, like Yelp and News Corp., that have taken on the likes of Facebook and Google. Most of his colleagues in the antitrust bar are too afraid to criticize Silicon Valley monopolies because they hope to secure them as clients. However, Kanter has fearlessly called out Google, Facebook, Apple and Amazon for their abuse of our political and economic system.
Given tech's influence and the sharp partisan divisions in Washington, I was worried that Biden would nominate an antitrust chief who would rather score political points against Republicans than work together with us to take on monopolies. However, while Jonathan Kanter is no conservative, he has a long history of working across the aisle to find common ground on antitrust.
While many Democrats try to demonize conservative legal groups like the Federalist Society, Kanter does not shy away from meaningful dialogue. He has spoken at Federalist Society conferences and appeared on podcasts to discuss antitrust issues. He persuasively argued to the society that the consumer welfare standard—a legal theory that Silicon Valley lawyers have used to weaken antitrust laws—contradicts the conservative legal tradition of textualism. In that tradition, the original intent of the law, rather than simply the benefit to consumers, should be the deciding factor. More and more conservatives, including myself, now agree with Kanter that defining any corporate behavior that leads to lower prices for consumers as acceptable is not true to the original intent of antitrust legislation.
Republicans in the Senate should vote to confirm Jonathan Kanter and work with him, along with the state attorneys general, in finally holding tech titans to account for their anticompetitive behavior. There is no reason for antitrust to be a partisan issue when it is clear that both parties are ready for a new approach.
Jeff Landry is the attorney general of Louisiana.
The views expressed in this article are the writer's own.