Both Sides Seek Delay in State Trial of 3 Other Cops Charged in George Floyd's Death
Attorneys for the prosecution and defense requested a postponement of the state trial of the three former Minneapolis police officers charged in the death of George Floyd.
The request was spurred by the federal civil rights trial's Jan. 20 scheduled starting date, less than seven weeks before the state trial set to begin March 7. The attorneys requested the delay in the state trial, as they said it's impossible to know how long the federal trial of Thomas Lane, J. Alexander Kueng and Tou Thao will last.
State prosecutors and defense attorneys for the former officers agreed in the joint request submitted to Judge Peter Cahill on Friday that "a continuance should be granted in the interest of justice."
It is not currently known when Cahill will decide whether to agree to the informal meeting outlined in the request to decide on a new date.
The federal trial beginning later this month alleges the former officers violated Floyd's civil rights while acting under government authority, when they allegedly held Floyd down and held back the gathering crowd as former Officer Derek Chauvin held a knee to Floyd's neck.
The state trial charges the men with aiding and abetting in the murder and manslaughter Chauvin was convicted of last year.
Another case that sparked protests like Floyd's was decided Friday, as the three men convicted of murdering Ahmaud Arbery in Georgia in February 2020 were each sentenced to life in prison, with Travis and Greg McMichael not receiving a chance at parole as William Bryan was given a chance at parole after a minimum of 30 years in prison.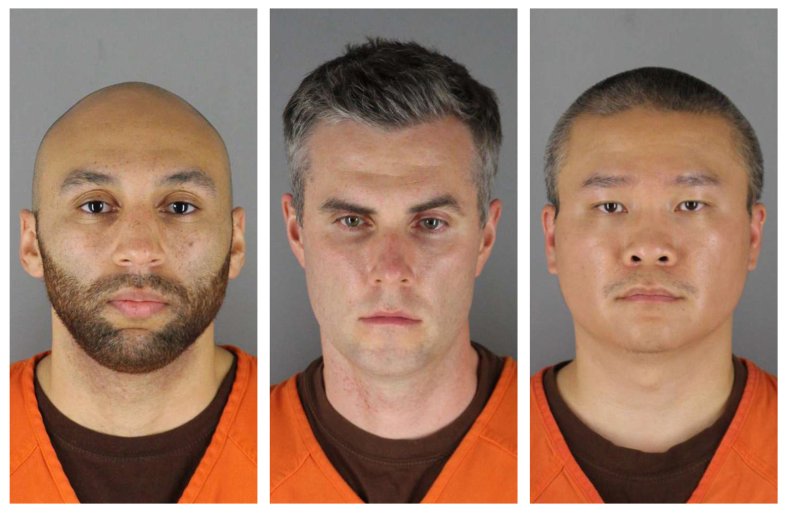 Chauvin, who is white, was sentenced to 22 1/2 years in prison last year for murder and manslaughter for pressing his knee against Floyd's neck for up to 9 1/2 minutes as Floyd repeatedly said he couldn't breathe and eventually went limp.
Chauvin, Kueng and Lane are accused of helping restrain the 46-year-old Black man as he was on the ground. Kueng is accused of kneeling on Floyd's back, while Lane allegedly held down Floyd's legs. Thao is accused of holding back bystanders and keeping them from intervening as Floyd was restrained.
Chauvin pleaded guilty in December to a federal count of violating Floyd's civil rights during the May, 25, 2020, arrest. Prosecutors are seeking 25 years on the federal count.
The killing was captured on bystander video and galvanized protests against police brutality around the U.S. and beyond.
The Associated Press contributed to this report.