Bottlenose Dolphin Rescued After Shark Attack That Left Her in Critical Condition
A dolphin suffering from life-threatening injuries after being attacked by sharks was rescued last week by conservationists in Florida. Described as a sub-adult Atlantic bottlenose dolphin, the cetacean is now being cared for by vets at SeaWorld Orlando as they try and nurse it back to full health.
After becoming stranded in Ponte Vedra Beach, Florida, the dolphin was assessed by staff from the Georgia Aquarium Conservation Field Station and Florida Fish and Wildlife Conservation Commission who found that the creature needed to be transported for rehabilitation due to the life-threatening nature of its injuries.
At SeaWorld Orlando's Cetacean Rehabilitation Facility, veterinarians found that the dolphin could swim unaided but had multiple shark bite wounds along her body and on her right flipper.
SeaWorld vet Dr. Lara Croft said the dolphin was given fluids, antibiotics and muscle protectants to help nurse her back to full health after the stressful ordeal of becoming stranded.
"Based on the extensiveness of this animal's shark bite wounds and also how thin she is, she's still considered in critical condition," Croft said, adding that there would be round-the-clock care for her while she's still recovering.
Related: Rare Sumatran Tiger Killed by Villagers Who Thought It Was a Shape-Shifting Spirit
The hope, Croft said, was to get her back to full health and strength so that she could be returned to her natural environment.
SeaWorld says that their programs to rescue injured marine animals have so far helped over 31,000 animals in the last 50 years. Based in Marineland, Florida, the Georgia Aquarium Conservation Field Station is dedicated to researching and rescuing stranded marine life in the region.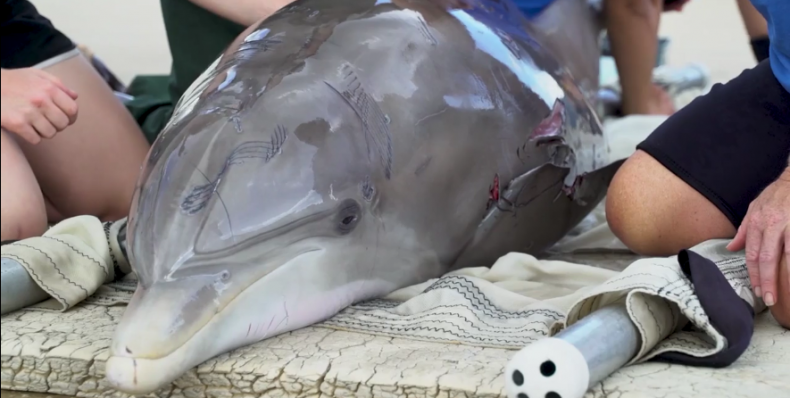 The station currently has a project researching health and environmental risks for bottlenose dolphins which focuses on animals found in Florida's Indian River Lagoon and the coastal region by Charleston, South Carolina.
"This research will open the doors to additional studies on the impacts the environment is making on overall dolphin health, what this means for the health of our oceans and how this might already be affecting people living in these regions," the project wrote.