Premium Bottler Savors the Last Drop of Choice Whiskeys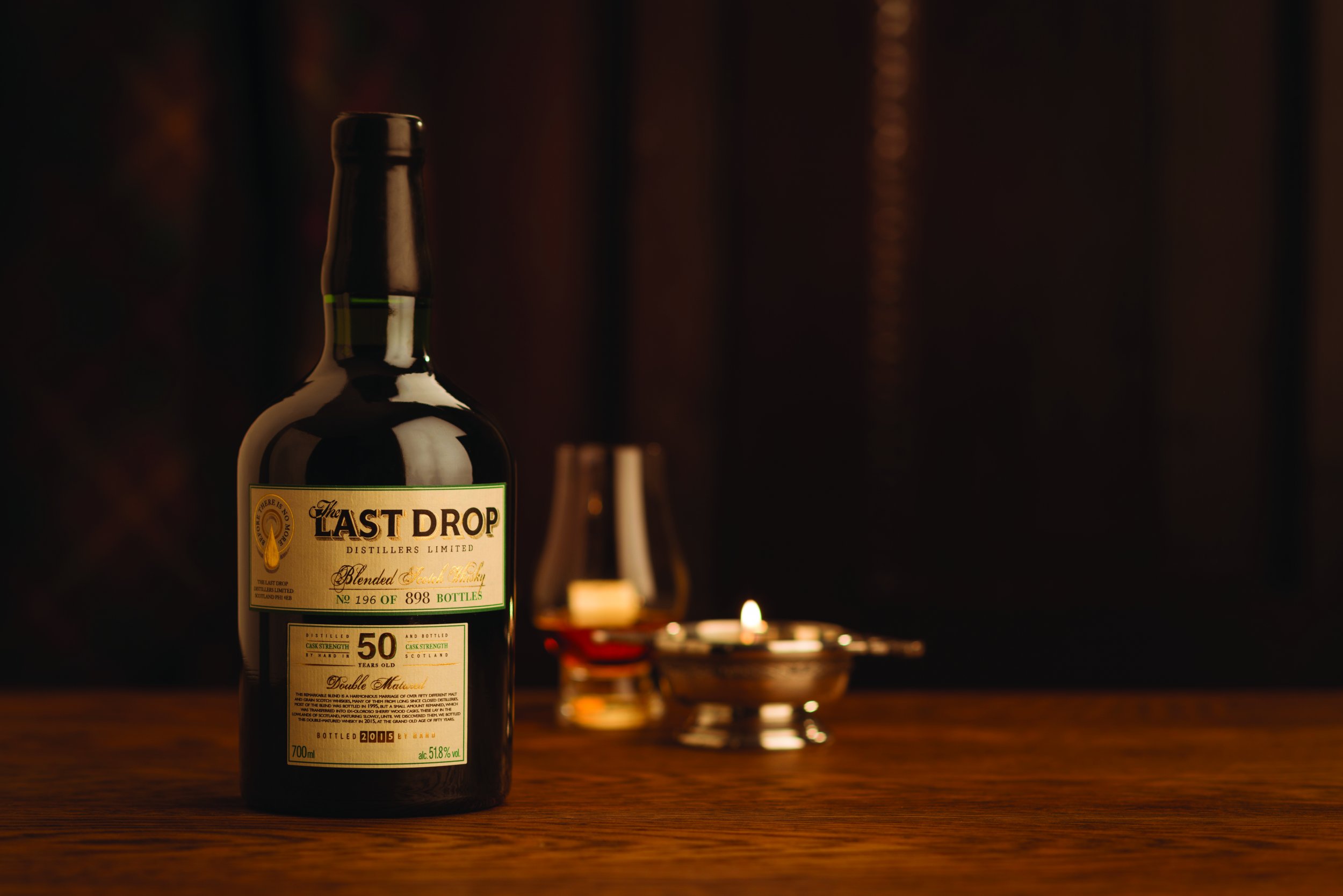 Hedonism Wines in Mayfair, west London, is glowing. The shelves that line the walls at the back of the shop are filled with some of the world's oldest and most expensive whiskeys—the rarest locked away behind glass and backlit, so their gold and amber contents shine like liquid treasure. Among the vintage Laphroaigs and Macallans is a single, dark bottle of 1960 blended Scotch whisky. Priced at £3,228 ($4,235), it is the only one of its kind still on sale in the U.K. Unlike the whiskeys surrounding it, the name on the bottle—the Last Drop Distillers Limited—belongs not to the maker but the bottler. Or, more accurately, bottlers.
Sitting in an armchair at Hedonism's oak tasting table is Tom Jago, a megalith of the British drink industry. As Andrew Rankin, the Last Drop's head of operations, guides 10 of the shop's regular customers through a tasting, Jago occasionally makes a wry observation or lets slip an industry secret.
And boy, does he have a lot of those. The nonagenarian Jago and his business partner, James Espey, are responsible for the creation of a full cellar of seminal drinks, including Johnnie Walker Blue Label, Chivas Regal 18 Year Old, Malibu and Bailey's Irish Cream. If you've ever had a hangover, it's probably their fault. The Last Drop Distillers is their one for the road before calling time on long, successful careers—and they want it to be the finest possible example of the art of independent bottling.
Independent bottling is an unusual way of getting whiskey from barrel to drinker. It means buying casks of spirit direct from distilleries and then deciding when to draw the whiskey from the cask, bottle it and release it. Some bottlers might sell a particular whiskey years before—or after—the distillery does. Others might age it in different casks, altering its flavor. Regardless, although it was distilled in the same place and at the same time, a whiskey from an independent bottler will be different from the one sold by the distillery.
The Last Drop has another point of difference. As its name implies, it sells only the final remnants of a given whiskey; its business cards carry the motto "Before there is no more." As well as rarity, Jago and Espey are looking for old spirits of the first quality. The industry seems to feel they're managing rather well. Since founding the Last Drop in 2008—along with South African Peter Fleck, who left the company last year—the pair have released only six products: four blended Scotch whiskeys, one single malt Scotch whisky and one cognac. In his annual Whisky Bible—a leading and particularly comprehensive whiskey guide, with around 4,500 entries—Jim Murray awarded all five of the Last Drop's whiskeys "single malt Scotch whisky of the year" or "blended Scotch whisky of the year" around the time of their release. Of the 592 bottles the Last Drop produced, only 40 or so remain.
The Last Drop is now preparing to launch its seventh—and rarest—bottling, which will go on sale through selected distributors to long-standing Last Drop customers in October. It will be a 1961 single-grain whiskey from the now-closed Dumbarton distillery in Scotland, where the team managed to salvage only enough whiskey to fill 32 bottles. Retailers can set their own prices, but the Last Drop's bottles tend to sell for several thousand dollars. This particular release is so rare that the price is likely to be higher.
Most of the Last Drop's finds are "happy accidents," says Beanie Espey, its sales and marketing director. (Beanie is James Espey's daughter; both founders have daughters who work for the company.) A distillery might have produced more aged whiskey than it needs to bottle. It could add the excess to a blend, but since under British law a blend's age must be given as that of the youngest whiskey in it, that would be a waste. Instead, the distillery might return the whiskey to the barrels with the hope of perhaps creating a premium aged blend. Then a change in staff or strategy means the barrels remain in the warehouse, unused. That's the point when, rather than letting the whiskey spoil, the distillery ends up calling the Last Drop and asking if it wants to buy it.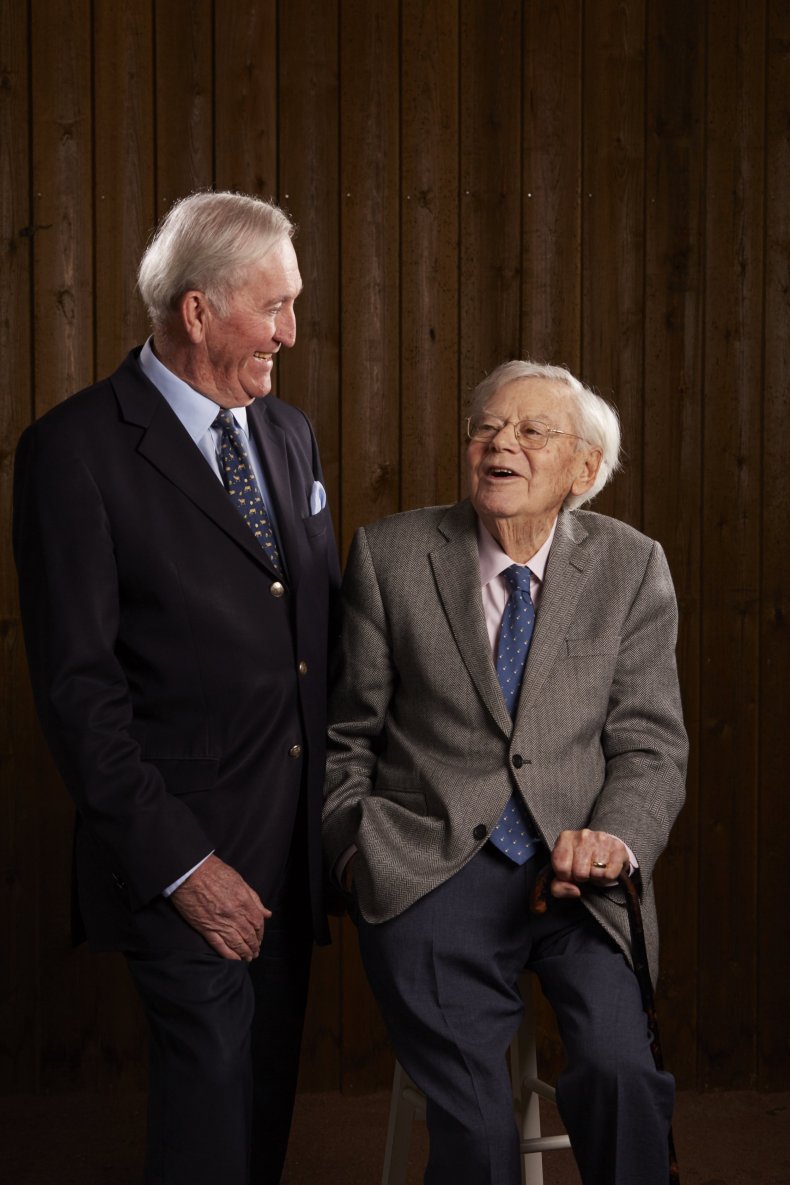 This can be a lucrative business. The company's most recent release, a 50-year-old double-matured blended Scotch, sells at Hedonism Wines for £3,000 ($3,933) a bottle. That might seem a high return when all the Last Drop did was marry the various barrels and bottle the resulting blend. After all, it was the origin distillery that was responsible for the skillful blending and the lengthy maturation process that produced the final, award-winning product.
According to Jago, most distilleries are not interested in bottling these last few barrels of old whiskey. Especially if they contain a type of whiskey the distillery isn't marketing—a blend instead of a single malt, perhaps. "The numbers [of bottles] we deal in are simply not worth looking at for an average, or even moderate, whiskey company," he says. "They all deal in hundreds of thousands of bottles. Nobody cares about these little piles left in the corner."
In November 2013, however, international drinks conglomerate Diageo decided that it too was interested in selling its own little piles and announced a project it called Orphan Barrel. Its aim, like the Last Drop's, was "to share barrels of rare and delicious whiskey, hidden away and nearly forgotten in the back of rickhouses and distilleries." To date, Orphan Barrel has released seven bourbons, the oldest being the 26-year-old Old Blowhard (most bourbons age for around eight to 12 years). But Old Blowhard had not, whiskey critics decided, aged gracefully. John Hansell, founder of Whiskey Advocate magazine in the U.S., wrote that the oak barrel Blowhard had spent more than a quarter of a century in had exerted too much influence, producing a drink best served as "a digestif, perhaps, after a large meal?" It's unlikely Diageo was pleased to see its "rare and delicious" whiskey put in the same bracket as an Alka-Seltzer.
Producing a successful super-aged whiskey is a delicate task, it seems. According to Rankin, the Last Drop's master blender, "To store old whiskeys can be very risky." When whiskey is first poured into casks, it is a clear liquid with an alcohol percentage of around 63 percent. Maturing it in wooden barrels serves two main functions: The wood lends color and flavor, and the alcohol content lessens—what the industry calls "the angels' share."
The difficulty for distilleries is determining when to bottle the liquid. Leave it too long, and the angels can get greedy—a problem when, under U.K. law, Scotch whiskys need to have a minimum alcohol-by-volume content of 40 percent. The other potential difficulty is the wood. The longer whiskey stays in a barrel, the woodier it tastes. Oak barrels, commonly used to store whiskeys, have a high tannin content. (Tannins are naturally occurring compounds that give a liquid a dry taste.) That helps the whiskey mature, but if it's left in the barrels for too long, the tannins can give it too astringent a flavor.
As the locks on Hedonism Wines' glowing whiskey cabinet suggest, a super-aged whiskey that's been matured correctly is a seriously valuable product—and one that offers an intensely rich drinking experience. Laid out on the tasting table are samples of the Last Drop's three most recent releases: the 48-year-old blended Scotch that won the Whisky Bible's Scotch whisky of the year, a 1967 single malt scotch and the 50-year-old, double-matured blended Scotch that costs £3,000 ($3,933) a bottle.
The first, blended by its distillery in 1977 and matured in bourbon barrels, is a rich, golden color—which is how you'd look if you've spent several decades surrounded by American oak—and tastes of ripe peaches. The 1967 single malt was matured in hogshead casks—barrels that a distillery enlarges and gives oak ends—that have left it both sweet and softly smoky. The third and final whiskey was blended in 1995, using more than 50 different Scotches, each at least 30 years old, and then matured in sherry wood casks for a further 20 years. It tastes intensely rich and complex, all dark fruits and spice. The price begins to make sense.
After it releases the 1961 single-grain this fall, the Last Drop isn't sure what will come next. It has some Scotch whiskys in its inventory, but that doesn't mean the eighth release will be a Scotch. "We actively seek out all old and rare spirits. We're open to any liquid," says Rebecca Jago, Tom Jago's daughter and the company's creative director. "We would love to find a bourbon or a rum, a port or a sherry. We're not wedded to whiskey, although it will always be the backbone of what we do." Meanwhile, there's always that last bottle of the 1960 blended Scotch. Who's buying?
For stockists, see LastDropDistillers.com. Hedonism Wines: 3-7 Davies Street, London, W1; Hedonism.co.uk.