'I Bought a 3,400 sq ft House For $18,500'
I moved to West Virginia in January 2019. Before that, I was renting in Virginia. It was the typical millennial story; I had a dream job that was in an area where the high cost of living was high, so I couldn't afford to have, or do, the things I wanted.
In late 2018, I was sitting in my apartment in Virginia having just interviewed for a job in Wheeling, West Virginia and was scrolling through Instagram looking at historic districts of Wheeling through geotags. I came across this photo of someone's Victorian-era home. It was just the fireplace but it had really beautiful tile, with dogs running across the top and stags on either side. I had never seen anything quite like it; it was so unique and beautiful. I realized that if I moved to Wheeling there was a pretty good chance I might be able to buy something as nice as that within the next few years.
I moved into loft apartment in a converted warehouse in downtown Wheeling and immediately, the city felt great. I really fell in love with the quality of life, the low cost of living and how tight knit the community is.
The first time I saw the McLain house was during a walk on Labor Day 2019. I was always looking at properties, because I'm often in old buildings for my job as a historic preservation specialist. But I had student debt and although I had some savings, I wasn't working towards buying a property yet.
I remember looking up and saying, probably too loudly, "I really love this one, I wonder if it's available?" A neighbor was sitting on their porch and she said the owner had moved to Louisiana and asked if I wanted her to get in touch with him. The next day I brought it up in the office and because it's a small town, everyone knows everyone, so my coworker messaged the owner saying, "I think Betsy wants to buy your house."
When I eventually walked through the house on Thanksgiving weekend 2019, I opened the door and the fireplace was the one I had seen on Instagram back in 2018. I knew then it was my house. The owners are also preservationists and so they posted the McLain house on the Cheap Old Houses Instagram account in December 2019, just to give it some attention. I love the account and have followed it for years, and the house really resonated with people, probably because it was so cheap and had so many original features.
I think it was listed for around $25,000. But the owners had a very emotional connection to the house and they wanted it to go to someone good, so they told me they'd let it go for $20,000. It eventually appraised for $16,500. So we split the difference and I bought it outright using my savings, at the age of 28, on May 28, 2020 for $18,500.
The house had been purchased off the demolition list, it was nearly irreparable and the owners before me did a ton of stabilization work. They repaired the structure so it was not in imminent danger and then they did some repairs; they really brought it back from the brink.
The house was built in 1892 and is 3,400 square feet over three levels and a basement, so on the first floor you have the entry hall, stairs, the living room, the dining room, a half bath and the kitchen. On the second floor there is a front room, the master bedroom, and two other bedrooms, and then there are three rooms on the third floor, but they were barely rooms when I bought it. One of the big selling points for me was that there is a lot to the side of the house that was part of the parcel so I have a humongous side yard.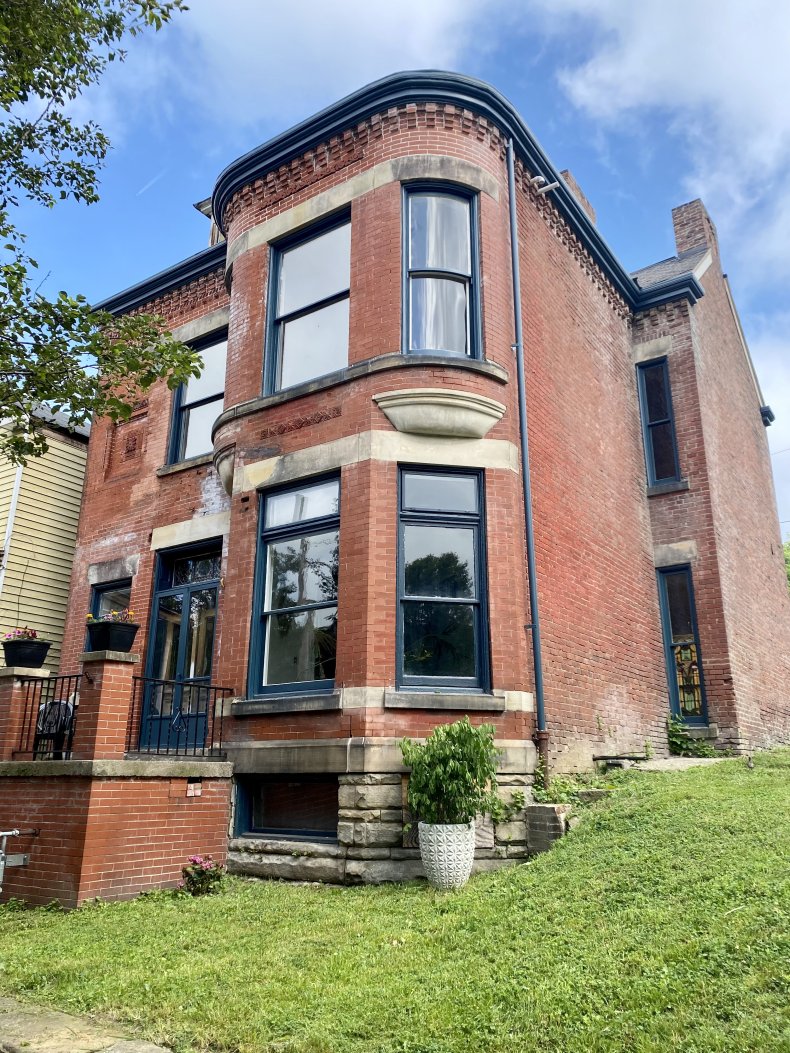 Before closing on the house, I brought contractors, architects and engineers through. We were really trying to determine if the amount that was able to be financed in a construction loan would be enough to fix the problems that were there. The value of the house once fixed was estimated at $130,000. So 80 percent of that meant the bank could loan me $115,000. I knew then that I was working with a $125,000 budget in total, which was just enough.
But I didn't touch a room inside for at least six months. Everything happened almost like a new construction. You don't build a house room by room, you build it layer by layer, so I worked from the outside in and from the top down.
The first priority was getting the house dry; fixing the roof, gutters and closing any openings. There were 10 or 12 windows that were completely missing; the master bedroom had two shower doors where the window opening was!
The house also didn't have gutters so water had been running down the face of it for 35 years. Not only did we have to fix the roof and the gutters but a ton of the brick had to be completely rebuilt. I hired professional masons to fix the decorative masonry at the front of the house, but my boyfriend and I repointed the other three sides. From the second storey up to the roofline, 100 percent of it needed to be repointed.
So, we spent from June of 2020 to the end of November doing that. In addition to my job, I spent every bit of 40 hours, if not 50 or 60 a week on the house. I could not have done this, though I probably would have, at any time other than during a pandemic, because we were working from home and my calendar was wiped clean.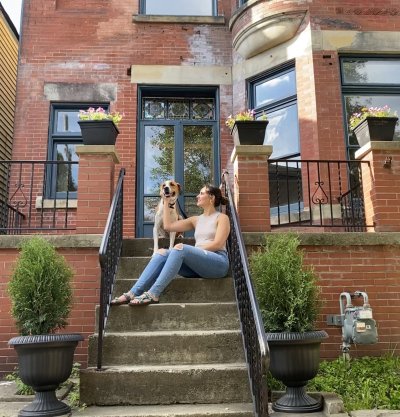 Once the outside structure was good, we installed heating and systems; gas lines, electrical, plumbing and heating, ventilation, and air conditioning (HVAC) and put walls and flooring back in. By that point, I had spent around $110,000.
Then, January of 2021, I was contacted about featuring in an episode of In With The Old about the restoration of the house. That really shook up my timeline and my planning! I needed to complete three rooms for the show within three months. So the living room, the dining room and the main bath went from getting to drywall point to the stage of being a beautiful, finished home. But the opportunity and the exposure for the community was great, so I signed on to do it. The show did 12 weeks of filming on those three rooms and they were finished in May and revealed on TV in October 2021.
From an architectural standpoint, pretty much all of the house has been restored. I haven't changed floor plans or removed any doors. Nothing that was built into the house or is part of its original integrity has changed, unless absolutely necessary. Then, from that point on, I am someone that firmly believes that furniture and decor is meant to be ephemeral and reflect the person who owns the home. Decor is how you should inject yourself into an old building.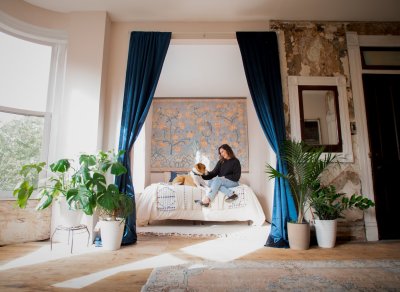 For the living room, the dining room and the main bath I had a lot of items already in storage. I bought new chairs for the dining room and two chairs for the living room, but I have an incredible vintage sofa that I knew I was going to use and two months after I bought the house I found an amazing coffee table online, and made my boyfriend drive me across Ohio to get it. With all the attention the house has gotten in the past two years, I also began working with companies to do sponsored content. So, my wallpaper in my bathroom was a sponsored collaboration, as was the lighting throughout the house.
I took a month off in June 2021 and then we came back in and started working to put the walls up and windows into the master bedroom. Over summer and fall, we also did the bare minimum to make the kitchen a usable space. It was in a pretty disgusting state; it didn't have walls and the ceiling was falling down, so we fixed those and put appliances in.
I had spent the whole $125,00 budget by then, but I knew that as soon as I had it ready to move into, I could refinance. This is to have an accurate, up to date value of the house as completed, which then allows me to wrap my debt into a traditional mortgage, and take out a little bit more to do a more high end kitchen remodel. I moved in on Thanksgiving 2021, refinanced in December and I'm closing on that in mid-January.
I don't know, as a nitpicky preservationist, if I'll ever really be finished, but I would say that by the fall of 2022, the house will look to the outsider like it's very much complete.
I love my home and I want to live here. I'm not a flipper in any way, shape or form. But I do want to continue doing this with other properties and sell them or rent them to good people, or help the community. These kinds of properties, once they are lost, cannot be recreated in quite the same way. The materials in these historic properties do require more finesse to bring back to life, but it's a very worthwhile cause.
Many younger people have been sold this idea of what success looks like, that it's a four bedroom "McMansion" with granite countertops and white kitchen cabinets. I think we're all coming to the realization that vision might not actually be "it", and it might not feel good.
I would encourage anyone to do this, but in particular young people who might have a single or double income with no kids. You're creating the life you want, so don't be afraid to do something like this. You can get a lot more, for a lot less money, if you have a little patience.
Betsy Sweeny is director of heritage programming at the Wheeling National Heritage Area and lives in Wheeling, West Virginia. You can follow her on Instagram @betsysweeny and find out more about her home at betsysweeny.com.
All views expressed in this article are the author's own.
As told to Jenny Haward.