Bette Midler, Elijah Wood And Other Celebrities Condemn Boulder Shooting
Americans are this morning reeling from yet another mass shooting—this time in Boulder, Colorado.
Ten people were killed when a gunman opened fire at the King Soopers grocery market in Boulder, about 28 miles northwest of Denver, on Monday. A police officer was among the dead.
The incident began in the afternoon after police initially notified the public about an "active shooter" and instructed people to keep away from the grocery store and surrounding area.
Tributes have been paid to 51-year-old Eric Talley, who was the first police officer to respond to the shooting.
"This is a tragedy and a nightmare for Boulder County," the area's district attorney, Michael Dougherty, said. "These were people going about their day, doing their shopping. I promise the victims and the people of the state of Colorado that we will secure justice."
In a press conference, Boulder Police Chief Maris Herold praised Talley's "heroic" actions.
"I also want to commend the heroic actions of the officers responding not only from Boulder, but from across the county but in other parts of this region," Herold said. "I also want to thank the men and women who responded, including state, local and federal authorities."
She added: "My heart goes out to the victims of this incident. And I'm grateful for the police officers that responded and I am so sorry about the loss of Officer Talley."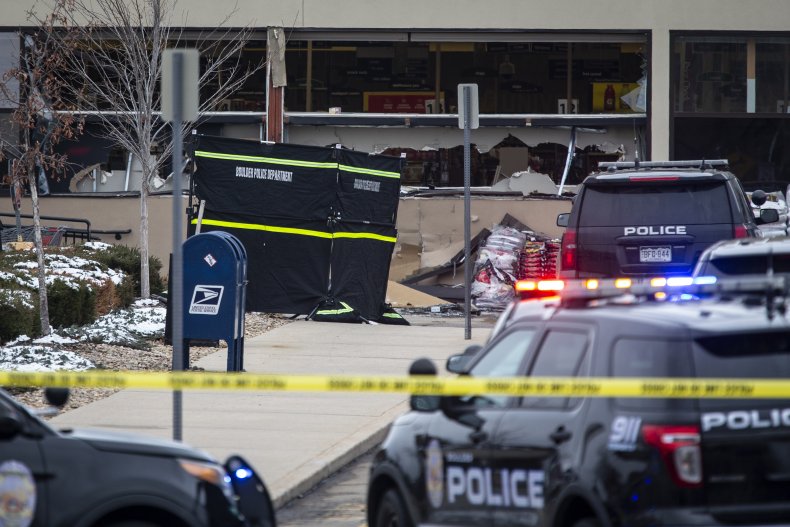 While details about the other victims or the shooter have yet to be officially confirmed by authorities, many have turned their ire on Colorado congresswoman and ardent gun-rights supporter Lauren Boebert.
The celebrity world is reacting to the news as well, with many expressing their anger and sadness on social media that another mass shooting has taken place just days after the attack in Atlanta.
"The horrendous shootings in Atlanta and now Boulder? When is enough enough? We CANNOT accept that this is normal and can't be changed," tweeted Lord of the Rings actor Elijah Wood. "This is beyond sad and exhausting. So much love to the victims and their families and to a future where this is no longer a part of our reality."
While politically vocal actress Bette Midler added: "Two mass shootings in one week. At least ten dead today in Boulder Colorado. What a country."
Bernice King, the daughter of civil rights hero Dr. Martin Luther King Jr. tweeted: "I love you all and I know that we can be better. I'm not sure what it will take for there to be a collective awakening regarding gun violence. But I'm holding on to hope and willing to work."
She added: "Love to the families and communities of those killed in #Boulder. I mourn with you."
Filmmaker Eugene Lee Yang posted: "A supermarket. This monster shot up a supermarket. While people were getting their groceries. Their COVID vaccinations. Essential workers already risking their safety to make ends meet. The cowardice and depravity is beyond reproach. I'm so sorry, Boulder."
Actor John Fugelsang added: "Here's exactly what happens next after Boulder -
1. The #NRA announces that Biden's coming for your guns.
2. Ppl believe this, & buy more guns.
3. Gun manufacturers make massive profits after yet another massacre.
4. Repeat."
Comedian Wanda Skyes added: "Sending Boulder some love."