Boulder Judge Ordered City Not to Enact Assault Weapons Ban Days Before King Soopers Shooting
A judge in Boulder, Colorado, ordered the city to not enact a ban on assault weapons just a few days before the King Soopers shooting that left 10 dead, including a Boulder police officer.
Boulder County District Court Judge Andrew Hartman ruled this past Friday that the city was not permitted to enforce an ordinance on the sale, possession or transfer of assault-style weapons and large-capacity magazines. Hartman cited state laws that say that local governments are not allowed to ban the sale or possession of firearms, according to The Denver Post.
"The Court has determined that only Colorado state (or federal) law can prohibit the possession, sale and transfer of assault weapons and large-capacity magazines," Hartman wrote in the ruling, according to the Post.
"The city of Boulder's assault weapons and (large-capacity magazine) ban could create a ripple effect across the state by encouraging other municipalities to enact their own bans, ultimately leading to a statewide de facto ban or to a patchwork of municipal laws regulating assault weapons and LCMs," the judge wrote
The ordinance Hartman spoke about was enacted by the Boulder City Council in 2018 and banned the possession of large-capacity magazines and assault weapons in the city. The ordinance came in response to the 2018 mass shooting at Marjory Stoneman Douglas High School in Parkland, Florida, that left 17 dead.
The Colorado state law passed in 2003 that Hartman spoke about in his ruling states that "a local government may not enact an ordinance, regulation or other law that prohibits the sale, purchase or possession of a firearm that a person may lawfully sell, purchase or possess under state or federal law."
Hartman's ruling came just a few days before the mass shooting at a King Soopers supermarket in Boulder. Boulder Police Chief Maris Herold confirmed 10 fatalities in the Monday night attack, including Boulder police officer Eric Talley, who had been in the department since 2010.
"Rest in peace Officer Eric Talley. Your service will never be forgotten," the Boulder Police Department wrote in a tweet on Monday.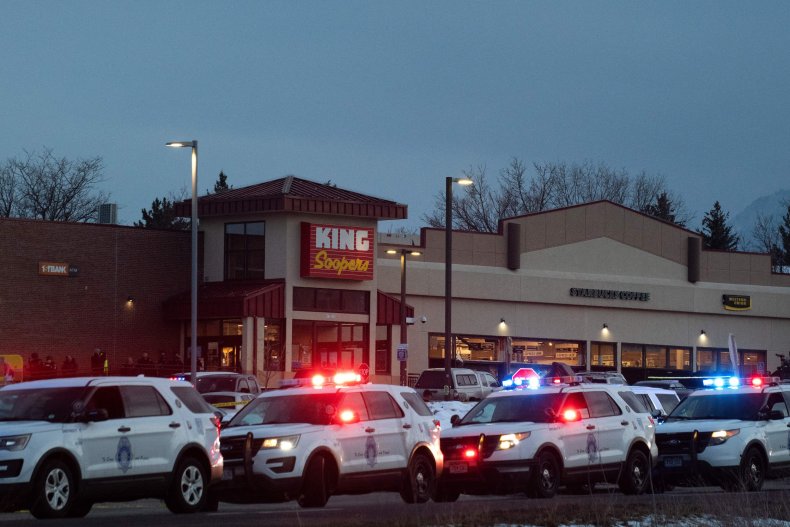 Authorities said they had taken one suspect into custody. They have yet to release any further information on the suspect or the nine others who died in the shooting.
Herold told reporters that officers responded to a call of "a possible person with a patrol rifle" at around 2:30 p.m. local time.
Speaking of Hartman's ruling and the subsequent shooting, Boulder City Council member Rachel Friend wrote on Twitter that "this is directly on the heels of the trial court staying the assault weapons ban our city had enacted."
Newsweek reached out to Hartman's office for comment but did not receive a response in time for publication.