Boulder Schools Survive After Nearly 1,000 Structures Lost in Fire, Reopen to Students
All Boulder Valley School District (BVSD) schools will reopen this week, as planned, despite last week's devastating fires that destroyed nearly 1,000 structures in numerous neighborhoods located between Denver and Boulder.
"We've been heartbroken by the impact of the neighborhoods very close to our schools, but amazingly, we have had no impact to our buildings," district spokesperson Randy Barber told Newsweek. "There has been a little bit of smoke smell in some of them, ash or soot that has been blown in through the doorways but the flames did not reach our buildings."
On Thursday, two fires fueled by extremely strong winds—the Middle Fork Fire and the Marshall Fire—erupted in a suburban area at the bottom of the Rocky Mountains and prompted more than 30,000 residents to evacuate from their homes Boulder County.
On Saturday, Boulder County Sheriff Joe Pelle confirmed that a total of 991 structures were destroyed in the fires.
As investigators continue to narrow their search for the origin of the wildfires, BVSD is planning to reopen its doors to the district's 31,000 students and over 4,000 school staff who may have been affected by the flames.
"Following any disaster, schools are really a center of the community which provide in-person support that families need," Barber said. "They're having to deal with unimaginable things, so to have a stable place where students can go—we've heard from a lot of families that they are really thankful that our schools are going to be open."
Experts say schools are often pillars of stability for kids going through traumatic events and that the ability to return to classes, despite uncertainty, can help them cope with their current surroundings and circumstances.
"Once that [flight or fight] system activates in children, they don't really have the skills to deactivate it," Dr. Yamalis Diaz of NYU Langone Health's Department of Child and Adolescent Psychiatry explained to Newsweek. "One of the things that we know really stabilizes them when something has activated that stress response system is stability and predictability."
"The first thing that we need to do for kids is to put them back in some sort of predictable, stable environment and what better place than schools where they know exactly what's expected," she said.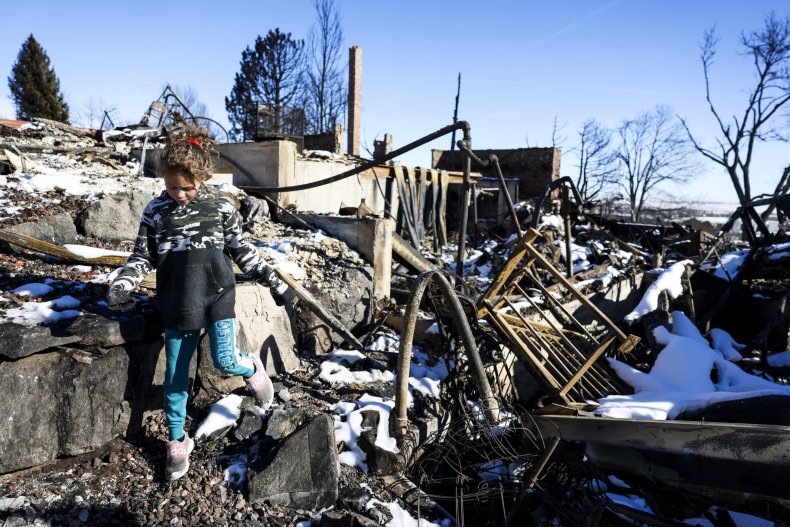 The Boulder Office of Emergency Management has been working with district maintenance teams to "air scrub" the buildings in order to ensure the air quality poses little to no risk and utility companies have been able to restore electricity and natural gas to all buildings.
School officials expect boilers and heaters to be up and working before students and staff return on Wednesday.
Barber said 323 families and roughly 100 staff members have reached out to the district to inform them that they've been impacted by the wildfires, whether that may be in losing their houses or being displaced during last week's evacuations.
He added that the district is working with individual families to help accommodate them and that school officials are focusing on being flexible on the return to school.
"If [students] not able to make it the first day, we understand that. It may be some time before some of these families are able to come back," Barber said.
"Assuming that schools are not available to provide some of that predictability, then we look to parents and family members to create as much of a stable, predictable structure," Diaz said. "That can be something as simple as using a piece of paper to highlight for kids what the order of the day is going to look like."
"As long as kids know what to expect, we can bring down the stress level a little," she added.
BVSD has already activated its trauma response team to provide counseling both to staff and students and are the district is striving to make resources as accessible as possible.
"We know that a lot of students can't get to a building right now. They may be staying with friends or family far away from the school and so there's virtual support," Barber said. "There's going to be in-person support. We're thankful for neighboring school districts that are allowing staff to come over from their trauma response teams in order to help support students."
The district has temporarily increased its substitute rate to help address current staffing shortages amplified by the fires. Those who may be able to help as a child care worker, food services worker, bus driver or custodian have been asked to apply at jobs.bvsd.org.
Diaz said the best things parents can do to help their children during traumatic events like a wildfire is to ask their kids how they're feeling—what fears they may have or what questions they may have—so they have an opportunity to express these thoughts.
"Oftentimes, adults have almost a gut reaction to these kinds of things," she explained. "What [adults] do is they tend to reassure kids as quickly as possible without stopping to ask, first, what they're actually concerned or fearful about."
"When you just rush to reassure, you kind of miss an opportunity to actually engage them in getting out some of the some of the fears," Diaz continued. "So, it's important for parents to be curious, open and receptive to kids sharing any of their fears and questions, and then be able to provide that reassurance."
All 56 schools in the district will resume in-person operations on Wednesday.