Boulder Suspected Shooter's Sister-in-Law Saw Him Playing With 'Machine Gun' Days Before Shooting
Days before Ahmad Al Aliwi Alissa allegedly shot 10 people at a Boulder, Colorado, grocery store, his family took a firearm away from him because he was playing with it in the house, according to a court affidavit.
Alissa was charged with 10 counts of murder after he allegedly opened fire at King Soopers store, killing 10 people, including police officer Eric Talley. Before the shooting, he had purchased a Ruger AR-556 pistol, and on Saturday his sister-in-law saw him playing with what she described as a "machine gun."
Alissa's sister-in-law, whose name was redacted from the affidavit, hesitantly told Arvada police Detective Jen Grimes that the firearm didn't look like "rifles she has seen in old Western movies." She thought it looked like a 'machine gun,'" she told Grimes, according to the affidavit.
"Alissa had been talking about having a bullet stuck in the gun and was playing with the gun," the affidavit said.
Two people, whose names were also redacted from the affidavit, were "upset" that he was playing with the firearm in the house and took it. His sister-in-law thought the firearm could be back in his room at the time she spoke with Grimes, according to the affidavit.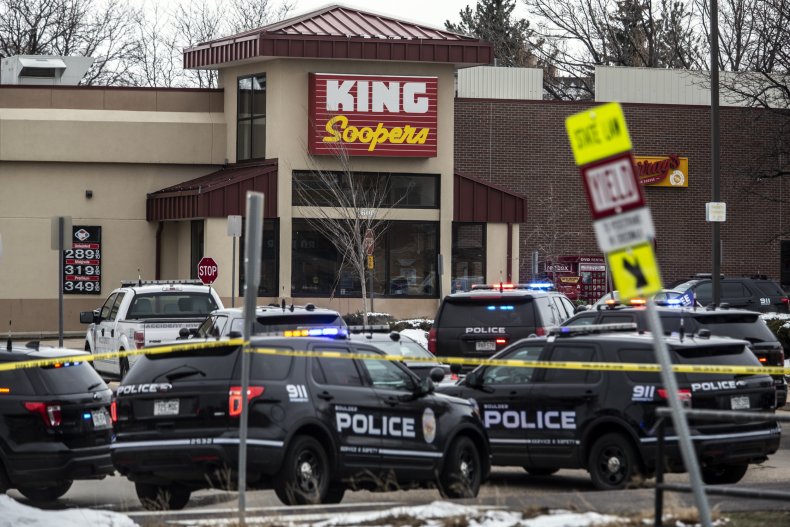 Local and federal law enforcement officers responded to the scene of the shooting on Monday and engaged gunfire with Alissa. He was injured in the leg and transported to the hospital.
After he was apprehended, he reportedly refused to answer questions about whether there were any other suspects but asked to speak to his mother, according to the affidavit. After release from the hospital, he will be turned over to law enforcement, Boulder District Attorney Michael Dougherty said on Tuesday.
Ali Aliwi Alissa, the suspect's brother, told The Daily Beast his brother was "very antisocial" and paranoid. In high school, the brother said, he would say that he was "being chased" and that "someone is looking for him."
"When he was having lunch with my sister in a restaurant, he said, 'People are in the parking lot, they are looking for me.' She went out, and there was no one. We didn't know what was going on in his head," the brother said.
The 10 people who died Monday range in age from 20 to 65 years old. Dougherty promised a thorough investigation and said the shooter will be brought to justice. However, he warned people that the investigation will likely take time to complete and estimated that it could be a yearlong process.