Taliban Captive Bowe Bergdahl, Whom Donald Trump Called a 'Traitor,' Could Be in Line for $300,000 Payout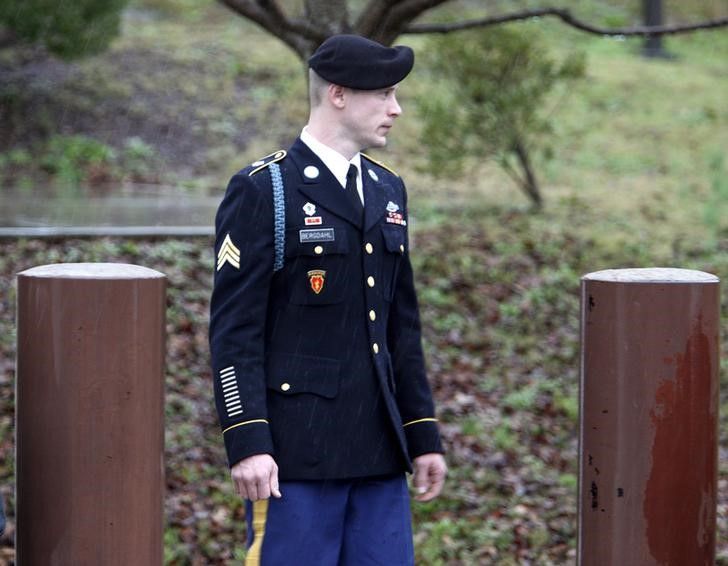 An American soldier who pleaded guilty to desertion and misbehavior before the enemy may be in line to receive as much as $300,000 in back payments for the time he spent in captivity with the Taliban in Afghanistan.
Bowe Bergdahl, 31, was held captive by the militant group from 2009 to his release in 2014. His detention led to a search effort that wounded several U.S. troops and forced President Barack Obama to release five Taliban prisoners held at the Guantanamo Bay detention center in return for his release.
Earlier this month, a court gave Bergdahl a dishonorable discharge, demoting him from sergeant to private but sparing him prison. The ruling will deny him most or all of the benefits that veterans are typically entitled.
But the U.S. military is now to decide whether he should receive the pay he was due for his time in Afghan captivity plus benefits.
Soldiers held hostage and released are given some $150,000 in compensation, according to Fox News. Added to that is hostile-fire pay and basic pay that a hostage would miss for a lengthy period of time during captivity.
But as Bergdahl pleaded guilty in court to deserting his position when he walked off base in Afghanistan, the U.S. military might have an issue treating him as a soldier who was missing or captured as a result of enemy actions.
"My understanding is there has to be an administrative determination of his duty status at each point, from the time he was captured until now," an army official told the Army Times.
"In order to figure out what he's owed, you're basically going to have to start from that point of captivity."
President Donald Trump tweeted after the court's ruling: "The decision on Sergeant Bergdahl is a complete and total disgrace to our Country and to our Military."
Prosecutors had asked for 14 years in prison for the soldier. But Bergdahl's defense tried to use Trump's criticism of the soldier on the campaign trail, in which he called Bergdahl a "no-good traitor" who should face execution, as well as psychiatric issues such as a schizophrenia-like disorder that meant he did not fully comprehend the result of his actions. In court, Bergdahl apologized for his actions.