Bergdahl Guilty Verdict Could Be Overturned Because Trump Called Him a "Dirty Rotten Traitor"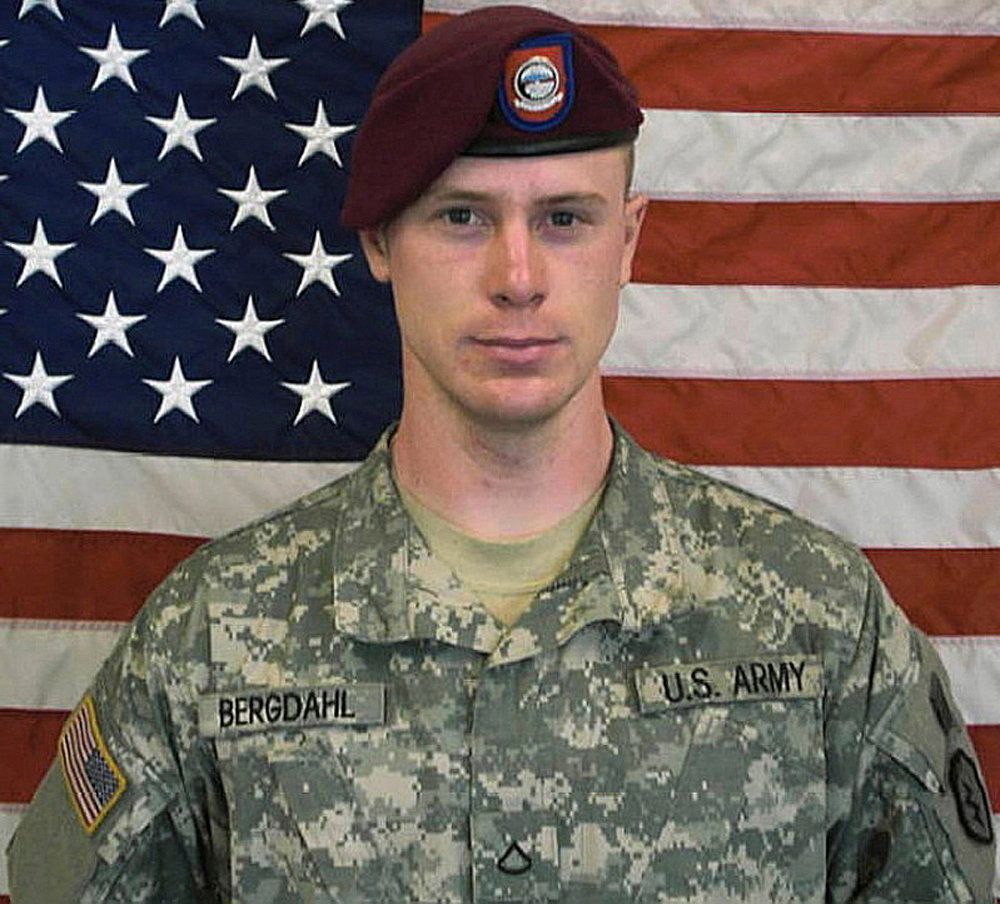 President Donald Trump's angry denunciation of a military judge's decision to set free Army Sergeant Bowe Bergdahl on Friday was entirely predictable, given his past comments on the soldier's desertion in Afghanistan. "A complete and total disgrace to our Country and to our Military," Trump tweeted en route to Asia Friday night.
But a U.S. Marine who not only deserted but fought with the communist side in Vietnam nearly 50 years ago got nearly the exact sentence after a long, emotionally wrenching court-martial in 1981.
Fourteen years after he was captured by the Viet Cong and later spotted consorting with the enemy, Marine Private Robert Garwood returned home to face trial. A military court found him guilty of collaborating with the enemy and assaulting a fellow prisoner, verdicts that could have resulted in his execution. But a jury of five Marine Corps officers freed Garwood, then 34, after ordering his dishonorable discharge, a reduction in rank to private and forfeiture of some pay—much the same as Bergdahl got.
Garwood's attorneys claimed he had been brainwashed and entered an insanity plea, despite the testimony of fellow prisoners and others that he had enthusiastically sided with his captors and even gone into battle with them. The former migrant laborer, recruited out of a home for juvenile delinquents by the Marines, repeatedly denied accusations of collaboration.
But a recently discovered document in communist archives show that Garwood was so trusted by his Viet Cong captors that at some point they awarded him citizenship and membership in the Vietnamese Communist Party. Reviewing the case in 1974, however—a year before the war ended—the chief of Hanoi's secret police took a dim view of the event and rescinded the arrangement.
"In Region 5 there was an American who came over to us," wrote Tran Quoc Hoan, chief of North Vietnamese Public Security. "The comrades down there say that he defected to us, but I don't know if he was a real defector or a fake defector. In any case," Hoan added in the "internal distribution only" document, "the local cadres granted him Vietnamese citizenship and then later allowed him to join the Party."
Region 5 was the communist designation for the area around DaNang, on the central coast, where Garwood was captured in 1965.
Hoan said he "sent a cable down" to the Viet Cong "criticizing them for granting him Vietnamese citizenship. I told them that citizenship could only be granted by our Chief of State, who has to personally sign a decree [for that]. Clearly fulminating, Hoan said he asked: "how the local authorities could have done such a thing."
Merle Pribbenow, a retired CIA officer who is fluent in Vietnamese and discovered the document in Hanoi's archives, said there's no doubt in his mind that Hoan was referring to Garwood. No other GI was charged with collaborating with the enemy in Vietnam, although others were suspected.
"While Garwood's name is not given in this document, there can be no question that [he] is the American individual who is being described," Pribbenow told Newsweek. He added that Hoan "put his foot down, brought Garwood up to North Vietnam from the South, and told him that his induction into the Communist Party was invalid and that he had not been granted Vietnamese citizenship."
Newsweek sought comment from Garwood, but the outgoing message on the telephone number listed for him in Gautier, Mississippi, said he was not taking calls.
In 1979, Garwood smuggled a note out of Vietnam revealing his existence and desire to come home. The Jimmy Carter administration negotiated his swift repatriation with Hanoi. The Obama administration secured Bergdahl's release in 2014 after three years of secret negotiations with the Taliban.
"There are a number of differences between the two cases," Pribben noted, "with the most important one being that Garwood clearly went over to the other side, was accepted as a member of the Viet Cong's forces...while Bergdahl was deserting but clearly did not go over to the other side to anywhere close to that."
Bergdahl wandered off from his unit in Afghanistan in 2009, was captured by the Taliban and spent five years in their custody. During his sentencing hearing, he "described beatings and torture by his captors with copper wire and unending bouts of illness brought on by squalid conditions," The Associated Press reported. "After several escape attempts, he was placed in a cage for four years." The presiding judge in his case, Army Colonel Jeffery R. Nance, made no comment after setting Bergdahl free.
But the Bergdahl and Garwood cases now share something else. Garwood's lawyers argued that prejudicial statements by the presiding judge at his court-martial were grounds for dismissal of all charges. Bergdahl's lawyers aim to do the same because of incendiary remarks by Trump. On the campaign trail last year, the future commander-in-chief called the former sergeant a "dirty rotten traitor" who deserved to be executed by firing squad or ejected from a plane without a parachute. Asked again about it again a few weeks ago as the jury deliberated Bergdahl's fate, the president said, "I think people have heard my comments in the past."
Bergdahl's defense lawyer, Eugene Fidell, said Trump had created one of the "most preposterous" legal situations in American history. "We think there's an extremely strong basis for dismissal of the case," he said.
Garwood didn't win a dismissal at a time when Americans were still smarting over the Vietnam War. But in the current climate, with Trump's popularity plummeting, maybe Bergdahl's lawyers will. Whatever that outcome, both defendants walked free. Years in enemy hands had been enough, the judges decided, no matter what happened.