A mom in England has spoken about her life-changing cancer diagnosis and her recovery against all the odds after her condition was initially dismissed as menopause.
Caroline Guy, a 56-year-old mother of two, was diagnosed with stage 4 bowel cancer in January 2020 and given just three or four months to live. In the summer prior to her diagnosis, Guy said she felt sluggish and noticed that her stomach was swollen. She went to see a doctor in Spain.
"My stomach was swollen, I'd Googled my symptoms and I actually asked [the doctor] outright if I had bowel cancer, and he said no," she said in a statement posted online by Nottingham University Hospital and the National Health Service (NHS). The doctor told her that her symptoms were menopause-related.
Guy's symptoms persisted, and she was eventually rushed to the hospital while visiting her husband in Saudi Arabia after she woke up in the night feeling violently sick and with a swollen stomach.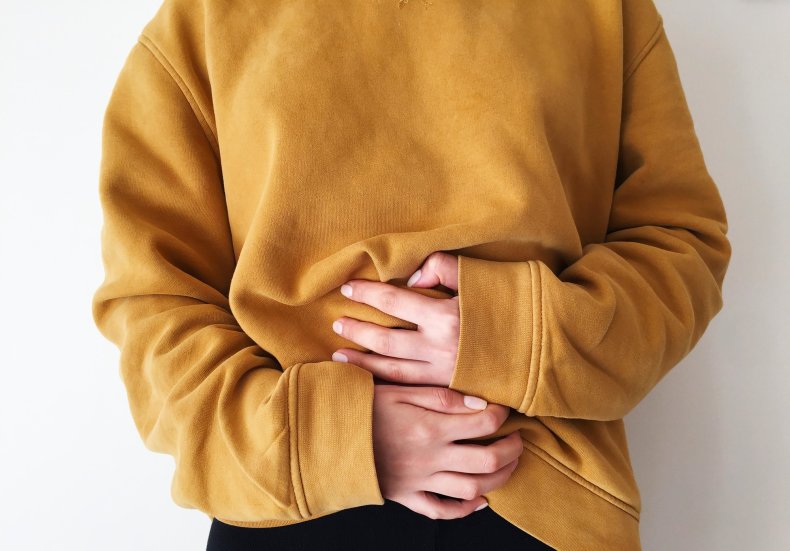 "I was in pain walking, I looked seven months pregnant, and I woke up one night and was violently sick. I just felt horrendous," said Guy, whose youngest daughter was also with her in Saudi Arabia.
Hospital scans revealed that her initial fears were correct. Guy was diagnosed with cancer that had spread to her ovaries and her liver and was told that it was inoperable and incurable—she had just a few months to live. She started a chemotherapy and drug course and decided to return to the U.K. to see her eldest daughter as the COVID-19 pandemic began.
"I had to see my family," she said. After receiving private healthcare in Saudi Arabia which cost over $130,000 because she didn't have insurance, the mom continued her cancer care with the NHS in Nottingham, England.
Over time, Guy's prognosis improved. When scans showed that her tumor had reduced in size doctors extended her life expectancy to a couple of years, though she said she "didn't want to hear a timescale." She continued with her drug and chemotherapy treatment, despite it being a long and arduous process.
Eventually, the tumors had shrunk enough that Guy was told she could have an operation after all, though it would be a big one. She said yes, and after having part of her bowel removed and a full hysterectomy at the Queen's Medical Centre in Nottingham, she was later given the news that she was in the clear.
"I just couldn't believe it. It's a miracle," she said. "I don't fear anything anymore, because nothing can be as bad as being told you have a cancer that is incurable and terminal."
Guy had high praise for the nurses who cared for her, some of whom stayed behind long after their shifts should have ended to make sure she was getting the care she needed.
"The money it cost for private care—even though it was amazing—it doesn't touch what I've had done here with the NHS, and the NHS gets such a bashing," she said. "For the surgeons to say 'we've got it all, you're cancer free'—how can I thank them?"
Guy will now be regularly monitored by her oncologist to check that her cancer does not return. Her husband, Adam, will be returning to England at the end of this year as the couple plan to buy a house in order to be closer to their daughters.
Uncommon Knowledge
Newsweek is committed to challenging conventional wisdom and finding connections in the search for common ground.
Newsweek is committed to challenging conventional wisdom and finding connections in the search for common ground.