Bowen Yang Steals SNL Show Playing the Iceberg That Sank the Titanic
Bowen Yang stole last night's episode of Saturday Night Live, playing the iceberg that sank the Titanic.
Yang's impression came during the Weekend Update segment, with anchor Colin Jost introducing him after noting that the 109th anniversary of the sinking of the famous ocean liner is coming up.
"This is always a really weird time of year for me," Yang, dressed in an iceberg costume with his face covered in white makeup, told Jost.
"Just tell us, what was going through your head that fateful night?" Jost asked.
Channeling a celebrity facing up to a scandal in their past, Yang replied: "You know what, Colin? That was a really long time ago. I've done a lot of reflecting to try and move past it... it's one very small part of me, but there's so much going on beneath the surface that you can't see."
When Jost continues to ask questions about the sinking, Yang tells him his questions are "not nice."
"Sorry, I think my publicist was very clear, I'm not here to talk about the sinking," Yang says, adding that he appeared on the show to promote is "hyperpop EDM new disco fantasia" album called "Music."
When Jost says people might prefer to hear about the Titanic, Yang launches into a tirade.
"Okay, fine, you want to do this? Let's do this," Yang said.
"First of all, you came to where I live and you hit me. It was midnight, I was chilling, then I hear this Irish cacophony behind me... And before I turn around and go, like 'What?' half my a** is gone, which was my best feature, and I'm literally injured. But all anybody cares about is that, like, 40 or 50 people died or whatever."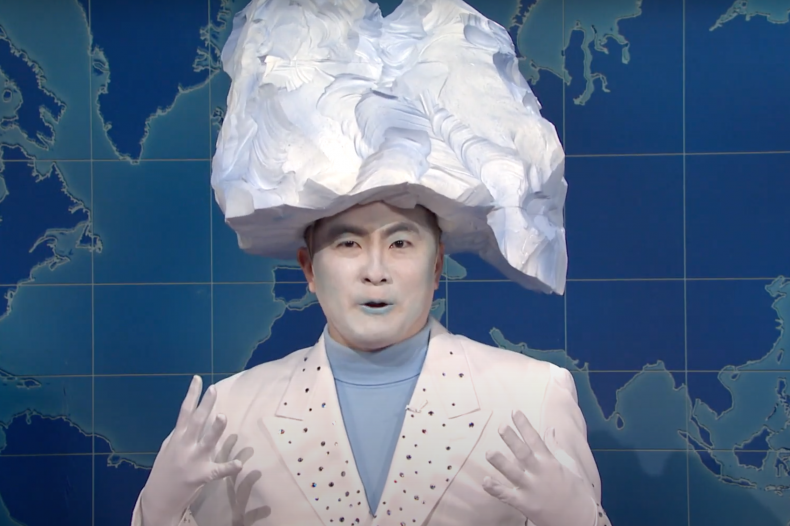 "It was 1,500 people," Jost corrected him. "Why are you attacking me?" Yang wails in response. "You said you would be my Oprah, Colin!"
He continues: "Look, why are people still talking about this? They bumped into me. I said, 'Oh I'm sorry,' which is insane, but whatever.
"And then they're like playing the violin, and like yelling and the old people are like, spooning on the bed, ready to die... and I was looking at this, and I was like, 'Oh my god, they're going to make a movie about this.'"
Yang goes on: "Everyone's talking about me, no one is talking about the water."
He also notes that the autopsy says the passengers drowned, but "nobody is canceling the ocean."
"Hey, White Star Line, you built a bad boat," Yang adds. "It didn't work out. That's on you, honey. Now can we please talk about my album?"
Viewers were delighted by Yang's impression, with his name continuing to trend on Twitter into Sunday morning.