Bowers & Wilkins PI7 Review: Clever but Premium ANC Wireless Earbuds
Everything about the Bowers & Wilkins PI7 in-ear headphones is a bold statement. From their premium look to their long list of features and specs to their unapologetic $399 price. Casual listeners could certainly enjoy the audio quality these true wireless earbuds offer, but the price places their accessibility only within reach of the most serious purchasers.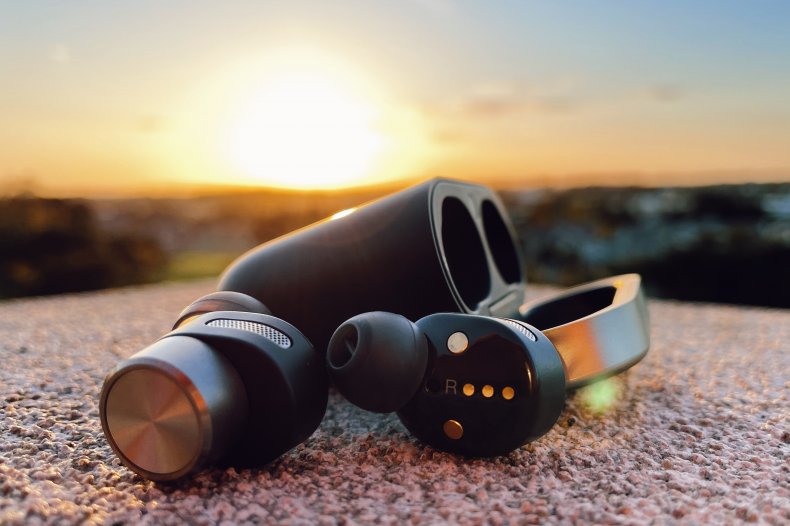 All of these bold choices give the PI7 a very "business casual" vibe. The price point certainly plays a role in that perception. That they are positioned for the wealthy business person. But, even the Bluetooth earbuds' most clever feature points toward consumers who are often on the road for work. These earbuds can use their charging case to connect to places that only have a 3.5 mm audio jack—like an airplane.
Like their audio quality, these B&W earphones could appeal to anyone. Is their audio quality really that good, and are their extensive list of features worth the hefty price? Let's dig in.
The Look and Feel of PI7 In-Ear Headphones
Decked out in a matte-black plastic and contrasting shiny silver lid, the PI7 battery case is sleek and elegant. It has a professional look to it, even though its plasticky feel in the hand reduces the perception of quality. The case has a USB-C port on the bottom for charging, but it can also be set on a Qi charger for wireless replenishing of its battery.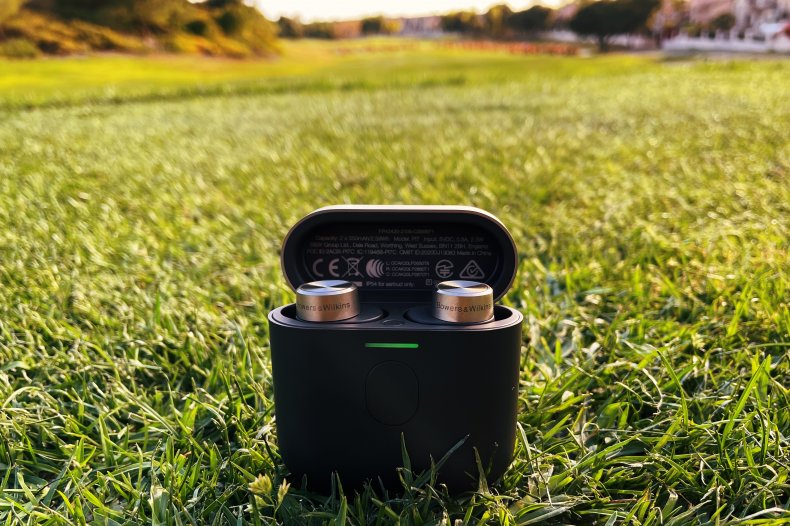 The earbuds themselves aren't especially tiny and are noticeable as they protrude from your ears. They aren't hidden, but they also don't draw unwanted attention. Their overall size is in line with plenty of other wireless earbuds.
Wearing the PI7 for extended periods of time is comfortable enough. They didn't cause me much ear fatigue, but I also never forgot they were there. There are three ear tip sizes in the box with the medium ones already attached to the earbuds. In finding my fit initially, I was having a bit of trouble getting a good seal with the left ear, so I swapped out that side's rubber ear tip with the larger size and got a better fit.
While these earbuds can be used for exercise with an IP54 rating for mild water and dust resistance, they weren't secure enough in my ears for my typical 3- to 5-mile runs. I have no doubt they would work for some people—I just wasn't one of them. In general, these seem to be more suited for stationary listening, the kind you might do at an office desk or on a plane.
The Sound of B&W PI7
The featured specs are impressive on paper. The earbuds have a 9.5 mm dynamic driver and balanced armature. There are four dedicated amps and a dedicated digital signal processor. There's also adaptive active noise-cancellation and ambient pass-through support.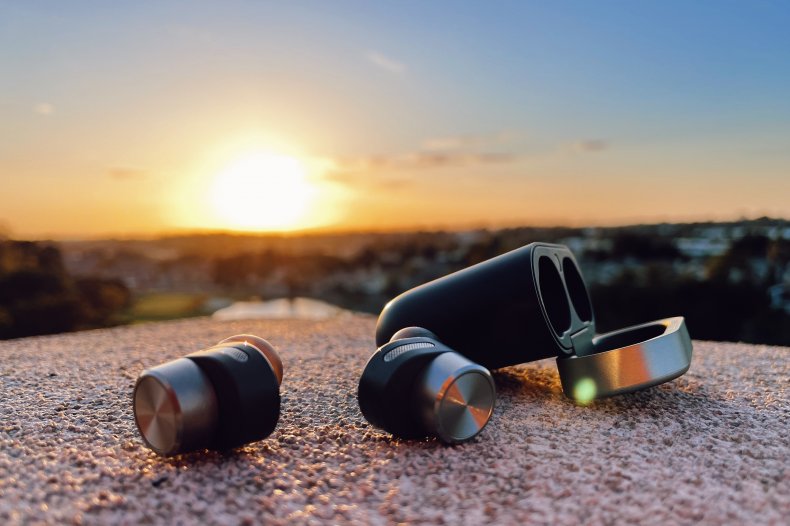 In practice, they sound really good, but I wasn't particularly blown away. I was expecting the sound to be high quality, and it delivered on that expectation. The high price does raise the bar on performance minimums.
The adaptive active noise-cancellation was probably the least impressive aspect of these in-ear headphones. It worked adequately, but not to the strength that some other brands offer. You can toggle the noise-canceling or ambient pass-through features with gesture controls on the device itself, but you can also do so through the app.
The app is surprisingly polished, and I had no problems with it despite its low iOS App Store rating. Ambient pass-through is handy for being able to fully hear other people talk without needing to remove the earbuds from your ears. There are two microphones on each earbud to assist with this and other features. The mics will help with clear phone call audio, too.
Listening to music sounded wonderful. There is 24-bit sync technology and aptX support if you're streaming from a device that also has those abilities. Otherwise, you'll get the maximum throughput that Bluetooth can accommodate.
Beyond my typical playlist I use to compare audio devices, I ventured into a new group of hip-hop songs from Jason Chu & Alan Z's new album, Face Value. The single "Model Minority" contrasts the highs of a piano with the tune's harder and deeper beats for a full and rich sound. The PI7 earbuds reproduced the song's addictive groove flawlessly.
I tried a range of musical genres, and each was reproduced faithfully. Classical music has a nice resonance, while rock is perfectly crunchy.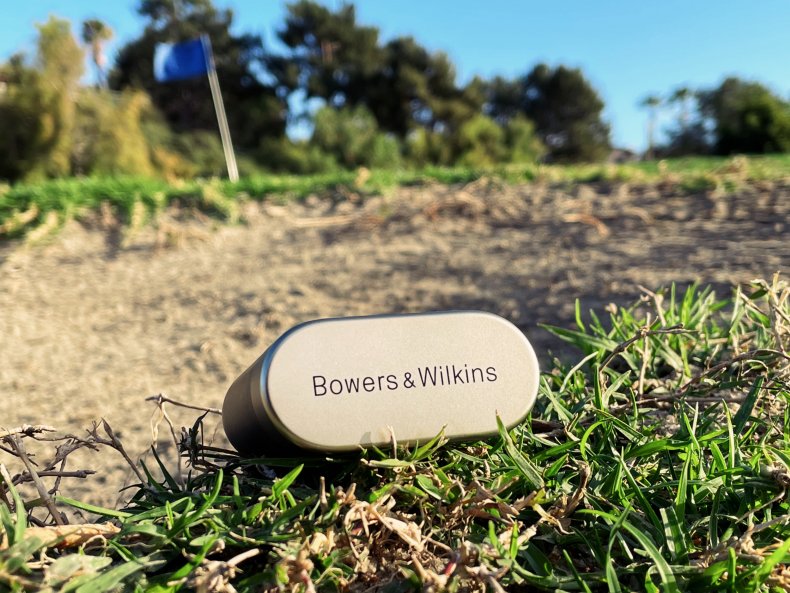 The most interesting feature is audio retransmission using the case. The idea is that you can still use these wireless earbuds to listen on devices or in places that don't have Bluetooth—only a wired headphone jack. One specific place would be an infotainment system on an airplane. I tried this on a laptop because I'm running out of devices that even have a 3.5 mm jack. It's a neat feature for sure. After trying it out, I'm not convinced it's necessary, though. For one, the sound was noticeably worse, while the volume was significantly lower. I'm not quite sure why this was and tried using various audio sources, but it remained the same.
Should You Buy Bowers & Wilkins PI7?
It's hard to see how the PI7 wireless earbuds are a good value at their $399 retail price, even though they sound great and pack in plenty of conveniences. There's just nothing so unique that can't be done for less money. For example, there are third-party dongles that can perform the Bluetooth audio retransmission trick.
If you need to have Bowers & Wilkins branded wireless earbuds or can find a great deal on sale, then take the plunge. Otherwise, the value likely won't be there for most people.
Buy at B&H Photo.
Newsweek may earn a commission from links on this page, but we only recommend products we back. We participate in various affiliate marketing programs, which means we may get paid commissions on editorially chosen products purchased through our links to retailer sites.