Bowflex Max Trainer M9: Virtual Coaching, Adaptive Workouts and World Exploration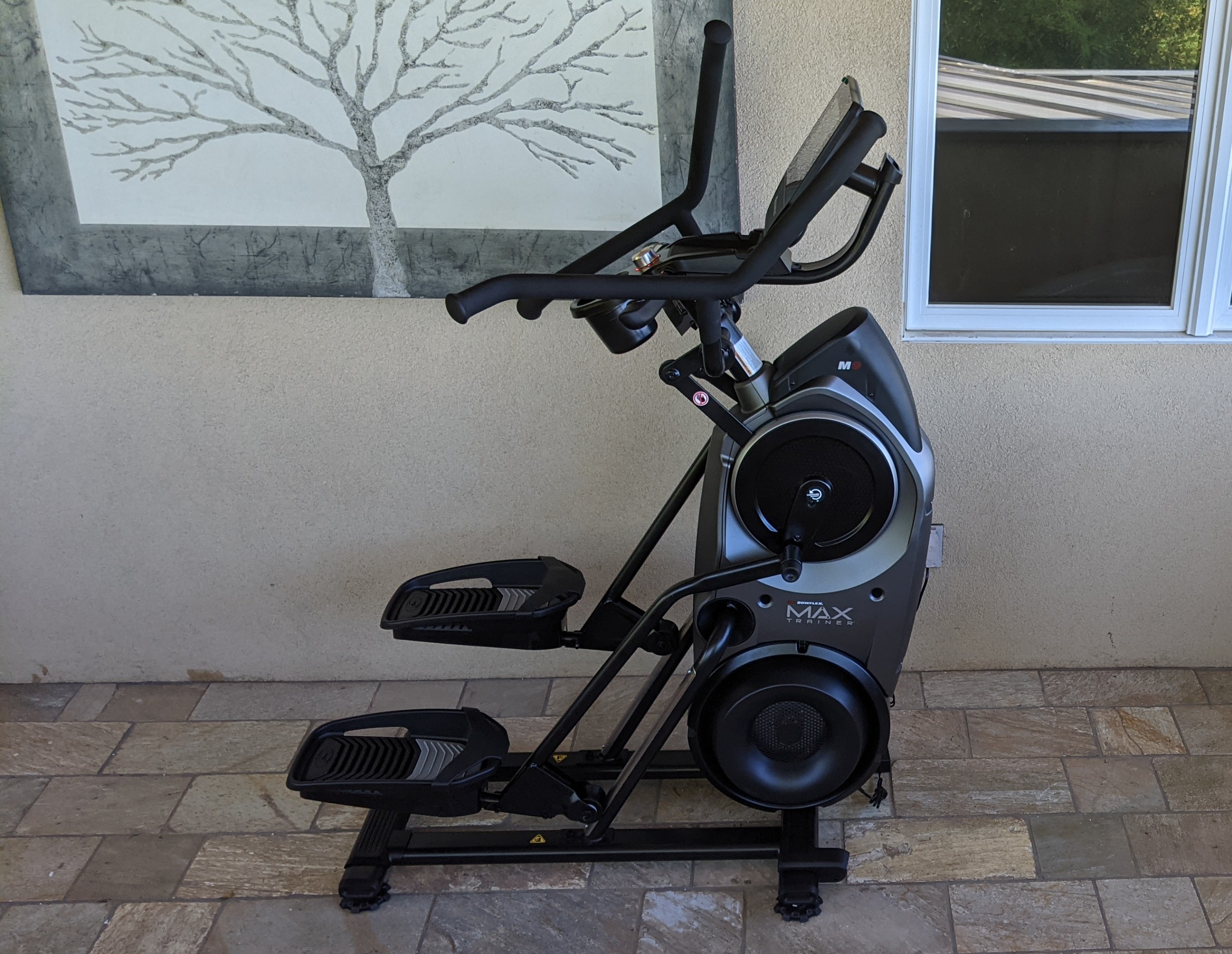 I was never really much for gyms, although I did try out memberships at both chain and local facilities for short stints. I mostly used to stay in shape by playing tennis, volleyball, softball and tons of other sports. Three decades later, the intramural sports have subsided. And although I'm not as far out of shape as I could be, I could certainly stand to tone up and feel less winded when chasing after the kids. So I decided to take the plunge into the world of home gym machines. There's a ton out there, but I felt drawn to Bowflex's new Max Trainer M9. Admittedly, at first I was a little intimidated by such phrases as high intensity and total body cardio. But after spending several weeks with this teched-out elliptical, I'm glad I persisted.
The first big workout came when lifting the two giant boxes the Max Trainer M9 arrived in and positioning them where I wanted the exercise equipment to live. It took 35 minutes to unbox the parts you see in the photo below and—despite its initially looking daunting—the M9 only took about 2 hours to build. Bowflex had offered to have someone come help with the installation; and separately, a couple of helpful reps called to offer assistance over the phone. But both proved unnecessary, and I'm proud to say that this DIY project resulted in a structurally sound, fully functional machine.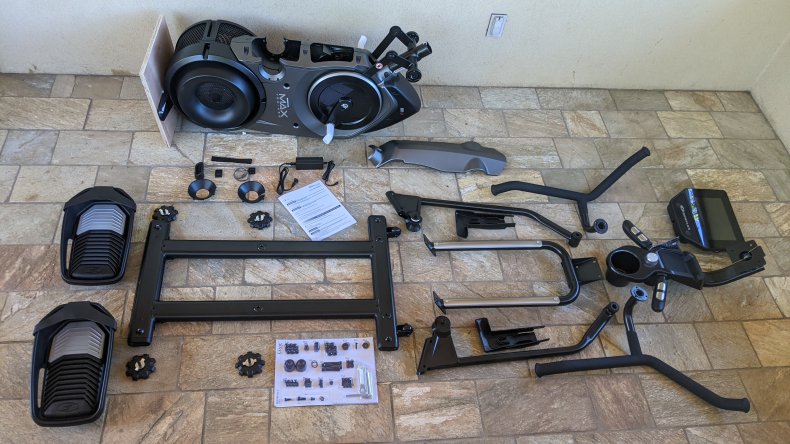 Adaptive Workouts
After connecting the M9 to Wi-Fi, it was time to enter the usual data (height, weight, age), along with my top few goals (burning calories, toning up, losing weight...). Then it walked (ellipticaled?) me through a 14-minute assessment session to get a base reading on what low, medium and high intensity mean to me. From then on, whenever I have stepped onto the pedals to activate the machine, the Just for You tab on the workouts home screen has displayed its top four suggestions from Bowflex's proprietary Jrny platform.
These suggestions automatically change every time I hop on. They're shaped by which workouts I choose, my quick post-workout feedback (ticking two boxes about my level of satisfaction) and whether I have earmarked a particular workout as a favorite. Also, I can manually adjust the duration and intensity (Easier, Just Right, Harder) based on what I'm up for on a particular day, and the M9 will feed me four appropriate suggestions. And, likewise, my wife has a separate profile, in which she gets similar suggestions appropriate for her.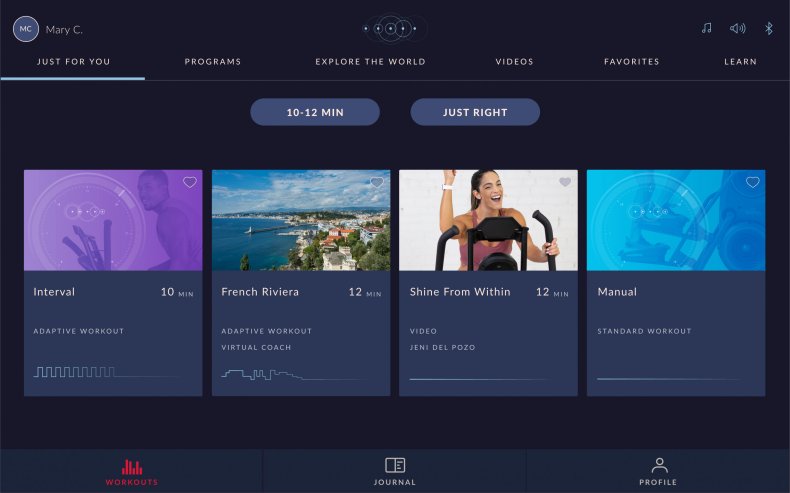 Videos Versus Programs
Videos are essentially prerecorded classes, broken down by skill and/or experience. They can be filtered by time, difficulty, activity type and particular trainers. Together they're basically like a fitness buffet, where I can try a variety of stuff and then go back for seconds (and thirds) for the stuff I like most.
Programs, on the other hand, focus more on the cadence of activity. For instance, it might be a repeated series of incrementally increasing levels that look like steps or are followed by decreasing levels creating a pyramid shape, or a preset or random series of highs and lows—fairly standard fare for today's treadmills and stair-based machines. But taking it a step further, I can choose one of seven time ranges, the style of workout, whether I want a virtual coach or not, and more: such as simply setting the desired resistance and going at my own pace, redoing that 14-minute assessment session or even connecting my phone wirelessly to use a preferred fitness app.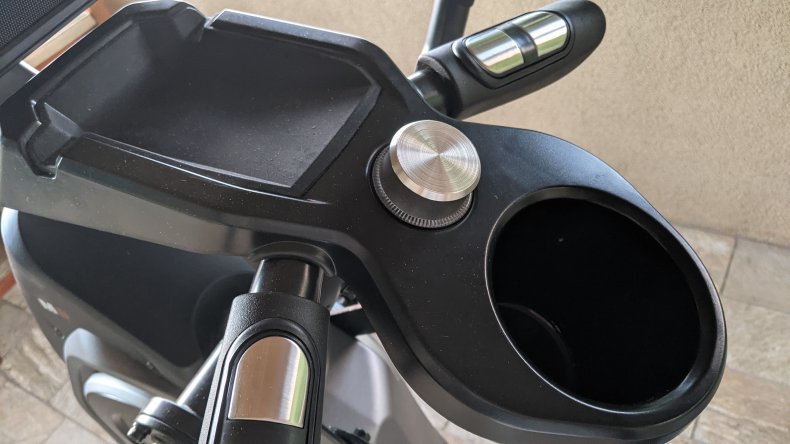 Entertainment and World Exploration
Whenever choosing a program, I have the option to listen to music (its stations, broken down by genre, or piped in from my phone via Bluetooth), watch shows (on Netflix, Disney Plus, Amazon Prime Video, Hulu or HBO Max) or explore the world. I found it fun to mix and match. For instance, I could choose to be adequately distracted by a comedy special, staying on target by hearing system beeps and glancing down at the overlay on the bottom of the screen showing my live metrics. Or I could listen to techno while virtually strolling through Shangri-la, country music while trekking over the Swiss Alps or hard rock while traipsing down the Las Vegas Strip.
In addition to being an option in programs, Explore the World has its own offerings, as well. But instead of choosing the program first and then which amazing vista I want to journey through, it's the other way around. Here again, the M9 offers a bunch of cool filters. I can select the region, season, kind of scenery, whether I want coaching, and if I want it to be an adaptive workout or just go at my own pace. With the coaching turned on, a natural sounding human trainer voice tells me what I'm about to do, when it's time to give it all I've got, when to relax and even breathing and posture reminders. And at the end, while I'm winding down, she shares the stats about the workout I just did.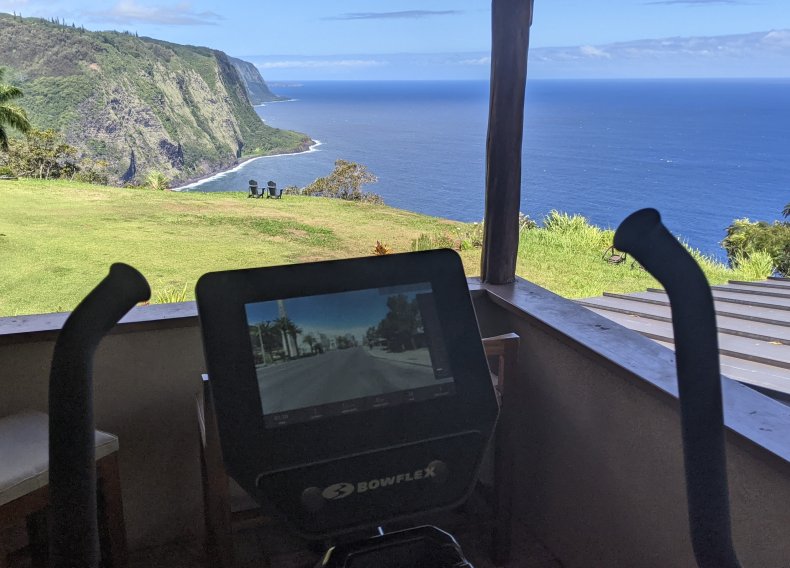 Stats Galore
Statistics are a great way to not only assess what I've done but to positively reinforce my use of and achievements on the machine. For me, the stats are a big motivator. It's not even that I'm trying to count calories or lose a certain amount of weight. It's more geeky than that: I'm just really curious about all the different kinds of measurements and awards and seeing what I can unlock. But rest assured, if you want to know your heartbeat, average rpm and how many calories you burned in a particular week, this does that and a whole lot more.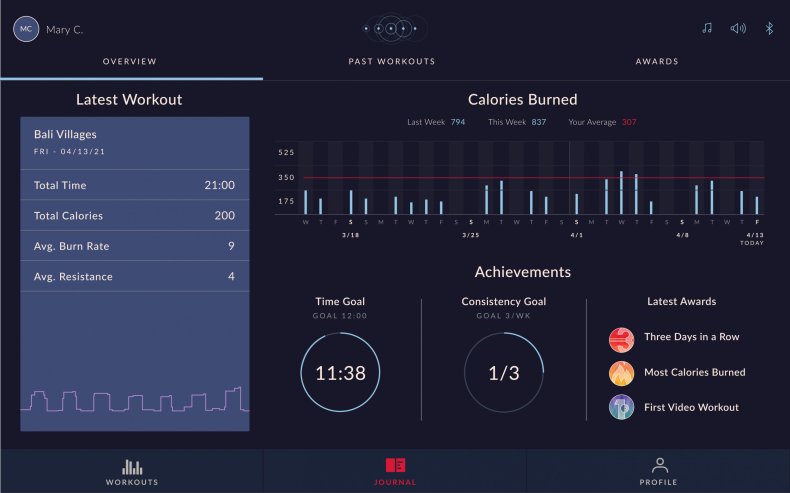 Should You Buy the Bowflex Max Trainer M9?
I like how this equipment is relatively compact: about 4 feet long by 2.5 feet wide by 5.5 feet tall. And that I can tip it forward to wheel it into or out of position. I'm a (newly initiated) fan of the low-impact, high-intensity, full-body workouts this elliptical offers. And I didn't even get to mention all of its great features, like the good quality of its 10-inch HD touch screen and Bluetooth speakers, the fact that it includes a wireless heart-rate armband, or thoughtful features like the ability to independently adjust the volume of music, coaches, system notifications and more.
I also really like Bowflex's Jrny platform, which comes free for the first year and is about $150 a year after that. It would be easy to be overwhelmed by all the choices of on-demand classes, program patterns, music choices, streaming video services and virtual scenic exploration, but the organization, filtering and artificial intelligence built into the platform make it digestible. At the end of the day, the fact that it's all adaptable to me (and separately, to anyone else in my household who creates their own profile) makes this home fitness product a big winner.
Newsweek may earn a commission from links on this page, but we only recommend products we back. We participate in various affiliate marketing programs, which means we may get paid commissions on editorially chosen products purchased through our links to retailer sites.