Boxed-in Driver Pushes Car Away With Bare Hands in Viral Video
A viral TikTok video has captured the moment a trike owner is forced to move a parked car with his bare hands after the vehicle boxed him in and its owner was nowhere to be found.
Tan Xianbin, a mover from the city of Foshan in southern China's Guangdong province, shared a video of his exploits to social media last week after accomplishing the unusual feat. The clip has since been viewed more than four million times at the time of writing.
The 28-year-old had left his motorized tricycle in a roadside parking spot last Thursday and returned to find a black sedan parked behind it.
The video, which was posted to Douyin—the version of TikTok released for Chinese-speaking markets—shows Tan at first failing to realize that he is boxed in until he tries to reverse through the impossibly small gap between the front of the sedan and a white SUV parked in the space next to him.
He gets off his trike and tries to push the vehicle out the front and then the back, but he is left scratching his head when it finally dawns on him that he cannot get out, the footage shows.
But Tan, who makes a living delivering and moving goods, then walks to the front of the vehicle, spits on his hands and decides to move the sedan with brute force—by himself.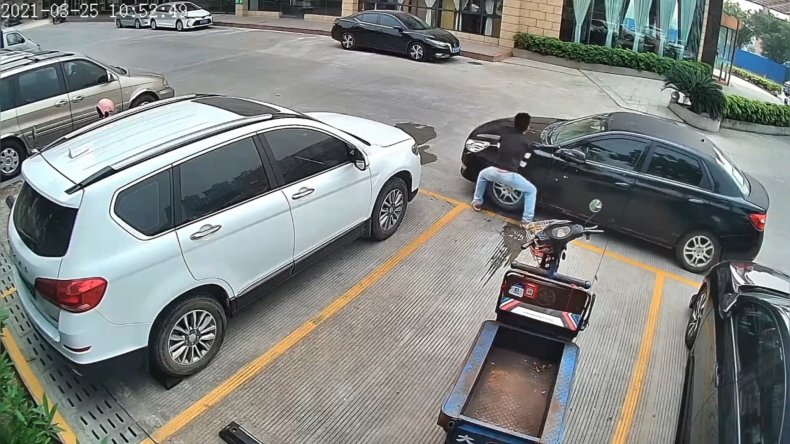 The trending TikTok clip shows Tan gripping the car's front-left wheel and pushing the entire vehicle forward, creating a gap large enough for his tricycle to fit through before casually driving away.
Tan, who had just completed a delivery job, told Newsweek that he never found out who the black sedan belonged to. The video of his incredible strength, which he puts down to his day job, was sent to him by a friend and storekeeper.
More than 7,400 comments have been left under Tan's TikTok video since he posted it last week. Most users have marveled at his physical feat, but others said his trike, which runs on batteries, was not supposed to occupy a parking spot reserved for cars.
"Electric tricycles that don't need number plates are not allowed to occupy vehicle parking spaces," one Douyin user wrote.
Another asked: "How was it possible for one person to push away the black sedan?"
"I thought you were going to lift the trike instead," a third commented.
"I have to admit, I didn't expect that ending!" a fourth TikTok user added.