Boxer, Godfather, Politician. Can Manny Pacquiao Do Everything?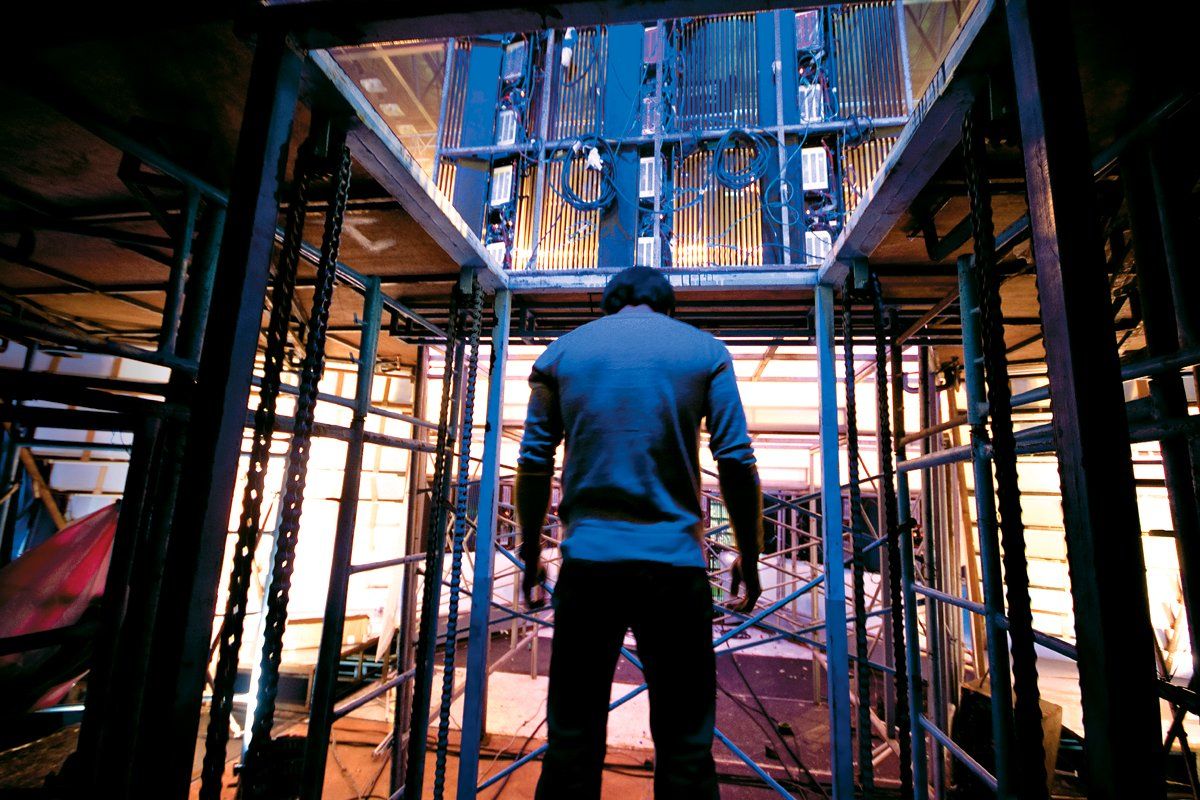 To call Manny Pacquiao a "boxer" is one of those descriptions that don't quite fly, like calling Mahatma Gandhi a "Hindu lawyer." The pound-for-pound greatest fighter on earth has begun to move beyond his bloody sport in increasingly unpredictable ways. In the Philippines, where he was born into abject poverty, the WBO welterweight champion is an almost religious figure, whose following is ecstatically cult-like. In America, he is "Pacman"—the idol of Las Vegas mega-fights, the Bruce Lee of Marquess of Queensberry boxing: tiny, furious, and lethal. "Manny Pacquiao," Mike Tyson has said, "is a phenomenon." No argument there: ESPN ranked him tied for first among the world's highest-salaried athletes this year.
Pacquiao's fights are not ordinary fights. His battles with Miguel Cotto, Oscar De La Hoya, and Shane Mosley, his seesaws with Erik Morales and Juan Manuel "Dinamita" Marquez—against whom he will fight, for the third time, on Nov. 12 in (where else) Vegas—showcased a mortal intensity without equal. Against De La Hoya, few expected an easy fight for the Filipino. Pacquiao, however, dominated the larger man with his precision and speed.
It was ironic, in a way: Pacquiao had burst onto the American scene in 2001 on a De La Hoya undercard. Then unknown, he was brought in as a late substitute for Enrique Sanchez in an IBF super-bantamweight title fight at 122 pounds against South African champion Lehlohonolo Ledwaba. Pacquiao was 32–2, but no one really knew who he was. (George Foreman, commentating, repeatedly mispronounced his name.) After a rampant Pacquiao overwhelmed Ledwaba, however, Larry Merchant stated that "Ledwaba came in here with a chance to be a star but it looks like Pacquiao may go out being the real star." But it was not until November 2003 that Pacquiao became a true American superstar, with an 11th-round stoppage of the menacing Mexican Marco Antonio Barrera for the featherweight title. Moving up in weight, Pacquiao silenced his skeptics and expanded his celebrity beyond Asia. He was now a champion in three weight divisions, and six months later he fought a classic war against Mexican WBA featherweight champion Marquez. The fight, a draw, was the greatest fight of 2004.
In 2005 he moved up to super featherweight at 130 pounds and fought Morales for the vacant WBC title. He lost a decision, but won the title later that year from Hector Velasquez. The following year, he knocked Morales out in a rematch.
Pacquiao fought Marquez again in 2008 and won a decision, and that same year moved up to lightweight to win the WBC title against David Diaz. It was just after this that he fought De La Hoya at welterweight, that is, at 147 pounds. The Filipino was racing through weight classes as if they didn't matter. In 2009 he destroyed the Briton Ricky Hatton to win the IBO light-welterweight title. There seemed to be no one left to fight.
Indeed, although he faces Marquez again in a few days, many feel his true rival is American Floyd Mayweather Jr., the other pound-for-pound superstar whose camp has long accused Pacquiao of taking steroids and avoiding blood tests in order not to fight their man. Pacquiao-Mayweather would be the biggest fight in boxing.
This dream fight may or may not happen, but in any case the eight-time world champion is gravitating toward an altogether different career. In 2010 Pacquiao, now 33, was elected to the Philippines Congress, representing the impoverished district of Sarangani, where he lived as a small boy. Sarangani and nearby General Santos are Pacquiao's roots. He left there at 14 to find his boxing fortune on the mean streets of Manila, but he has always returned to Mindanao island to fulfill his fervent Catholicism, to give some of his millions back to the poor. In doing so, he has made himself into a kind of sacral celebrity, while blossoming, at the same time, into a golden franchise.
He has his own fashion lines, his own cologne even (called MP8 after his eight titles held in eight different weight classes). From department-store ads and peeling lottery booths his half-smile beams down like the face of a mass-reproduced saint. He is Pambansang Kamao, the "National Fist." This religious aura is fitting since Pacquiao himself is intensely devout. After successful fights, which is to say all his fights, he returns to the church of the Black Nazarene in Manila neighborhood and prays. The Black Nazarenes are a sect who worship an image of Christ that was burned black during a voyage from Mexico to the islands in a galleon that caught fire in 1606.
Ironically, then, it is foolish to fly to Manila to try to meet Manny Pacquiao. As one of his aides mentioned to me, "It's like trying to get lunch with Jesus Christ."
Nevertheless I went. I first met him at Manila's international airport during a downpour, where he had arrived to star in his own TV show, Manny Many Prizes, which airs live every Saturday at 6 p.m. He came out of the arrivals hall with a glassy intensity, instantly mobbed by a crowd caught unawares. But in a moment he was gone, whisked away into a police convoy and a Land Cruiser with a congressional number plate. If I had amputated my hand, which had just shaken Pacquiao's, I could probably have sold it to souvenir hunters.
Chasing Pacquiao around Manila requires nerve. In typhoon rain we tore after him at high speed. This was so that we could enter the Cuneta Astrodome stadium with Pacman. The rehearsals for that night's show would take all afternoon, and by joining his entourage I could sit around in the dressing rooms and see how he operated among his people.
Reclined on a sofa in white socks, D&G sneakers, and a loud Hermès belt, the great man had his legs massaged and neck cradled while a stream of butterfly TV stars came in and out of the spartan rooms to pay court. Pacquiao seemed to enjoy the fact that Manny Many Prizes was his show, a live audience lottery where 4,000 people would hold up numbers and be randomly chosen to receive cash prizes provided by him. It was "giving back." During rehearsals that afternoon Pacquiao went to the band's piano and played the chords of "Let It Be." Later, he played the guitar and sang. It is important to be a Renaissance man if you are the National Fist.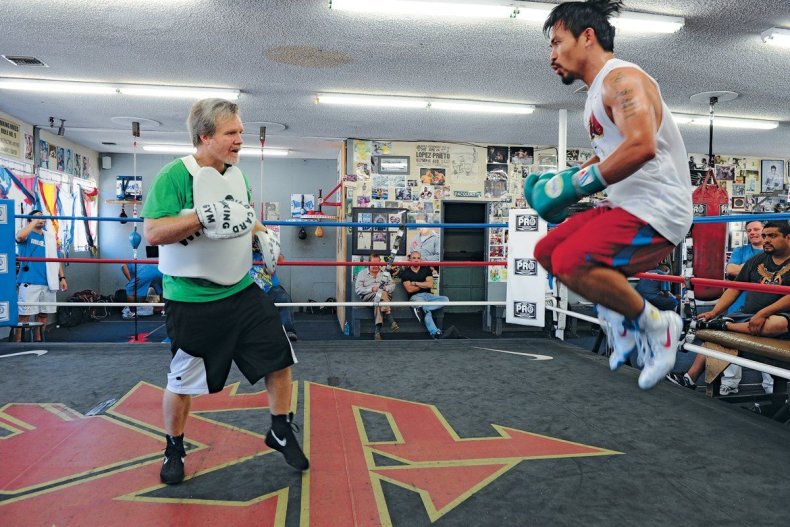 One of Pacquiao's closest advisers is the lawyer Franklin Gacal, who hovers with a wan smile around Pacman's business dealings. "This is a society," Gacal told me over a drink, "which looks for heroes. Most people are poor, in extreme desperation. Manny is a symbol of hope. His level of global fame has never happened before, and it will never happen again. He might be president one day."
The show that night was like a revivalist meeting. The audience had traveled great distances to see their idol in the flesh, and many had camped all night in the street. They sat in the stalls waving their bright-red number cards, swaying, chanting, singing along. After the cheerleader routines, Pacman finally appeared in an orgy of dry ice and confetti, rising from the depths of the stage like a god in jeans. He danced, a compact John Travolta. When he shouted into the microphone to ask what his audience wanted, they cried back "Transportation money!"—to cover travel costs to come to the show. I heard shouts of "ninongÓ—godfather—and soon this word became a chant. "Whatever you need, my people, I am listening," he responded. "Just tell me." And he walked to the box holding the winning numbers. "You can all join in," he said, glancing at me for a moment, "except the American." And I, the lone white man, had to take a bow.
Onto the stage came the tearful winners: toothless crones, the sick, and the impoverished. Pacquiao interviewed them. Inevitably, an elderly woman who sells rice cakes and takes in laundry to make ends meet made him think of his mother, who did the same when he was a boy. Growing serious, he suddenly increased the prize by 100,000 pesos. Retainers filed in with gleaming cookware, a new bike, clips of cash. The audience cried "Ninong!" and the contestants wept, hysterically.
After the show Pacquiao decided to do what he often does after midnight: play competitive pool. We decamped to the Pan Pacific in central Manila. At the top of the hotel lies a pool hall and a VIP room where he likes to unwind on black-leather sofas. As soon as Pacquiao was at the pool table the inevitable crowd had gathered, and he pitted himself against pool champion Efren "Bata" Reyes, a man impossible to beat but against whom Pacman likes to bet money. Bata sank every ball. A hush descended upon the onlookers. Pacquiao's magnetism is remarkable. The crowd would stay there all night, until Pacman went to bed at dawn. He would rise three hours later and take a two-hour flight to General Santos. No one could figure out when he ever slept.
General Santos is the "tuna capital of the world," a laid-back city of 700,000 with a vibrant gay scene and excellent sushi. The huge island of Mindanao, meanwhile, whose southern coast it dominates, has been the scene of a gruelling Islamic insurgency. That very week five Filipino Marines had been killed in an ambush and decapitated.
The following morning, far in spirit from such horrors, Pacquiao was breaking the ground of a new hospital in Sarangani that he was partially funding. The event was in a stifling tent with a stage filled with eminent surgeons. His wife was there, Maria Geraldine "Jinkee" Jamora, the mother of his four children and a native of Sarangani. Jinkee and Manny are the premiere power couple of the Philippines, media royalty. Together they own a hotel, fashion stores, a coffee shop in General Santos, a gas station, and numerous opulent mansions. The daughter of impoverished farmers, Jinkee is now as famous locally as Manny. She later told me that she met Pacquiao at a Pond's beauty parlor where she worked when they were in their teens and that he'd won her over during a long courtship. "He sent me cards!" Her uncle was involved in training the young boxer and had helped convince her that Manny was serious and devout.
In the heat of a tropical morning, a neatly chic Pacquiao now stood before the crowd and quoted Thomas Edison. "Vision without execution is hallucination!" The doctors applauded, a little confusedly. After the ground had been ceremonially broken he was whisked away in the usual convoy.
Before meeting him later that night at his mansion in General Santos I drove to Glan, the seaside village where he grew up. A gray sand beach, little peeling mosques, and houses of woven bamboo. In the tiny Jose A H Young Elementary School I was shown the classroom where the boy was forced to sit in a row reserved for bullies and dunces. The airless room was filled with tots and when asked who Pacquiao was they all stood up and made tiny fists. A teacher, Gina Inquito, remembered him as a boy with no shoes. "He was a troublemaker, but one has to remember he was sleeping on pieces of cardboard and living on rice porridge. They were living on roots. He was fishing with nets just to eat."
That night, at Mansion No. 1 in General Santos, I was struck by how serene his sprawling household felt. Near the high walls, not a soul. The security man walked me into the compound past a large pool in the shape of a boxing glove. In the garden sat three merry bruisers: his first trainer; an old sparring partner and lifelong friend; and the new instructor who was teaching the Pacquiao family the mysteries of recreational diving. One reminisced that Pacquiao used to earn 300 pesos a fight, another how he'd not seen anything special about the young Pacquiao. "He had power, but I didn't see a future world champion."
We were ushered into a long room lined with photographs of Pacquiao's fights, including the knockout of poor Ricky Hatton. There was a bar at one end of the room stocked with Domecq 2000 and Johnny Walker Blue Label. Exercise equipment stood in a corner. It was comfortable rather than luxurious, a place for small gatherings and life with a live-in entourage.
Pacquiao entered in a striped T-shirt and Levi's, his hair shellacked. I asked him about his diving. Relaxing immediately and nudging me, he said, "What's better than diving? Beautiful and dangerous, like boxing. I'm all alone down there, like being in the ring." I noticed at once how controlled and delicate he seemed, a man sure of his physical movements. His diving was just as poised, to judge by a video we watched.
What did Filipinos mean when they called him ninong? "It's like being the parent of the whole Filipino people. I fulfill all my promises, unlike most politicians in this country. Did you enjoy the hospital ceremony this morning? Sarangani, the place I grew up, doesn't even have a hospital, not even one—500,000 people and no hospital. So I built a hospital. Remember, I don't need to enter politics. I have all the money I need. I could just be enjoying myself. But I have a duty to the people. I want to set the new example, to change the Philippines."
It seems likely that Pacquiao will run for governor of Mindanao and enter the Senate, as he says, by 2016. I asked him if he would run for president. Laughter and slapping of thighs, but a twinkle in the eye that suggested, why not?
"You know," he went on, "it's not easy to balance boxing with politics and all the other stuff. Eventually, I will have to choose. I am fighting Marquez again, but after that there is only Mayweather and who knows if that will happen." I then asked him what his most satisfying fight had been. "Oscar De La Hoya, without question. It was so important for me to beat De La Hoya. I studied him from top to bottom and figured him out. It was a sweet victory." Pacquiao talked a little about Tyson. I knew they were acquaintances, friends even, and I wondered if he saw a similarity in their personal stories. "Yes, in some ways. But he did drugs. I still think he is a great man."
Unlike Tyson, Pacquiao also has his Catholic faith and political career. He prays eight times a day and feeds the poor. There is something charming about his giggles and very Asian quietness of voice. The greatest fighters are cool and methodical, and their rage is a purely mental efficiency. Their brutality is not emotional. They are masters of control. Why should they not make admirable politicians?
Later that night we went karaoke singing at Jinkee's night club, the J'Mix. As the entourage boozed and sang, Pacquiao went calmly down to the first floor of the mall to play a pool tournament. I went with him and stood behind the glass windows of the pool hall with the crowd. He won 1.8 million pesos by outplaying the others. Under those white strip lights, solitary within a crowd, unprotected and accessible, he seemed in his element.