Boxer Manny Pacquiao Runs for Philippines Presidency, With Implications for South China Sea
Boxing legend Manny Pacquiao announced Sunday he will run for president in the Philippines. While he vowed to fight corruption, his bid could also have implications in a geopolitical hotspot: the South China Sea.
In June, Pacquiao, now a senator, accused outgoing President Rodrigo Duterte of being weak against China's assertiveness in the contested waterway. In recent years China has built military bases atop reefs near the Philippines, ignoring an international tribunal's ruling against its expansive claim to nearly the entire sea, which is a vital international trade route.
The famed athlete accepted nominations from political allies in his faction of the PDP-Laban Party, the current ruling party in the Philippines government. "I am a fighter, and I will always be a fighter inside and outside the ring," Pacquiao said during a speech Sunday. "I am accepting your nomination as candidate for president of the Republic of the Philippines."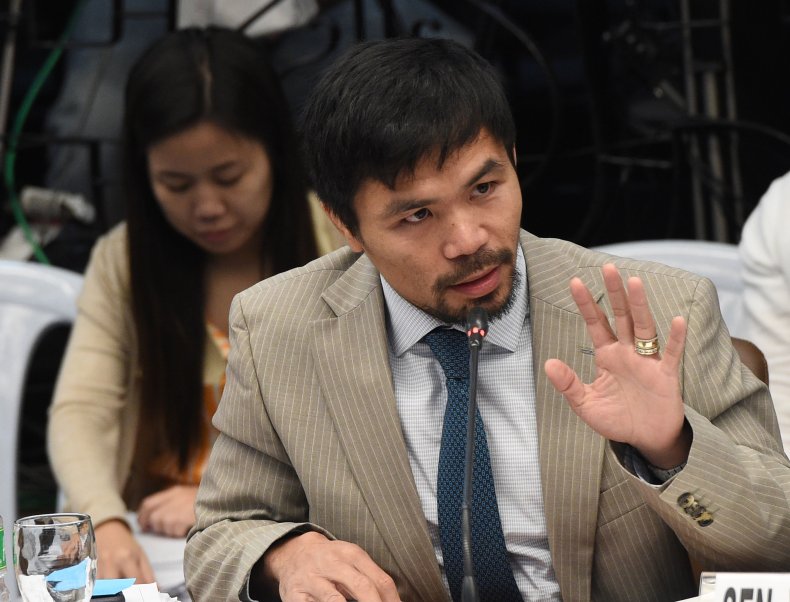 Many in the Philippines have criticized Duterte for not taking China to task for the military, coastguard and fishing vessels operating in contested waters. Duterte has said confronting Beijing on the issue would not accomplish anything and that the country owes China a "huge debt" in other regards.
In June Duterte dismissed Pacquiao's criticism, calling the fighter's foreign policy knowledge "shallow." Pacquiao responded, "I am a Filipino voicing out what needs to be said in defense of what has been adjudicated as rightfully ours."
Duterte is prevented by the Philippine constitution from seeking a second term as president next year, when his six-year term ends. His faction of PDP-Laban has nominated him for vice president in the next election, a move criticized by many as an attempt by Duterte to retain power.
The outgoing leader's faction previously nominated Duterte's aide, Christopher "Bong" Go, to run for president a few days before Pacquiao announced his bid. Go turned down the nomination.
Pacquiao, who was expected to run, trails other presidential contenders in polling, with Filipinos consistently favoring Duterte's daughter, Sara Duterte-Carpio.
Pacquiao is among the most famous boxers in history and the only one to hold championships in four different decades. His fight against fellow boxing icon Floyd Mayweather Jr. in 2015 broke pay-per-view records in the U.S, with roughly 4.6 million buys generating over $400 million in revenue.