Boy, 12, Pleads for Dad's Killer to Come Forward—'You Killed a Really Good Man'
The family of a Texas man fatally shot while driving to work has put out a plea for information regarding his death.
Christopher Michael Murzin, 53, was on the Westbound LBJ Freeway (Interstate-20) in Dallas on February 11 when another driver fired his gun into the car.
The victim's black Chevy Yukon came to a stop and Dallas Fire-Rescue took Murzin to a hospital where he was pronounced dead. According to witnesses, a small silver SUV may have been involved in the shooting.
The motive is currently unknown and the investigation is ongoing, but detectives have suggested the incident may be linked to road rage. The shooter has not yet been identified.
Murzin is survived by his wife, Christina Murzin, and his three children: Caroline, a high school senior, 21-year-old Jack and Dutch, 12. The family have called for anyone with information to come forward.
Speaking to CBS, Dutch addressed his father's killer directly, saying: "You're not a good person at all... You killed a really good man."
The victim's daughter, Caroline, said: "He was like our team dad. Everybody loved him."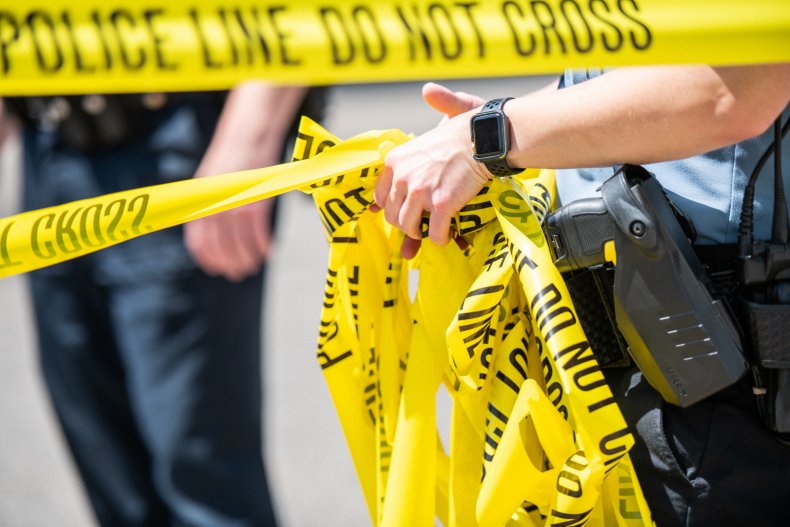 The mother added that her husband was a "champion" to Jack, who has special needs. "We beg for the community to please call Crime Stoppers. Please turn yourself in. Please help us solve this crime. He deserves justice," she said.
Dallas Homicide Detective Tonya McDaniel told CBS that the shooting "seemed like a little road rage" although the motive is still unclear.
A witness who called 911 said Murzin's car and the silver SUV were "going in and out of traffic" until the silver vehicle pulled up beside the black one. They then saw a gun fire a shot into the victim's black SUV on the driver's side.
Murzin, who was born in the Detroit area and moved to Texas, worked as a sales manager in the medical field and was a strong advocate of disability rights.
His obituary in the Dallas Morning News read: "Whether it was holding hands, dressing in matching Christmas pajamas, road-tripping with the family, or enjoying a choice cabernet, Chris epitomized an exuberant and kind personality throughout his almost 28-year marriage to Christina.
"Ultimately, Chris's altruistic nature carried over into his career. He was the consummate salesman and chose the medical device arena because he wanted to help others."
The Dallas Police Department is asking anyone with information regarding the investigation to contact Homicide Detective Tonya at 214-671-4236 or by email at tonya.mcdaniel@dallascityhall.com.