Boy And 2 Adults Killed After Becoming Trapped In Farm Silo: Police
A teenage boy and two adults have died after they became trapped in a Pennsylvania farm silo, according to police.
Emergency services raced to an Amish family farm on Lower Brush Valley Road in Potter Township following reports that people were trapped inside a silo at about 7 a.m. on Wednesday.
Pennsylvania State Police (PSP) trooper Christopher Fox said officers, firefighters and emergency medical services (EMS) were at the scene.
In a Twitter post, he added: "PSP Rockview is working with local fire and EMS personnel on an incident at Lower Brush Valley Road in Centre County. Updated information will be forthcoming."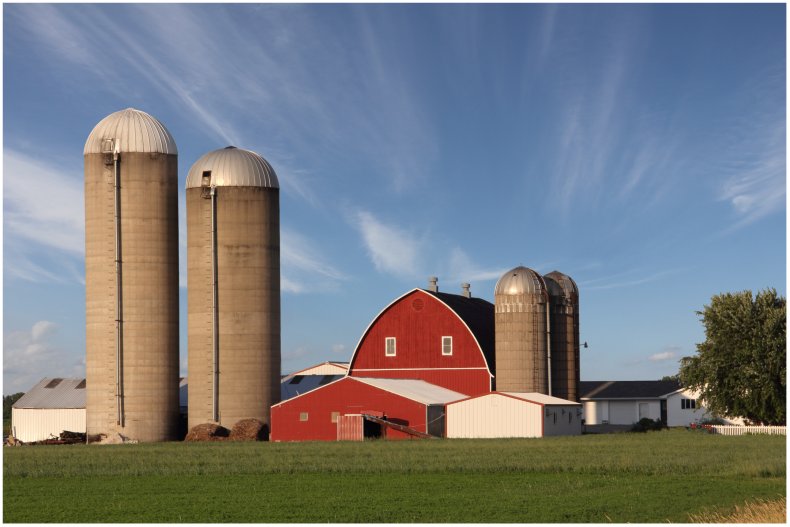 Andrew Beiler, 47, and his sons, aged 14 and 19, died of asphyxiation as a result of gases in the silo, according to the Centre Daily Times. It was not revealed how the three became trapped inside the silo.
Penn State University said silo gases, in particular nitrogen dioxide, is harmful as it leads to severe irritation to the nose and throat.
A very high concentration of gas will cause immediate distress resulting in a person collapsing and dying within minutes.
In a statement obtained by the outlet, Centre County Deputy Coroner Jason Brooks said their deaths were ruled to be an accident.
According to the Centre Daily Times, Dave Fetterolf, President of the Centre County Farm Bureau said: "Silo gas is a dangerous thing. There's no warning. It happens quick."
Newsweek has contacted the PSP for comment.
In a related incident earlier in September, a worker in died after being involved in a corn grain silo accident in Roseland, Nebraska, according to reports. According to a KSNB Local 4 report, 34-year-old Travis Thelander was pronounced dead when his body was found.
The Adams County Sheriff's Office said the incident happened at the CHS Agri Services Center, and confirmed Thelander worked there.
Grain silo workers face numerous hazards in the workplace and within silos, death can occur in a variety of ways, according to an Iowa State University report.
In the 2022 article, it said February 20-26 is considered by some to be Grain Bin Safety Week. With the goal of raising awareness of the hazards associated with grain storage.
"Over two-thirds of U.S. grain is stored on the farm without OSHA standards for safety protocols. It is up to you to keep yourself, your employees, your spouse, kids, and grandkids safe from grain bin hazards," the report said.
"Flowing grain can trap someone standing on the grain in just 4 to 5 seconds and that person will be completely covered in grain in about 22 seconds, according to the Grain Handling Safety Coalition."