Boy, 4 Others Shot Outside Washington, D.C. Convenience Store
Five people have been shot outside a store, Alabama Convenience, in Washington, D.C., on Tuesday morning, including a 13-year-old boy.
The D.C. Metropolitan Police Department confirmed details about the incident to the press. It reportedly took place around 8:30 a.m. at a store on the 2200 block of Alabama Avenue.
The five victims included two men and two women in addition to the teenage boy. All were said to be conscious and breathing when police arrived on the scene. Their identities have not been released at this time.
Both of the female victims and one of the adult male victims were reportedly shot in the lower extremities, according to WUSA 9 reporter Matthew Torres. The other adult male victim was hit in the upper torso. He was said to be in critical condition, but stable. The teen victim has been taken to a hospital for treatment.
Police expect all five to survive their injuries.
"I don't care what ward you live in, in our city—if someone brazenly fires into a crowd of people, striking five innocent people in this instance, that's unacceptable," D.C. Police Chief Robert Contee said. "I'm pleading for the community's help. This is unacceptable. This could be anyone's child, this could be anyone's mother, father, sister, brother out at 8:38 in the morning."
Contee explained that three of the victims were discovered on the scene when police arrived. The other two turned up at local hospitals with gunshot wounds.
The shooter reportedly arrived at Alabama Convenience from nearby 22nd Street and began firing at two people standing outside the store.Witnesses of the shooting said that it appeared to be random in nature. Investigators on the scene have yet to establish any sort of motive for the shooter's action.
"This is unacceptable behavior, bottom line," Contee said. "It is not tolerated. It shouldn't be tolerated by anyone in this community."
Police said they are searching for a Black male suspect between 5-foot-5 and 5-foot-7 in height, wearing a black hoodie, grey sneakers, and blue jeans. Contee said that a photo of the suspect will be released soon.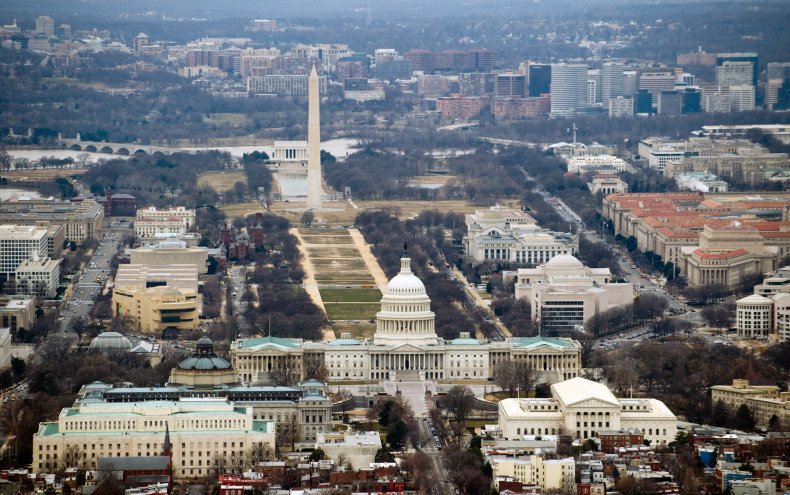 Newsweek reached out to the Washington D.C. Metropolitan Police Department for a statement on this story and was directed to Contee's press conference quoted above.
This incident comes as gun violence continues to rise in many major cities like Washington, D.C. In May, a man in a ski mask shot a mother and her child while they playing outside their home. The shooter and the woman had reportedly been having an argument about how a scooter was parked nearby. Both victims survived their injuries and the shooter, Anthony Bedney, was eventually arrested.
Updated 09/21/2021, 12:06 p.m. ET: This story has been updated with additional information and background.